Abstract: EP373
Type: e-Poster
Background

The use of measurable residual disease (MRD) in acute lymphoblastic leukemia (ALL) has contributed to increase survival, especially in children and AYA. However, although being the strongest prognostic factor in ALL, MRD is not predictive and precise enough as one third of patients with good MRD response at the end of induction relapse and need alternative therapies, whose effectiveness is again evaluated by MRD.
Aims

In an attempt to identify prognostic markers not covered by MRD, the Spanish PETHEMA Group has sent a proposal to the HARMONY Alliance on behalf of the EWALL Group. This proposal was approved by HARMONY on September 2019. Ten European adult ALL study groups (UKALL, NOPHO, GIMEMA, CLSG, HOVON, GRAALL, GMALL, PALG, RALL and PETHEMA) will participate by sending datasets to HARMONY. As the primary objective of this proposal is to evaluate if IKZF1 alterations have prognostic significance independent of MRD, the key inclusion criteria is that patients must have been treated within clinical trials with MRD determinations. 
Methods
Herein we present a pilot study including patients from PETHEMA protocols analyzed by MLPA and/or SNP array. MRD was centrally measured by multiparemtric flow cytometry.
Results

One hundred and fifty-two adult BCP ALL patients (110 Ph-negative and 42 Ph+, median age 40 [15-72] years) were included. Ph+ ALL patients showed significantly older age (52 [20;72] vs. 36 [15;68] years, p<0.001) and higher frequency of IKZF1 deletions (26/42 [62%] vs. 36/109 [33%], p=0.001) than those with Ph-negative ALL. The profile of deletions significantly differed between both groups, with homozygous and dominant negative (DN) heterozygous deletions (i.e., Ik6) being significantly more prevalent in the Ph+ than in the Ph-negative subset. Interestingly, the presence of IKZF1 partial gene deletions (DN and loss of exons 2 or 8 leading to haploinsufficiency) was significantly more prevalent among patients with CD34+ ALL than in patients with CD34- ALL (22/25 partial IKZF1 and CD34+ vs. 3/25 IKZF1 partial and CD34-, p=0.009). Regarding treatment response, IKZF1 deletions were not markers of resistance neither for CR achievement nor for achieving low MRD level (<0.01%) at the end of induction (End-Ind) in the whole series. Ph-negative patients with low End-Ind MRD showed better overall survival (OS) than MRD+ individuals (5-year OS 52% [36%;68%] vs. 32% [16%;48%], p=0.076). Patients with IKZF1 deletions or with IKZF1plus signature did not show significantly lower OS than patients without these abnormalities. Ph-negative ALL patients with IKZF1 partial gene deletions significantly experienced more relapses than those without Ikaros losses, while patients with whole gene deletions experienced similar relapse probability than WT individuals (81% [41%;95%] partial vs. 43% [30%;56%] WT vs. 18% [2%;46%] whole gene, p=0.009). When combining IKZF1 status and MRD, patients with IKZF1 partial losses and low MRD levels showed a 5-year CIR of 79% (6%;98%)(Figure). All patients with IKZF1 partial deletions died due to disease progression (5-year Non-relapse mortality 0% partial  vs. 17% [9%;27%] WT, p=0.065). Multivariable analysis in Ph-negative subset identified age, WBC count and End-Ind MRD as independent prognostic factors for OS while for CIR showed WBC (significant) and IKZF1 partial gene deletions showed a trend towards higher risk of relapse (p=0.100).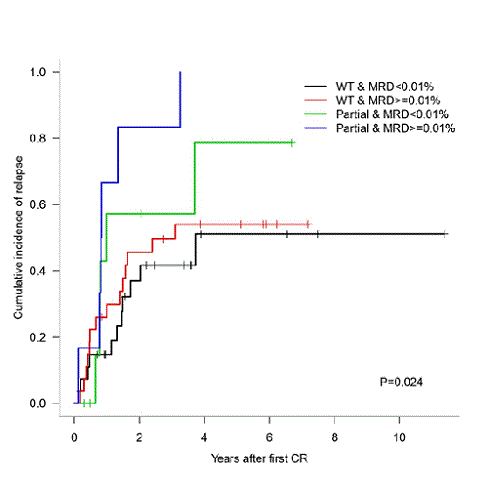 Conclusion

This pilot study does not show an independent influence of IKZF1 deletion on outcome of adult Ph-negative ALL patients, despite this deletion was associated with higher relapse probability. 
Session topic: 01. Acute lymphoblastic leukemia - Biology & Translational Research
Keyword(s): B cell acute lymphoblastic leukemia, Ikaros, MRD