Abstract: EP1740
Type: e-Poster
Background
MF is characterized by progressive bone marrow failure, cytopenias, splenomegaly, and debilitating symptoms. MF-related HRU is substantially greater than that for age- and gender-matched patients (pts) without MF (Wang, Blood, 2012). FEDR is an oral, selective inhibitor with activity against wild-type and mutationally activated JAK2 that was approved by the US FDA in August 2019 for treatment (Tx) of adult pts with intermediate-2 or high-risk MF. In the randomized, placebo (PBO)-controlled, phase III JAKARTA study of FEDR in JAK-inhibitor-naïve pts with MF, FEDR 400 mg/day (the approved starting dose of FEDR) was associated with significant improvements in spleen volume and symptom response rates (Pardanani, JAMA Oncol, 2015), and health-related quality of life (HRQoL) (Mesa, Blood, 2019), compared with PBO. However, it is unclear whether clinical and HRQoL improvements are accompanied by an economic benefit with FEDR vs. PBO in this pt population.
Aims
To evaluate hospitalizations and emergency room (ER) visits in pts treated with FEDR 400 mg/day or PBO in the JAKARTA study.
Methods
The JAKARTA study enrolled pts with intermediate or high-risk primary, post-polycythemia vera (PV), or post-essential thrombocythemia (ET) MF, ECOG PS score ≤2, palpable splenomegaly (≥5 cm below left costal margin), and platelet counts ≥50 × 109/L. Pts were randomized 1:1:1 to FEDR 400 mg, FEDR 500 mg, or PBO, administered once-daily in continuous 28-day Tx cycles (the FEDR 500-mg arm in JAKARTA is not included in these HRU analyses). HRU outcomes included 1) the proportions of pts with ≥1 hospitalization or ER visit between baseline (BL) through the end of cycle 6 (EOC6; ie, when pts could crossover from PBO to FEDR), and 2) exposure-adjusted annualized rates of hospitalization and ER visits over the entire follow-up period. Hospitalizations and ER visits in the PBO arm were assessed before pt crossover from PBO to FEDR. Odds ratios (ORs), rate ratios (RRs), 95% confidence intervals (CIs), and P values were calculated using logistic regression and negative binomial univariate regression models.
Results
The FEDR 400 mg and PBO arms each included 96 pts. Median Tx exposure in the FEDR and PBO arms over the entire study was 14.3 and 5.5 months, respectively. In the FEDR and PBO arms, 21.9% and 26.0% of pts, respectively, had ≥1 hospitalization by EOC6 (P=0.50). Annualized hospitalization rate was lower in the FEDR arm (0.47 per patient-year [PY]) vs. PBO (1.05 per PY) (Table). 9.4% and 14.6% of pts in the FEDR and PBO arms, respectively, required ≥1 ER visit by EOC6 (P=0.37). The annualized rate of ER visits was lower in the FEDR arm than in the PBO arm: 0.12 vs. 0.47 per PY. In univariate regression analyses, although the hospitalization rates and durations of hospitalization by EOC6 were not significantly different between Tx arms, annualized hospitalization and ER visit rates were significantly lower in the FEDR arm (RR 0.49 and 0.31, respectively; both P<0.05) (Table).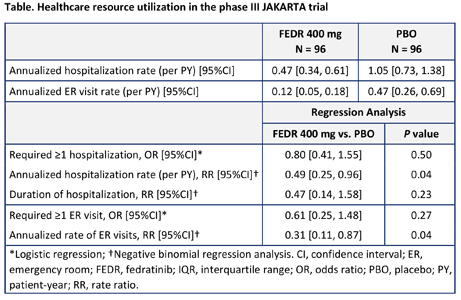 Conclusion
When adjusted for Tx exposure, FEDR was associated with significantly reduced rates of hospitalization and ER visits compared with PBO. The clinical benefits observed with FEDR in spleen volume and symptom improvements were not accompanied by increased FEDR-associated HRU.
Session topic: 35. Quality of life, palliative & supportive care, ethics and health economics
Keyword(s): Fedratinib, Health care, Myelofibrosis, Quality of life