Abstract: EP1736
Type: e-Poster
Background

In older AML patients (pts), besides specific biological characteristics, functional parameters (pmt) and patient-reported symptoms have an impact on disease course. The prognostic value of this approach on overall survival (OS) has been demonstrated with special emphasis on fatigue (Klepin et al., Blood 2013, Lacourt et al., Oncotarget 2018). 
Aims

Within the DECIDER trial (AMLSG 14-09, NCT00867672) we assessed pmt informing the shared-decision making process against induction chemotherapy (IC). We also aimed at validation of a Frailty Score consisting of performance status (PS), activities of daily living (ADL) and fatigue predicting OS, previously established in a cohort of 107 elderly AML/MDS pts treated with hypomethylating agents (HMAs, Deschler et al., Hematologica 2013). 
Methods

In the DECIDER trial 200 non-fit AML pts aged >60 years (yr) were randomized between 4 treatment arms to investigate the efficacy and safety of valproic acid (VPA) and ATRA in combination with decitabine. Reasons to recommend study treatment rather than IC were systematically captured. For the Frailty Index validation, pretreatment PS (ECOG), ADL (Barthel index) and fatigue (EORTC QLQ-C30) were assessed in 200, 175 and 156 pts, respectively. Pts with missing ADL and/or fatigue assessments tended to have lower PS than those with complete data, in part explaining why the assessments could not be performed. Cox regression models were used to calculate the prognostic value of the single factors and the Frailty Score on OS.
Results

Regarding the reasons for the mutual decision against IC at least one of the following conditions was indicated:reduced PS (EOCG ≥3), comorbidities (HCT-CI ≥3), prior hematologic disorder, reduced ADLs, or increased fatigue in 179 pts. Of the remaining 21 pts, 10 were aged ≥75 yr, and in the remaining 11 pts reasons stated were: adverse cytogenetics (2 pts), patient wish (6 pts), or no obvious reason identified (3 pts). Complete data regarding the Frailty Score were available for 141 pts. Median follow-up time was 28 months and 122 pts had died. Median age at diagnosis was 76 yr and 68% of the pts were male. The median white blood count was 3100/µl, median peripheral blast count 48%, median platelet count 49.000/µl and median hemoglobin level 9.2 g/dl. 56.7% of pts had relevant comorbidities (HCT-CI≥3). ECOG PS was 0 in 19%, 1 in 61% and 2-3 in 20% of pts. 31.4% had an Barthel Index <100% and in 58.3% fatigue ≥50 on the EORTC QLQ-C30 fatigue scale was registered. Summing up these parameters and calculating the Frailty score, this resulted in 45 (31.9%) pts with a score of 0, 61 (43.3%) with a score of 1, 18 pts (12.8%) with a score of 2 and 17 (12.1%) with a score of 3. When adjusted to treatment, ECOG >1, ADL <100% and fatigue ≥50 each showed significant adverse effects on OS, with estimated HRs of 1.78, 1.91, and 1.62, respectively (Table 1). Pts can be divided into 3 risk groups (combining pts with score 2 and 3 into one group) with distinct OS, especially between group 0 and the others (adjusted for treatment, p<0.0001, Figure 1).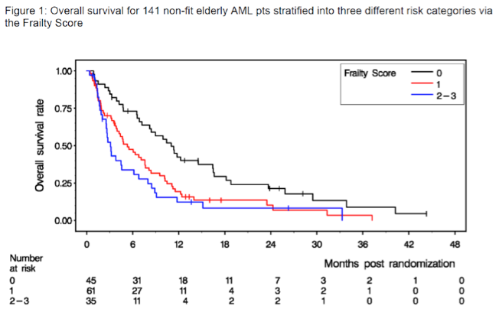 Conclusion

We provide a systematic assessment of patient- and disease-related factors (e.g. cytogenetics) informing the therapy decision process in older and unfit AML pts against IC. Our Frailty Score, applied to this validation cohort, divided pts into 3 distinct risk categories with significantly different OS. These results emphasize the emerging roles of ADL and fatigue as predictors of outcome beside the already well-established role of PS.
Session topic: 35. Quality of life, palliative & supportive care, ethics and health economics
Keyword(s): AML, Elderly, Fatigue, Prognostic factor