Abstract: EP1730
Type: e-Poster
Presentation during EHA25: All e-Poster presentations will be made available on the on-demand Virtual Congress platform as of Friday, June 12 at 08:30 CEST and will be accessible until October 15, 2020.
Background

While first recommendations exist about how to manage stopping and re-starting chronic myeloid leukemia (CML) therapy, based on data from the EURO-SKI study, much is still unknown about the experiences of those considering and undertaking treatment-free remission (TFR).
Aims

We sought to obtain quantitative evidence of patient experience that has previously only been anecdotal and to identify areas of unmet needs. One strong theme to emerge was patients' differing views on the need for psychological support.
Methods

A global online survey was conducted, recruiting patients through CML patient associations. The questionnaire was designed by an expert panel of CML patients. Once the question set was agreed, the questionnaire went through two rounds of testing by volunteers. This exercise contributed towards refining the questionnaire into a finished version. The questionnaire was translated into eleven languages. Fieldwork lasted 20 weeks.
Results

A total of 1016 responses were collected from CML patients across 68 countries. Patients only answered the sections of the questionnaire that were relevant for them. All 1016 had experience of Phase I, 494 (49%) had experience of Phase II, 159 (16%) had experience of Phase IIIA, and 203 (20%) had experience of IIIB. Of the 494 patients who stopped treatment, 32% said disease reoccurred and 41% reported being in long-term remission. During Phase I, 22% said they would have liked to have received information on psychological effects. During Phase II: 18% of respondents said they discussed how to deal with psychological aspects with their doctor; 31% of respondents said they felt fear or anxiety before and/or after PCR monitoring tests, and overall 56% of respondents said they felt fear or anxiety and some point during the phase. 45% of males said they felt fear and anxiety during this phase, compared to 63% of females. There were differences in reported psychological and/or emotional support received across Phases II, IIIA and IIIB. Phase II had the smallest proportion of patients who said they received support (20%), from the following: friends or family 74% (males), 70% (females); patient organisations 35% (males) 23% (females); social media groups 22% (males) 26% (females); counselling 17% (males) 21% (females); other 4% (males) 6% (females).
In Phase IIIA, this was 26% and in Phase IIIB, 25%. Phase IIIA had the largest proportion of patients who wanted support but didn't receive it (25%); in Phase II, it was 23%, and it was lowest in Phase IIIB, 16%. While the highest proportion of patients answered that psychological/emotional support was not necessary; this varies by gender and across the TFR journey. Phase IIIA had the smallest proportion of patients who said they did not need support (48%); in Phase II this was 57%, and in Phase IIIB it was 59%. Across all phases, a larger proportion of male respondents said support was not necessary, compared to female respondents.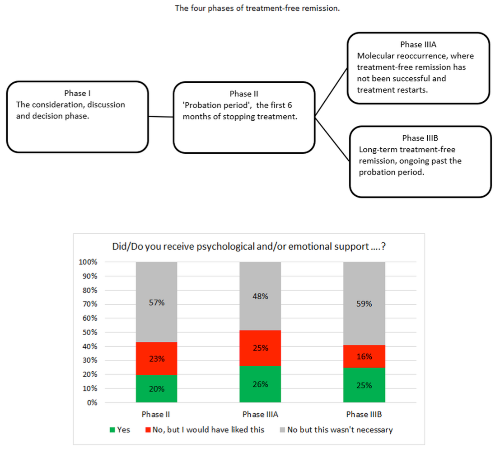 Conclusion

There are opportunities for more communication and support around psychological issues to be given through the provision of information during the decision-making stage and/or discussions between doctors and patients during the stopping stage. A considerable proportion of patients feel fear or anxiety during stopping treatment, and not all patients who want psychological and/or emotional support receive it. The psychological well-being of patients should be a consideration of healthcare professionals and addressed at all stages of the TFR journey, to ensure patients receive support through personalised care.
Session topic: 35. Quality of life, palliative & supportive care, ethics and health economics
Keyword(s): Chronic myeloid leukemia, Patient, Quality of life, Treatment-free remission