Abstract: EP1642
Type: e-Poster
Background
Fatigue is common in patients (pts) with immune thrombocytopenia (ITP) and impacts quality of life (QoL). To improve clinical management of ITP, it is critical to understand the relationship between fatigue and pt characteristics, i.e. age, gender, duration of ITP, symptoms, platelet count, and therapy.
Aims
The ITP World Impact Survey (I-WISh) cross-sectional survey studied the burden of ITP and its impact on QoL using a global pt and physician (MD) sampling frame from 13 countries. This subanalysis explored prevalence of ITP symptoms in those pts reporting fatigue at diagnosis or at time of survey and any associations between last platelet count and fatigue severity at time of survey by gender. It also compared the social impact of ITP in pts with and without fatigue at time of survey.
Methods
Participating MDs (N = 472) were required to be actively managing ITP pts (minimum 3 pts in past 12 months). Pts (N = 1507) were recruited via MDs and pt advocacy groups (PAGs). Pts and MDs completed a 30-min online survey on demographics, ITP signs and symptoms, impact of symptoms, and pt–MD relationships. ITP expert MDs and PAG representatives designed and endorsed the survey.
Results
Mean pt age was 47 yrs, and 65% were female. At time of survey, 46% of pts selected fatigue as one of their 3 most bothersome ITP symptoms. A majority of pts reported fatigue at both diagnosis (58%) and time of survey (50%). Most pts rated the severity of fatigue with a score of 5–7, where 7 represents 'worst imaginable', at diagnosis (74%) and at time of survey (65%); MDs perceived fatigue less frequently either at diagnosis (30%) or as a common ITP symptom (31%). Pts who experienced fatigue at diagnosis and at time of survey reported a higher prevalence of ITP symptoms compared with those who did not. The largest differences between pts with and without fatigue (≥20%) were observed at diagnosis (data not shown) and time of survey (Fig.1A) for depression, anxiety around platelet count, and headache. Overall, symptom burden at diagnosis and time of survey was similar, irrespective of gender, amongst pts who reported fatigue at diagnosis (differences ≤10%); the exception was moderate-to-severe headache, reported more frequently by females at diagnosis (37% vs 19%) and time of survey (28% vs 13%). Bleeding from cuts and anxiety around unstable platelet count were also more frequent at diagnosis in females (45% vs 32%, and 50% vs 37%, respectively). No pattern was observed between improved platelet count and decreased reporting of fatigue (Fig.1B).
Increased frequencies of depression and anxiety around unstable platelet count were observed in pts experiencing fatigue at time of survey vs those who did not, with more females reporting depression (33% vs 25%). A bigger impact of ITP on social life was experienced by pts who reported fatigue at time of survey than those who did not (29% vs 14% reported ITP impact on social life 'more than half of the time' or 'all the time').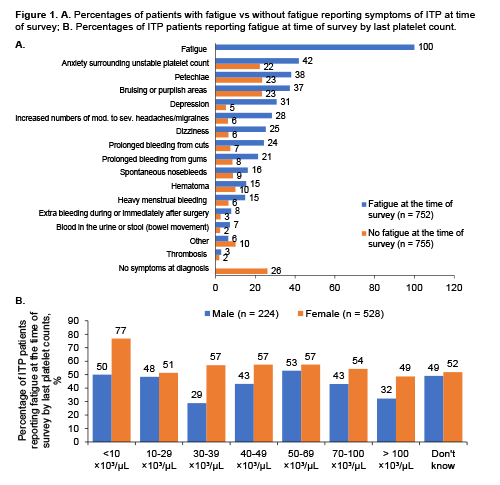 Conclusion
Pts reporting fatigue either at diagnosis or time of survey also had an overall increased symptom burden with disabling effects on QoL. Pts reporting fatigue had increased prevalence of depression and anxiety vs those who did not, at both timepoints. As described recently in other studies, no clear correlation was identified between fatigue and last platelet count or treatment at time of survey. Fatigue is an important part of ITP, but it may have a distinct underlying pathophysiology not directly linked to platelet count, e.g. platelet response to treatment.
Session topic: 32. Platelets disorders
Keyword(s): Depression, Fatigue, Immune thrombocytopenia (ITP), Quality of life