Abstract: EP1631
Type: e-Poster
Background
Corticosteroids (CSs) are standard first-line treatments for immune thrombocytopenia (ITP). Although treatment is usually effective, patients (pts) are at risk of developing CS-related complications that vary with dose and especially duration.
Aims
The cross-sectional I-WISh survey studied the burden of ITP and its impact on quality of life (QoL) using a global pt and physician (MD) sampling frame. We previously reported the prevalence of CS use for the treatment of ITP across all countries. This analysis reports MD and pt perceptions of the adverse effects of CSs and other ITP treatments.
Methods
Participating MDs had to be actively managing ITP pts (minimum caseload: 3 in the last 12 months). Pts were recruited via MDs and patient advocacy groups (PAGs). Pts and MDs completed a 30-min online survey on: demographics; signs, symptoms and their impact; pt–MD relationships. ITP expert MDs and PAG representatives designed and endorsed the survey.
Results
1507 ITP pts and 472 MDs from 13 countries completed the survey; mean pt age was 47 yrs and 65% of pts were female. According to MDs, after lack of efficacy (87%), side effects (76%) were the most common reason for therapy change. Pts and MDs were provided with a list of 47 side effects associated with CSs, anti-CD20s, and thrombopoietin receptor agonists [TPO-RAs] treatment of ITP and selected those most commonly experienced and perceived, respectively. Overall, MDs and pts agreed on 'weight gain/increased appetite' (39% and 47%, respectively) and 'changes in face shape/bloating/swelling' (24% and 37%, respectively) as the leading side effects of CSs. 33% of pts on CSs reported fatigue as a common side effect; however, MDs did not agree to the same extent (6%). Fatigue and headache (45% and 24%, respectively) were the leading pt-reported side effects associated with anti-CD20s, but MDs selected infusion reactions (41%) and increased infections (32%). Fatigue, difficulty sleeping, and headache were the pt-reported side effects most commonly associated with TPO-RAs (37%, 26%, and 22%, respectively), but MDs selected thrombosis (24%), fatigue (22%), and nausea/upset stomach/vomiting (19%).
Pt satisfaction with treatment was evaluated based on their agreement with specific statements; responses were rated on a 7-point Likert scale where 7=strongly agree. Scores ≥5 were banded to indicate agreement. Overall, more pts were satisfied with the effectiveness of TPO-RAs and anti-CD20s compared with CSs (Fig. 1A). A plurality of pts reported concerns about short- and long-term side effects of CSs and taking CSs for the foreseeable future (Fig. 1B). Furthermore, <50% of pts would recommend CSs (42%) to another pt compared with TPO-RAs (76%) and anti-CD20s (78%).
Most MDs agreed they had explained the potential side effects before treatment (94%), kept up to date with therapy options (91%), and kept pts informed about new treatment options (89%). However, overall pt agreement was lower across each of these statements (72%, 74%, and 61%, respectively).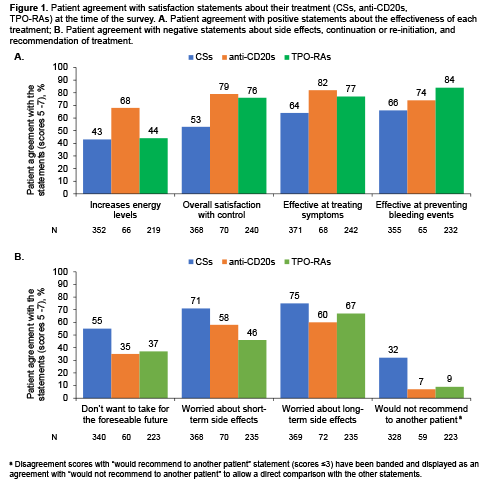 Conclusion
Pt-reported satisfaction with CSs was lower versus anti-CD20s and TPO-RAs. Recommendations (such as those in the 2019 ASH Guidelines and 2019 International Consensus document) supporting effective, earlier transitioning from CSs to second-line treatment options, would ideally increase utilization of second-line treatments with fewer side effects, thus improving QoL for pts with ITP.
Session topic: 32. Platelets disorders
Keyword(s): Immune thrombocytopenia (ITP), Quality of life, Treatment