Abstract: EP1531
Type: e-Poster
Background
The hallmark of sickle cell disease (SCD) is hemoglobin S (HbS) polymerization upon deoxygenation, resulting in red blood cell (RBC) sickling and subsequent oxidative/membrane damage, hemolysis, inflammation and vasoocclusions. Exacerbating the pathogenesis of SCD, the HbS RBC has 1) increased 2,3-DPG with decreased (↓) oxygen affinity (increased p50) and 2) ↓ RBC ATP. FT-4202 is a novel, small molecule allosteric activator of erythrocyte pyruvate kinase (PKR) and functions as an RBC metabolic modulator causing ↓ 2,3-DPG and increased ATP levels in RBC. A first-in-human Phase 1 study evaluating FT-4202 in healthy subjects (HS) and subjects with SCD has been initiated [NCT03815695].
Aims
The aims of this study are to evaluate the safety and PK/PD of FT-4202 in HS and subjects with SCD. 
Methods
In this study, SAD/MAD cohorts are randomized (3 to 1) to receive FT-4202 or placebo (P). FT-4202 was evaluated first in 4 healthy SAD cohorts and 4 healthy MAD (14-day dosing period) cohorts. Based on the safety, and PK/PD profile from HS, FT-4202 is then evaluated in 1 SCD SAD cohort and 2 SCD MAD cohorts. Safety assessments include AEs, vital signs, ECGs and laboratory parameters. PK/PD blood sampling was performed on Day 1 (SAD/MAD) and Day 14 (MAD) and up to 72h after the last dose. PD parameters included 2,3-DPG, ATP, and p50 in all cohorts with additional PD studies (including oxygen scan) performed only in the SCD cohorts.
Results
To date, FT-4202 has been evaluated in the HS SAD/MAD/Food Effect cohorts (n=90) and in the SCD SAD cohort (n=6). In HS studies, FT-4202 was well tolerated with Grade 1 headache as the most common AE reported in HS receiving a single dose (4%) or 14 days (28%) of FT-4202 and in 1/6 SCD subjects receiving FT-4202/P (blinded). The PK profile of FT-4202 was similar in HS and SCD subjects. FT-4202 was rapidly absorbed with a median Tmax of 1h post-dose, a T1/2 of ~10-13h, and an AUC0-24 ~7000 h.ng/mL. In the HS studies, the PD activity of FT-4202 was observed at all dose levels after 24h (↓ 2,3-DPG, p<0.0001) and after 14-days (increased ATP, p<0.0001) of dosing. The biologic consequence of this PD response was an increase in oxygen affinity (↓ p50, p<0.0001) within 24h of FT-4202 dosing and a decrease in absolute reticulocyte counts (p<0.0001) with a slight increase in hemoglobin levels (ns) by Day 4 of the dosing period in all FT-4202 dose cohorts. Biologic activity has been observed in SCD subjects receiving a single dose of FT-4202, demonstrating the PKR enzyme in the SCD RBC is functional and responds to an allosteric PKR activator. Figure 1 shows the effects of FT-4202 on a SCD subject's RBCs, 24h after FT-4202 dosing. 1A: Increased oxygen affinity of HbS, similar to HbA; 1B: A left shift in the point of sickling (PoS) with an increase in the EImin. The median change in p50 and PoS in all FT-4202 treated SCD subjects are provided.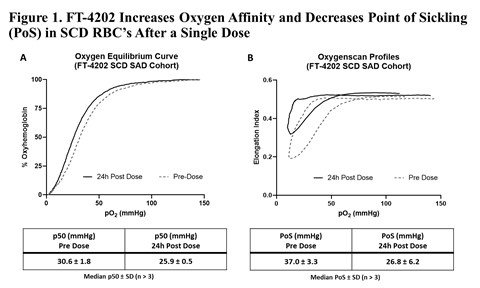 Conclusion
FT-4202 has a favorable safety profile and has demonstrated PD activity after a single dose or after multiple daily doses in HS. Early single dose studies in SCD subjects show an acceptable safety profile with evidence of PD activity translating into favorable biologic effects of increased oxygen affinity with a shift in the PoS to lower oxygen tensions and improved membrane deformability of sickle RBCs. 2-wk SCD/MAD cohorts are ongoing to further evaluate the effects of FT-4202 on hemoglobin, inflammation and RBC metabolomics. A 12-wk dosing cohort to further characterize the effects of chronic PKR-activation on the pathophysiology of SCD will be evaluated if the 2-wk MAD studies are supportive.
Session topic: 26. Sickle cell disease
Keyword(s): Hemoglobin, Red blood cell, Sickle cell disease