Abstract: EP1497
Type: e-Poster
Background

β-thalassemia is the most prevalent monogenic disease for which gene therapy with autologous hematopoietic progenitor cells (HPC) modified to express ß-globin represents a potential therapeutic option. The most relevant clinical variables influencing success of gene therapy in ß-thalassemia are patient genotype, myeloablative conditioning regimen, number and type of progenitor cells, and vector copy number (VCN).
Aims

We report the results of a safety and efficacy study of the use of gene therapy with the human globin TNS9.3.55 vector in three patients at Memorial Sloan Kettering Cancer Center between November 2012 and May 2015, with a follow-up of 5-7 years. The results of 3 patients treated and followed at Department of Hematology and Rare Diseases European Reference Network Center for Rare Hematological Diseases (Hospital Villa Sofia-V. Cervello) are reported here.
Methods

Patients underwent mobilization with GM-CSF followed by HPC collection. Cells were CD34 selected using CliniMACS Miltenyi columns, transduced with the TNS9.3.55 vector and cryopreserved. Patients were admitted and received conditioning with busulfan on days -4 and -3 and their autologous CD34+,TNS9.3.55 cells were administered intravenously in two aliquots on days 0 and +1. The patients were discharged after blood cells count recovery. The safety of the vector was yearly evaluated monitoring the occurrence of insertional oncogenesis.
Results

The patient characteristics and transplant features are shown in table 1. Patients age was 23, 18 and 18 respectively. Patients 1 and 3 had the same ß039-IVS1,110 genotype while patient 2 had the ß039-IVS1,6 genotype. Patient 2 was previously splenectomised. Pre-transplant vector copy number (VCN) was 0.37, 0.21 and 0.3 respectively. Patients 1 and 2 received busulfan at 8 mg/Kg while patient 3 received myeloablative dose of 14 mg/Kg because of poor initial responses for patients 1 and 2. Cell doses included 12.7, 8.4, and 9.1 CD34+ TNS9.3.55cells/Kg.  Patient 1, with a follow-up of 7.2 years, did not show any changes in transfusion requirement (214.53 vs 209.40 gr/kg/dl) or in daily Hb (1.22 vs 1.22 %). Patient 2, with a follow-up of 7 years showed a reduction of 48,31% in the transfusion requirement (221.54 vs 114.5 g/kg/year)  and 39,5% in the mean daily Hb decrease (1.29% vs 0.78%). Patient 3, with the same genotype as patient 1, and who received a myeloablative regimen experienced a decrease of 32.9 % in the mean of blood requirement (274.19 vs 183.97 g/kg/year) and of 33.7% in the mean of daily Hb (1.63 vs 1.08%), with a follow-up of 4 years (Tab. 1; Fig. 1)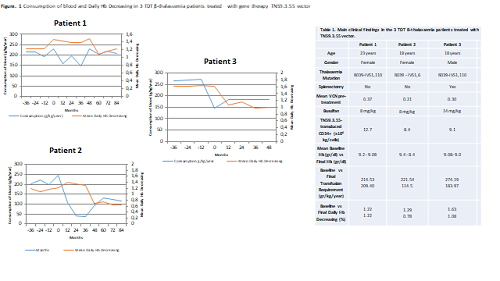 Conclusion

In summary, none of the 3 patients achieved transfusion independence, but one patient a good partial response (pt 2) and one patient a partial response (pt 3) with decrease in transfusion requirements. Also, based on these results, (1) comparing two patients with the same genotype (pts 1 and 3), we found that patient 3 who received a myeloablative cytoreduction had a response, while patient 1 who did not, had no response, (2) patient who have a milder genotype (ß039-IVS1,6; pt 2)  had response following a non-myeloablative regimen; of note this patient was also the one splenectomised patient. These data, confirming that genotype and full myeloablation are crucial factors, suggesting as new and improved lentiviral vector as well as the use of enhanced transduction are decisive.
Session topic: 25. Gene therapy, cellular immunotherapy and vaccination - Clinical
Keyword(s): Gene therapy, Long-term follow-up, Thalassemia