Abstract: EP1381
Type: e-Poster
Background
Relapse after allogeneic stem cell transplantation (alllo-SCT) remains a major cause of death with poor prognosis. Second allo-SCT is considered for selected patients (pts) with limited long-term disease control and cure after HLA-matched SCT. Haploidentical SCT (HSCT) is being increasingly used worldwide as an alternative donor source for pts who lack an HLA matched donor. Outcomes of HSCT as second SCT are unknown.
Aims
To determine the feasibility and efficacy of HSCT as a second SCT for high-risk pts with relapsed disease after allo-SCT.
Methods
All consecutive pts with relapsed acute myeloid leukemia (AML, n=20), acute lymphoblastic leukemia (n=4) myelodysplastic syndrome (MDS, n=3), and Hodgkin's lymphoma (n=2) who underwent HSCT as a second allo-SCT between 02/2009-10/2018 were included. Primary endpoints: progression-free survival (PFS) and overall survival (OS). Secondary endpoints: cumulative incidence of relapse (CIR) and non-relapse mortality (NRM). Kaplan-Meier estimates and Cox proportional hazards regression were used.
Results
A total of 29 pts with a median age of 36 years (19-72) at second SCT were identified, 55% males. Key baseline characteristics for the first SCT: 22 pts (76%) received myeloablative conditioning (MAC, most busulfan-based; 50%), 7 matched related, 9 matched unrelated, 6 cord blood, 5 HSCT. For the second HSCT, 83% had high/very high DRI, only 24% were in CR at SCT, and for AML/MDS 61% had high-risk cytogenetics. Majority received melphalan-based regimen (n=21; 72%) with post-transplant cyclophosphamide-based graft-versus-host-disease (GVHD) prophylaxis and 52% received MAC. The donors were: 14 (48%) siblings, 12 (41%) children, and 3 parents. Majority received bone marrow (BM) graft (69%) and 5 (17%) had high DSAs. With a median follow up of 46.9 months (3.1-104.5), the median PFS and OS of all pts were 6.6 (3.0-37.8) and 8.1 (3.4-not reached) months, respectively. The 3-year PFS and OS were 31% and 40%, respectively. The 3-year GRFS, CIR, and NRM were 28%, 30%, and 39%, respectively. The CI of grade 3-4 acute GVHD was 7.1%. CI of chronic GVHD at 1 year was 7.2%. In univariate analysis, HCT-CI ≥3 (HR 3.25, 1.22-8.67; p=0.018), HCT-CR (composite risk) (HR 3.25, 1.19-8.86; p=0.021), and DSA (HR 5.62, 1.79-8.65; p=0.003) were associated with worse OS; BM graft source (HR 0.37, 0.14-0.96; p=0.041) had favorable OS. Similarly, these 4 factors significantly impacted GRFS rates in univariate analysis. For PFS, male recipient (HR 0.34, 0.13-0.88; p=0.027) was associated with better outcome, but HCT-CI (HR 3.35, 1.32-8.49; p=0.011), HCT-CR (HR 3.30, 1.29-8.43; p=0.012), and DSA (HR 4.90, 1.16-8.93; p=0.005) had inferior PFS. Early relapse after first SCT (<6 months) was the only significant variable to predict CIR (HR 2.33, 1.54-6.05; p=0.025). For NRM, HCT-CI (HR 1.35, 1.08-1.70; p=0.007) and DSA (HR 4.92, 1.37-7.69; p=0.015) were associated with high mortality. In multivariable analysis, HCT-CI and DSA were significantly associated with worse outcomes for OS, PFS, and NRM. For GRFS, only HCT-CI was associated with inferior outcome. For CIR, only relapse within 6 months after first SCT was associated with increased risk.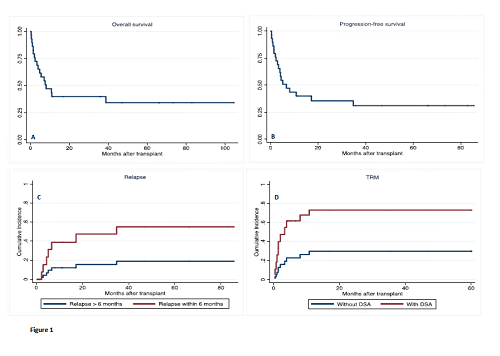 Conclusion
Our findings suggest that HSCT as a second allo-SCT is feasible and potentially curative. Lower HCT-CI and DSA were associated with improved survival and lower NRM. These results compare more favorably with historical controls using other donor sources. Haploidentical grafts might be a preferred donor source as second allo-SCT for these high-risk pts who frequently may need to proceed urgently to transplant.
Session topic: 22. Stem cell transplantation - Clinical
Keyword(s): Allogeneic hematopoietic stem cell transplant, Relapse