Abstract: EP1284
Type: e-Poster
Presentation during EHA25: All e-Poster presentations will be made available on the on-demand Virtual Congress platform as of Friday, June 12 at 08:30 CEST and will be accessible until October 15, 2020.
Background
Lonca is an antibody-drug conjugate comprising a humanised anti-CD19 antibody conjugated to a pyrrolobenzodiazepine dimer toxin. Lonca has shown single-agent antitumour activity and manageable toxicity in a phase 1 trial (NCT02669017) in relapsed/refractory (R/R) non-Hodgkin lymphoma, including DLBCL and MCL. Ibrutinib is a small-molecule inhibitor of Bruton's tyrosine kinase, a mediator of the B‑cell–receptor signalling pathway, which is implicated in the pathogenesis of B-cell cancers. Preclinically, the combination of Lonca and ibrutinib has shown synergy. 
Aims
To present interim data from the phase 1 part of a phase 1/2 trial of Lonca combined with ibrutinib in patients (pts) with R/R DLBCL or MCL.
Methods
This open-label, single-arm dose escalation and expansion trial (NCT03684694) is enrolling pts aged ≥18 years with pathologically confirmed R/R DLBCL or MCL. Primary objectives are to characterise the safety and tolerability of Lonca with ibrutinib, and to identify the recommended dose and schedule for phase 2. Secondary objectives are to evaluate preliminary antitumour activity, pharmacokinetics (PK), pharmacodynamics (PD), and immunogenicity of the combination. Pts receive Lonca every 3 weeks for 2 doses, and ibrutinib daily for up to 1 year. Pts with a partial response (PR) or stable disease at the second disease evaluation may receive 2 additional doses of Lonca 4 weeks apart. In phase 1, Lonca doses of 60 to 90 µg/kg (1 hour intravenous infusion) with fixed-dose ibrutinib (560 mg/day, oral) are being evaluated using a 3+3 design with expansion at doses below the dose being evaluated during escalation, provided there was ≥1 pt with documented PR or complete response (CR) and ≤1/6 pts with dose-limiting toxicity (DLT). 
Results
As of 8 Jan, 2020, 14 pts had been enrolled: 13 pts with DLBCL and 1 pt with MCL. Baseline characteristics are presented in the Table. Pts received a median of 2 cycles of Lonca (range 1–2) at 60 µg/kg (8 pts) or 90 µg/kg (6 pts) and had a median treatment duration of 58.5 days (range 18–324).
Treatment-emergent adverse events (TEAEs) were reported in 13 (92.9%) pts, and grade ≥3 TEAEs in 8 (57.1%) pts. All-grade TEAEs in ≥20% pts, regardless of relationship to study treatment, were thrombocytopenia (7 [50.0%]), anaemia (5 [35.7%]), fatigue (5 [35.7%]), rash (4 [28.6%]), cough (3 [21.4]), and dyspepsia (3 [21.4]). The most common grade ≥3 TEAEs (≥10% pts) were thrombocytopenia (4 [28.6%]) and anaemia (2 [14.3%]). TEAEs leading to treatment discontinuation occurred in 3 (21.4%) pts. Two pts had DLTs, both had received Lonca 90 µg/kg with ibrutinib: 1 pt had 1 DLT of death (cardiac event considered possibly related to ibrutinib) and 1 pt had 3 DLTs comprising 1 event of grade 3 thrombocytopenia and 2 events of grade 3 anaemia requiring transfusion, all considered probably related to Lonca and ibrutinib.
Eleven pts were evaluable for efficacy and overall response rate (ORR) was 72.7% (8 pts), comprising 6 (54.5%) CR and 2 (18.2%) PR. ORR in pts with DLBCL was 70% (7/10 pts), 6 (60%) pts had a CR. The pt with MCL had a PR. ORR for pts receiving Lonca 60 µg/kg was 100% (5/5 pts; 4 CR in pts with DLBCL; 1 PR in the pt with MCL) and ORR for pts receiving Lonca 90 µg/kg (all pts with DLBCL) was 50% (3/6 pts; 2 CR and 1 PR).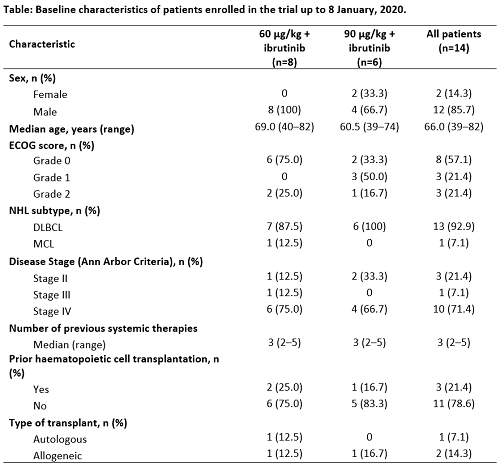 Conclusion
Interim results show that Lonca in combination with ibrutinib has encouraging antitumour activity and manageable toxicity in pts with R/R DLBCL or MCL at doses of 60 or 90 µg/kg. This study is continuing to enroll pts and updated results, including PK and PD data, will be presented at the meeting.
Session topic: 19. Aggressive Non-Hodgkin lymphoma - Clinical
Keyword(s): Antibody targeting, Diffuse large B cell lymphoma, Ibrutinib, Mantle cell lymphoma