Abstract: EP1264
Type: e-Poster
Background

Peripheral T cell lymphomas are a rare and heterogenous group of aggressive non-Hodgkin lymphomas (NHL) that develop from mature T- and natural killer cells. They comprise approximately 10% of all newly diagnosed cases of NHL in Western populations.
Aims

To characterize real-world treatment patterns and outcomes in patients with PTCL in France (Fr), the United Kingdom (UK), and Germany (DE) in the first-line (1L) setting.
Methods

A retrospective medical chart review study was undertaken at clinical sites in Fr, UK, and DE. Treating physicians were responsible for patient selection and data collection via structured case report forms. Adults ≥18 yrs with newly diagnosed PTCL between 01/01/2014 and 12/31/2016 were randomly selected for inclusion. Eligible patients had received 1L treatment for PTCL and had clinical data available for ≥1 year after PTCL diagnosis or until death. Patients enrolled in a clinical trial for 1L PTCL at any time between diagnosis and end of follow-up, or with prior unresolved malignancy within 5 yrs of PTCL diagnosis were excluded. Demographic, clinical, and immunophenotypic/cytogenetic profiles were assessed at diagnosis. Treatments received and best response reported by the treating clinician (categorized as complete response, partial response, stable disease, and progressive disease at the end of 1LT are described. Data from the three countries are pooled for the analysis.
Results

56 oncologists (Fr 15, UK 17, DE 24) with a median of 15 yrs of clinical practice participated in the study. Most physicians in Fr and DE practiced at a university/regional hospital centre (73% & 75% respectively). In the UK, most physicians practiced at a specialist cancer/tertiary referral treatment centre, 47%. The median number of patients treated annually per oncologist across the three countries was 12. 165 patients (Fr 53; UK 56; DE 56) received at least 1LT during the study period. The median age at diagnosis was 62 yrs (range, 19-84 yrs), with a male predominance (59%). At diagnosis, 81% of patients had an ECOG of 0-1, B symptoms were present in 63% and extranodal disease was present in 38%. Most patients (72%) had stage III/IV disease, and 60% were classified as intermediate risk (IPI score 2-3). The most common histological subtypes were PTCL-NOS (41%), sALCL (24%), and AITL (22%). Of those tested, 61% patients were CD30 positive (thresholds NR). Only 18% patients underwent cytogenetic testing. Median duration of follow-up was 33 months from the start of 1L PTCL treatment. During follow-up, 32% of patients had died. In the 1L setting, 54% and 34% patients were treated with CHOP and CHOEP/CHOEP‐like regimens (Table). Median duration of 1LT was 4.7 months. SCT was undertaken in 26% patients as part of 1LT, of which 86% were autologous. PET-CT was used for response assessment in 43% of patients. Best response within 1 year of completing 1LT and before start of 2L treatment was assessed in 100/165 [61%] patients (Table). Overall 17.6% of patients relapsed within 1 year and received 2L treatment. Brentuximab vedotin (25%) and DHAP (18%) were the most common 2L treatments.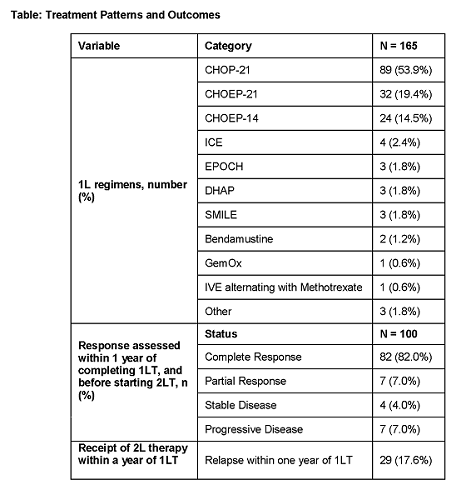 Conclusion
This study describes treatment patterns and clinical outcomes among patients receiving 1L PTCL treatment in Fr, the UK, and DE. CHOP and CHOEP/CHOEP‐like regimens were the most frequently used agents. Data on the distribution of PTCL subtypes and outcomes of treatment in routine clinical practice complements clinical trial data and is crucial in facilitating improvement of survival outcomes through the introduction of novel therapies for this challenging group of rare malignancies.
Session topic: 19. Aggressive Non-Hodgkin lymphoma - Clinical
Keyword(s): Clinical outcome, NHL, Peripheral T-cell lymphoma, T cell lymphoma