Abstract: EP1238
Type: e-Poster
Presentation during EHA25: All e-Poster presentations will be made available on the on-demand Virtual Congress platform as of Friday, June 12 at 08:30 CEST and will be accessible until October 15, 2020.
Background
NK/T-cell lymphoma (NKTCL) nasal type is an aggressive, EBV associated, Non-Hodgkin lymphoma (NHL). In the Western countries, NKTCL is rare and makes up only 0,2% of all the NHLs. In contrary, in Asia, Central- and South America, NKTCL makes up to 15% of all NHLs. The vast majority of NKTCLs clinical, molecular and prognostic data are based on Asian studies and case series. Only a few small West-European series are reported.
Aims
Here we describe the clinical characteristics and treatment outcomes of the largest cohort of Western-European patients and compare these data to well-described Asian (Lee, JCO 2006; Suzuki, Annals of Oncology 2010; Yang, Blood 2015) and American cohorts (Karkera, JCO 2017).
Methods
All patients with NKTCL diagnosed between 1 January 2014 and 31 December 2017 were identified from the nationwide Netherlands Cancer Registry (NCR), and had at least 1 day of follow up. Data available includes sex, age, disease stage and treatment. OS was defined as the date from NKTCL diagnosis to all-cause death. Patients alive were censored at February 1, 2019.
Results
Sixty-three patients were identified: 42 male, 21 female patients. Mean age was 64 years (range 20-90). Median follow-up was 18 months (range 1 day-62 months). NKTCL represented 0,31% of all new diagnosed NHL in the Dutch population.
Forty-four patients (70%) had stage I/II disease, of whom 6 patients did not receive any treatment, 19 patients were treated with radiotherapy only, 11 patients with CHOP-based therapy +/- radiotherapy, 7 patients with asparaginase-based therapy +/- radiotherapy, and 1 patient received a platinum-based therapy. The 2-years overall survival (OS) for all patients with stage I/II disease was 68%, and 74% for all treated patients. Estimated median OS is 40,8 months (95%CI 32,9-48,7). The 2-years OS for  patients treated with radiotherapy only was 78%, 47% for patients treated with CHOP-based therapy and 100% for patients treated with asparaginase-based therapy.
Nine-teen patients (30%)  had a stage III/IV disease of whom 6 patients were not treated, 2 received only palliative radiotherapy, 5 were treated with CHOP-based therapy and 6 patients were treated with asparaginase-based therapy. Only 3 patients treated with asparaginase-based therapy were alive at end of follow-up. 2-years OS for the total group was 21%, and 39% for those who received treatment. For those treated with CHOP based and asparaginase-based therapy, the 2-years OS was 20% and 50%, respectively.
In our cohort of 63 patients, we observed a similar distribution of male/female (2:1) and stage distribution compared to the Asian and American cohorts. However, our population appears to be older (64 versus 50-55). More patients received radiotherapy only. OS is similar to earlier reported series, confirming that asparaginase-based therapy is superior to CHOP-based therapy.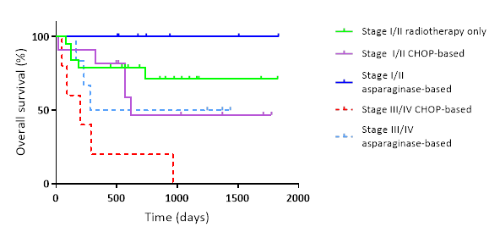 Conclusion
In this largest Western-European cohort of patients with NKCL the male and female distribution and incidence of phase I/II disease (70% of the patients) is comparable to other populations. Remarkably, our population is about 10-15 years older. Patients treated with asparaginase-based therapy had a better survival than patients treated with CHOP-based therapy. Asparaginase-based therapy shows excellent results in stage I/II disease but treatment for patients with stage III/IV remains challenging
Session topic: 19. Aggressive Non-Hodgkin lymphoma - Clinical
Keyword(s): Lymphoma, NK-T cells, Population