Abstract: EP1209
Type: e-Poster
Presentation during EHA25: All e-Poster presentations will be made available on the on-demand Virtual Congress platform as of Friday, June 12 at 08:30 CEST and will be accessible until October 15, 2020.
Background

Controversy exists regarding the prognostic effect of sex on overall survival (OS) in elderly patients with diffuse large B-cell lymphoma (DLBCL) treated with rituximab plus cyclophosphamide, doxorubicin, vincristine, and prednisone (R-CHOP). At present, no study has specifically explored this potential association in elderly DLBCL patients relative to the survival expectations of a comparable group from the general population; that is, relative survival (RS).
Aims

In this contemporary, nationwide, population-based study, we assessed the effect of sex on RS in elderly DLBCL patients treated with first-line R-CHOP.
Methods

We identified all older (≥70 years) patients with primary DLBCL diagnosed in the Netherlands between 2014-2017 from the nationwide Netherlands Cancer Registry. Data on the exact first-line therapeutic regimen, but not on the exact dosing of individual agents, were registered in the NCR for patients diagnosed from 2014. Rituximab was administered at a standard dose of 375 mg/m2. RS was calculated to estimate disease-specific survival and was measured from the time of diagnosis until death or end of follow-up (January 1, 2019), whichever occurred first. RS is the ratio of the patients' OS to the expected survival of an age-, sex-, and period-matched group from the general population. Multivariable evaluation of sex (male v female) on RS was performed using Poisson regression with adjustment for years of follow-up, age (70-79 v ≥80 years), and International Prognostic Index (IPI; 1-2 v 3-5).
Results

A total of 2,546 patients with DLBCL aged ≥70 years were diagnosed in the Netherlands between 2014-2017 (median age, 77 years; 54% males; 17 % stage I disease). In this total cohort, 69% of males and 62% of females received R-CHOP-21. The analytic cohort included 1,676 (66%) patients who received ≥1 cycle of R-CHOP-21. Baseline characteristics are presented according to sex in Fig A, showing no differences concerning age distribution, the number of completed treatment cycles, IPI scores, and the individual parameters of the IPI. Overall, at a median follow-up of 25 months (range, 0.3-61.0 months), 2-year RS was 74% (95% confidence interval [CI], 71%>77%) and 76% (95% CI, 73%>80%) among males and females, respectively (Fig B; P=0.307). Also, there was no clear prognostic effect of sex across the two age groups (Fig C-D; P>0.05 for both comparisons). In multivariable analyses, only IPI (excess mortality ratio [EMR], 3.05; 95% CI; 2.34-3.98; P<0.001)-but not higher age (EMR, 1.13; 95% CI, 0.88-1.45; P=0.344) and sex (EMR, 0.91; 95% CI, 0.73-1.13; P=0.393)-was associated with inferior RS.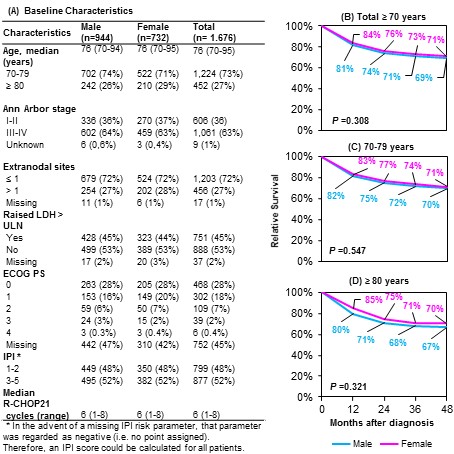 Conclusion

In this contemporary, nationwide, population-based study among elderly patients with DLBCL (≥70-year old) managed with R-CHOP in the Netherlands, no sex-based difference in RS was objectivated. Nevertheless, the findings of our study can not be considered definitive in the controversy regarding sex-based differences in survival in elderly R-CHOP-treated DLBCL patients and should be validated in forthcoming population-based studies. Also, the results of well-designed prospective intervention studies to inform on risk-adapted dosing strategies in elderly patients with unfavorable clinical characteristics are awaited.
Session topic: 19. Aggressive Non-Hodgkin lymphoma - Clinical