Abstract: EP1201
Type: e-Poster
Presentation during EHA25: All e-Poster presentations will be made available on the on-demand Virtual Congress platform as of Friday, June 12 at 08:30 CEST and will be accessible until October 15, 2020.
Background
Tafasitamab (MOR208) is an Fc-enhanced, humanized, monoclonal antibody that targets CD19. In combination with the immunomodulatory drug, lenalidomide (LEN), it has shown encouraging activity with durable responses in autologous stem cell transplant (ASCT)-ineligible patients with relapsed or refractory (R/R) diffuse large B-cell lymphoma (DLBCL), in the open-label, single-arm, Phase II L-MIND study (NCT02399085). The primary endpoint was best objective response rate as assessed by an independent review committee (IRC), which was 60.0% (95% confidence interval [CI]: 48.4–70.8) in the primary analysis (data cut-off November 30, 2018). Median duration of response (DOR) was 21.7 months (95% CI: 21.7–not reached [NR]) and median follow-up was 17.3 months (Duell J, et al. Blood 2019;134[Suppl 1]:1582).
Aims
Here we report the long-term clinical efficacy and safety of tafasitamab + LEN in the L-MIND study after one additional year of follow up for the study population (data cut-off November 30, 2019).
Methods
Patients aged ≥18 years with R/R DLBCL (1–3 prior systemic therapies, including ≥1 CD20-targeting regimen), with an Eastern Cooperative Oncology Group performance status 0–2, and who were ineligible for ASCT, were enrolled. Patients received 28-day cycles of tafasitamab (12 mg/kg intravenously), once weekly during Cycles 1–3 with a loading dose on Cycle 1 Day 4, then every 2 weeks during Cycles 4–12. LEN (25 mg orally) was administered on Days 1–21 of Cycles 1–12. After Cycle 12, progression-free patients received tafasitamab every 2 weeks until disease progression. The primary endpoint was ORR, as assessed by an IRC. Secondary endpoints included DOR, progression-free survival (PFS), overall survival (OS), safety, and exploratory biomarker analyses.
Results
In this long-term analysis of the L-MIND data, of 81 enrolled patients, 80 received tafasitamab + LEN and were included in the full analysis set for efficacy. The IRC-assessed ORR was 58.8% (n=47/80) and was consistent with the primary analysis. 41.3% (n=33/80) of patients demonstrated complete response, 17.5% (n=14/80) partial response, 15% (n=12/80) stable disease, 16.3% (n=13/80) progressive disease, and 10.0% (n=8/80) were not evaluable. The IRC-assessed median DOR for the entire cohort was 34.6 months (95% CI: 26.1–34.6; Figure 1). Median OS was 31.6 months (95% CI: 18.3–NR) with a median follow-up of 31.8 months (95% CI: 27.2–35.9), and IRC-assessed median PFS was 16.2 months (95% CI: 6.3–NR) with a median follow-up of 22.6 months (95% CI: 22.2–27.4). No unexpected toxicities were reported. Updated safety results will be presented at the meeting.Figure 1. KM curve for IRC-assessed DOR of patients with R/R DLBCL treated with tafasitamab + LEN. CI, confidence interval; DLBCL, diffuse large B-cell lymphoma; DOR, duration of response; IRC, independent review committee; KM, Kaplan–Meier; LEN, lenalidomide; R/R, relapsed/refractory.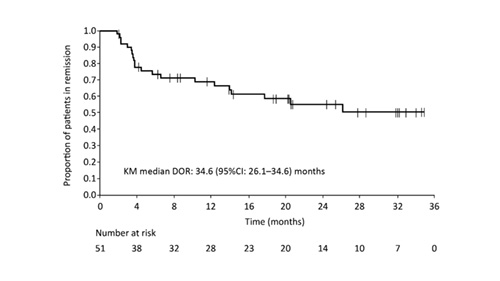 Conclusion
After a minimum of 2 years' follow-up, outcomes from the L-MIND study are consistent with the primary analysis, and confirm the long durability of the response and a meaningful OS of tafasitamab + LEN followed by tafasitamab monotherapy in ASCT-ineligible patients with R/R DLBCL. Together with a favorable safety profile, these are clinically relevant results suggesting the benefit of this immunological combination.
Session topic: 19. Aggressive Non-Hodgkin lymphoma - Clinical
Keyword(s): B cell lymphoma, CD19, DLBCL, Immune therapy