Abstract: EP1161
Type: e-Poster
Presentation during EHA25: All e-Poster presentations will be made available on the on-demand Virtual Congress platform as of Friday, June 12 at 08:30 CEST and will be accessible until October 15, 2020.
Background
There is a lack of standard treatment approaches for patients with relapsed indolent non-Hodgkin lymphoma (iNHL). Lenalidomide, an immunomodulatory agent, enhances the activity of rituximab when the two are combined (ie, R2). The phase III AUGMENT study of R2 reported a median progression-free survival (PFS) of 39.4 mo in patients with relapsed/refractory (R/R) iNHL (J Clin Oncol. 2019;37:1188). Based on these AUGMENT study results, R2 was approved by the US FDA for treatment of adult patients with previously treated follicular lymphoma (FL) or marginal zone (MZL) and by the European Commission for adult patients with previously treated FL.
Aims
These analyses examine the MAGNIFY interim primary endpoint of overall response rate (ORR; 1999 IWG) for induction R2 in efficacy-evaluable patients receiving ≥ 1 treatment and who have available baseline and post-baseline assessments.
Methods
The multicenter, non-registrational phase IIIb MAGNIFY trial in patients with R/R FL grade 1-3a, MZL, or mantle cell lymphoma (MCL) was designed to determine the optimal duration of lenalidomide (NCT01996865). Lenalidomide 20 mg/d, d1-21/28 + rituximab 375 mg/m2/wk c1 and then q8wk c3+ (R2) are given for 12c followed by 1:1 randomization in patients with stable disease, partial response, or complete response (CR) to R2 vs rituximab maintenance for 18 mo. In order to provide the most up to date interim analysis, results from the latest MAGNIFY cutoff of June 16, 2019 are shown, representing approximately a full year's worth of additional follow-up since last reported (previous cutoff date August 10, 2018). Data presented here focus on induction R2 in efficacy-evaluable FL and MZL patients (MCL not included).
Results
As of June 16, 2019, 393 patients (81% FL grade 1-3a; 19% MZL) were enrolled with a median age of 66 years (range, 35-91), a median of 2 prior therapies (95% prior rituximab-containing), and 83% had stage III/IV disease. Median follow up was 23.7 mo (range, 0.6-57.8) for censored patients (n = 335). ORR was 69% with 40% CR/CRu (Table). Median duration of response (DOR) was 39.0 mo, and median PFS was 40.1 mo. Efficacy results from subgroup analyses of histology (FL or MZL), rituximab-refractory status, double-refractory status, and early relapse status are also shown in the table. 199 patients (51%) have completed 12 cycles of R2, and 188 (48%) have been randomized and entered maintenance. Premature discontinuation of both lenalidomide and rituximab occurred in 139 patients (35%), primarily due to adverse events (AEs) (n = 52, 13%) or progressive disease (n = 45, 11%). The most common all-grade AEs were fatigue (48%), neutropenia (43%), diarrhea (36%), nausea (31%), and constipation (30%). Grade 3/4 neutropenia occurred in 36% of patients (9 patients [2%] had febrile neutropenia); all other grade 3/4 AEs occurred in < 7% of patients.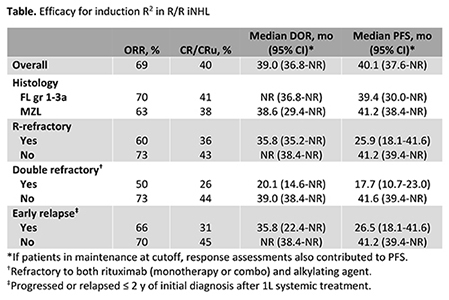 Conclusion
R2 is an active treatment regimen with a tolerable safety profile in patients with R/R FL grade 1-3a and MZL, including rituximab-refractory, double-refractory, and early relapse patients.
Session topic: 18. Indolent and mantle-cell non-Hodgkin lymphoma - Clinical
Keyword(s): Follicular lymphoma