Abstract: EP1158
Type: e-Poster
Presentation during EHA25: All e-Poster presentations will be made available on the on-demand Virtual Congress platform as of Friday, June 12 at 08:30 CEST and will be accessible until October 15, 2020.
Background
The prognostic value of 18F-fluorodeoxyglucose (FDG) positron emission tomography-computed tomography (PET-CT) response assessment following first-line immunochemotherapy for advanced-stage symptomatic follicular lymphoma (FL) was previously demonstrated for patients (pts) enrolled in the Phase III GALLIUM study (NCT01332968; Trotman et al. ICML 2017). 
Aims
To evaluate the association between PET complete metabolic response (CMR) and survival after long-term follow-up in patients with previously untreated FL.
Methods
In the GALLIUM study, 1202 pts with previously untreated FL were randomized 1:1 to induction therapy of 1000mg obinutuzumab (G; Days 1, 8, 15 of Cycle 1 then Day 1 of subsequent cycles) or 375mg/m2 rituximab (R; Day 1 of each cycle), in combination with chemotherapy (CHOP, CVP, or bendamustine) (Marcus et al. New Engl J Med 2017). PET-CT scans were mandatory, where available, at baseline and end-of-induction (EOI) for the first 170 pts enrolled, and optional thereafter. All patients provided informed consent to participate. For this response analysis, the Lugano 2014 criteria were applied by an independent review committee (IRC) (Cheson et al. J Clin Oncol 2014). Associations between EOI PET complete metabolic response (PET-CMR) status and progression-free survival (PFS) and overall survival (OS) were evaluated, with hazard ratios (HR) stratified according to chemotherapy regimen and FL International Prognostic Index. Pts who died or progressed (CT-based progression assessment) before or at EOI were excluded from the PFS landmark (LM) analysis; pts who died before EOI were excluded from the OS LM analysis.
Results
Of the 609 pts with a baseline PET scan, 595 (98%) had detectable lesions. Of these, 519 pts had an EOI PET evaluable by Lugano 2014 criteria. At EOI, per IRC assessment, 450/595 (76%) pts had achieved CMR. Pts with non-available scans were considered as non-responders and were excluded from the LM analyses. After a median follow-up of 76.5 months, EOI PET status was highly prognostic for both longer investigator-assessed PFS (non-CMR vs CMR: HR 3.40; 95% CI: 2.33–4.97; p<0.0001) and longer OS (HR 3.34; 95% CI: 1.81–6.17; p<0.0001) (Figure 1). Six-year investigator-assessed PFS from EOI was 62.6% (95% CI: 57.0–67.6) for CMR pts compared with 23.4% (95% CI: 12.2–36.7) for non-CMR pts; the corresponding OS was 91.3% (95% CI: 88.1–93.6) vs 79.6% (95% CI: 68.0–87.4). 
Figure 1: Investigator-assessed progression-free survival (A) and overall survival (B) according to end-of-induction CMR status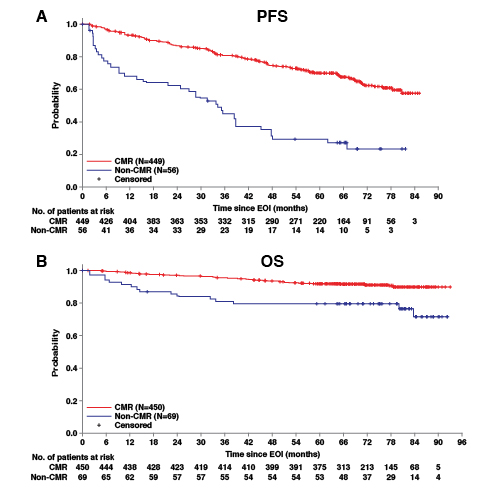 Conclusion
With more than 6 years of follow-up, this analysis confirms that after first-line chemoimmunotherapy for FL, achieving CMR on PET-CT is an early and strong predictor of increased PFS and OS.
Session topic: 18. Indolent and mantle-cell non-Hodgkin lymphoma - Clinical
Keyword(s): Follicular lymphoma, Immunotherapy, PET