Abstract: EP1148
Type: e-Poster
Background

With modern treatment strategies, more than 80% of patients with Hodgkin lymphoma (HL) achieve permanent remission and can be considered cured. However, most studies have been undertaken in Europe or North America and there is limited information on the natural history and treatment outcomes of HL in other regions, such as Latin America.
Aims
The B-CD30+ HOdgkin Lymphoma International Multi-Centre Retrospective Study of Treatment PractIces and OutComes (B-HOLISTIC) was designed to assess classical HL (cHL) treatment pathways, clinical outcomes and healthcare resource utilization in countries across Latin America, Africa, the Middle East and Asia-Pacific. Data from Latin America as of 14 December 2019 are presented here.
Methods

A retrospective chart review was performed in 19 centres across Argentina, Colombia and Mexico to collect data on adult patients (≥18 years) newly diagnosed with stage IIB–IV cHL or relapsed/refractory classical HL (RRHL) between 01 January 2010 and 31 December 2013. Data for each patient were collected until death or last follow-up in chart review, whichever occurred first. Patients with an initial diagnosis of cHL and subsequent progression to RRHL were included in both groups, provided that RRHL was diagnosed within the study period. The primary endpoint was progression-free survival (PFS) in patients with RRHL. Secondary endpoints included overall survival (OS), best clinical response after completion of treatment, response duration and adverse events (AEs).
Results
A total of 248 patients were identified by chart review (Argentina n=49; Colombia n=117; Mexico n=82). Of patients with an initial diagnosis of cHL, 33 (14%) progressed to RRHL during the study period. The median age (range) at diagnosis was 43 (18–89) years in the cHL group (n=238) and 38 (19–77) years in the RRHL group (n=43). Distribution according to clinical stage III and IV disease was 91/238 (38.2%) and 77/238 (32.4%) in patients with cHL, and 23/43 (53.5%) and 7/43 (16.3%) in patients at first RRHL diagnosis, respectively. All patients with cHL received frontline chemotherapy: the combination of doxorubicin, bleomycin, vinblastine and dacarbazine (ABVD) was initiated in 186/238 (78.2%) patients and consolidation radiotherapy was given to 46/238 (19.3%) patients. At RRHL diagnosis, chemotherapy was initiated in 37/43 (86.0%) patients. The most common regimen was ifosfamide, carboplatin, etoposide (ICE), administered in 10/37 (27.0%) cases. Among the 43 patients with RRHL, 27 (62.8%) were eligible for stem cell transplantation (SCT) and 16 (37.2%) underwent treatment. PFS, OS and clinical response to treatment for patients with cHL and RRHL are presented in Table 1. AEs were reported by 90/238 (37.8%) patients with cHL and by 20/43 (46.5%) patients with RRHL. Serious AEs (SAEs) were reported by 50/238 (21.0%) patients with cHL and 14/43 (32.6%) patients with RRHL. SAEs reported with an incidence of ≥2.5% included neutropenia, pneumonia and pulmonary embolism in patients with cHL, and neutropenia, pneumonia and sepsis in patients with RRHL.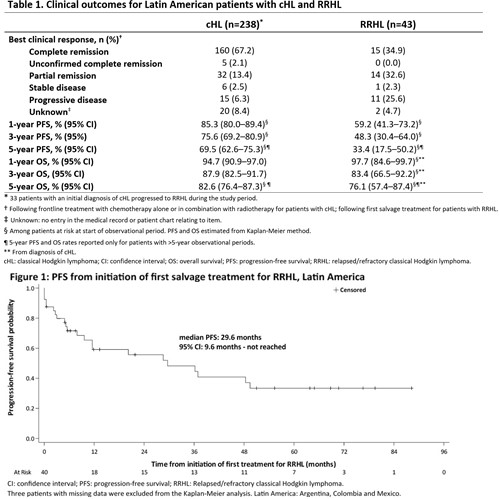 Conclusion

This retrospective study provides real-world information on treatment pathways and clinical outcomes of Latin American patients with cHL and RRHL. While 5-year PFS rates for patients with cHL are comparable with those reported in American and European (Caucasian) patients, response rates and PFS in patients with RRHL are low and this underscores the importance of novel treatments and better access to transplantation.
Session topic: 17. Hodgkin lymphoma - Clinical
Keyword(s): Hodgkin's lymphoma, Progression, Survival