Abstract: EP1143
Type: e-Poster
Background
Classical Hodgkin lymphoma (cHL) is a hematologic malignancy with poor prognosis for advanced-stage patients who do not respond well to frontline (1L) therapy.
Aims

This study examines patient characteristics and clinical outcomes associated with 1L systemic regimens used to treat advanced- stage cHL in Italy (IT), Spain (SP), and Israel (IL).
Methods

Hematologists and oncologists (N=28) from IT, SP, and IL retrospectively identified patients diagnosed between March 2014 and August 2018 with advanced cHL and treated with 1L systemic therapy: doxorubicin, bleomycin, vinblastine, and dacarbazine (ABVD); doxorubicin, vinblastine, and dacarbazine (AVD); dose-escalated bleomycin, etoposide, doxorubicin, cyclophosphamide, vincristine, procarbazine, and prednisone, including deescalated to ABVD (BEACOPPinitiation-based); or Other Systemic Therapy.
Descriptive statistics examined patient characteristics, 1L regimens, associated adverse events (AEs), and clinical outcomes by disease stage, extra-nodal involvement, international prognostic score (IPS), and regimen. Response was identified at the end of 1L therapy. Overall survival (OS) and progression-free survival (PFS) were assessed with Kaplan Meier curves.
Results

The aggregate sample (N=259) comprised of patients initially diagnosed with advanced- stage cHL (Stage IIb with bulky or extra-nodal disease 15.8%, Stage III 35.7%, Stage IV 48.4%), treated in 1L with ABVD (86.3%), AVD (2.7%), BEACOPPinitiation-based (8.6%), or Other systemic therapy (2.3%), and distributed across IT (35.5%), SP (41.3%), and IL (23.2%). Median (range) age at initial cHL diagnosis was 39 (19 – 91), males- 54.3%. Overall, patients tended to have low to intermediate IPS (0-3) (62.9%) and extranodal disease (59.8%). Among 221 patients who received 1L ABVD (the most prevalent regimen type), the mean (SD) follow-up duration was 31.2 (14.1) months (median: 30.6, range: 2.4 - 60.6), and very similar to the aggregate cohort. Complete response (CR) - at the end of 1L was 75.0% and 76.5% for aggregate and 1L ABVD cohorts, respectively. The 30-mo PFS was 70.7% and 72.6% for overall and 1L ABVD cohorts respectively. 30-mo PFS was significantly lower for patients with high IPS compare with those with low to intermediate IPS in both aggregate (62% vs. 78%; p=0.04) and 1L ABVD subgroup (64% vs. 79%; p=0.02), respectively. For aggregate and 1L ABVD cohort respectively, AEs included, but were not limited to alopecia (33.2%, 31.2%), neutropenia (57.0%, 51.1%), infection (23.8%, 22.2%), and peripheral neuropathy (7.8%, 6.3%). A total of 15 (6.8%) patients in 1L ABVD cohort died of causes related to Infection (7), cHL-related (4), or Heart/pulmonary/renal failure (3).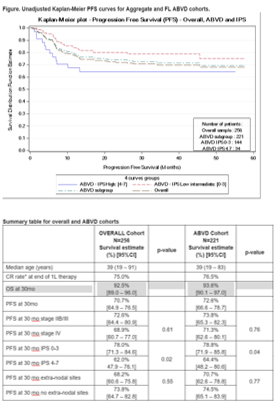 Conclusion

ABVD was the most prevalent 1L regimen. The most commonly observed AEs in 1L ABVD patients included alopecia, neutropenia, and infection. PFS was significantly lower for those with high IPS (4-7). This retrospective analysis shows that treatment outcomes in the real-world practice setting may be lower than those observed in clinical trials (e.g., ECHELON-1) and underscore the importance of new combinations with novel agents, especially for patients with high IPS.
Session topic: 17. Hodgkin lymphoma - Clinical
Keyword(s): Clinical outcome, Hodgkin's lymphoma, Safety, Survival