Abstract: EP1115
Type: e-Poster
Presentation during EHA25: All e-Poster presentations will be made available on the on-demand Virtual Congress platform as of Friday, June 12 at 08:30 CEST and will be accessible until October 15, 2020.
Background
Polycythemia vera (PV) patients are at increased risk of morbidity and mortality due to thromboembolic events (TE) or fibrotic/leukemic disease transformation; quality of life (QoL) is greatly impacted by disease‑related symptoms.
Aims
We present the 52 weeks interim results of an ongoing phase IV, observational, non-interventional study that aims to describe the profile and disease burden of PV in 352 patients treated with ruxolitinib (RUX) across 88 sites in 10 EU countries with a follow-up of 24 months after starting treatment.
Methods
This interim analysis included 60 adult patients with PV resistant/intolerant (as per the ELN criteria) to hydroxyurea (HU) who are being prescribed or have already initiated treatment (up to 6 months before the date of inclusion) with RUX according to the approved local label. Informed consent was obtained from all participants.
Results
Of the patients included, 98.3% of patients were resistant/intolerant to HU, 65% were >60 years old and 60% were men. Mean duration of PV was 4.9 years before study entry. Medical history of patients: infections in 30%, secondary neoplasms (SNP) in 12%, thromboembolic events of interest (TEs) in 25% and bleeding in 7% of patients. Medical conditions ongoing at baseline (BL): infections in 18%, SNP in 10%, and TEs in 17% of patients.
Hematocrit (HCT) was measured in 55 patients at baseline (BL): <40%, n=6; ≥40‑≤45%, 25; >45-<48%, 12; ≥48%, 12. WBC counts were measured in 57 patients at BL: ≤10×109/L, n=29; >10-≤15×109/L, 16; and >15×109/L, 12. Patients requiring phlebotomies (PHB) one year before RUX: 37/60 of which 24 needed ≥ 3 PHB. Splenomegaly at BL was seen in 11/22 patients with spleen measurements. 
HCT levels dropped rapidly in the first 12 weeks and then stabilized over the treatment period: from 44% at BL to 40% at week 52 (Figure 1). The number of PHB-independent patients rose from 38% in the year before RUX to 88% during the year of RUX treatment (Figure 2).
The PHB frequency was also lower during RUX treatment, with most having only 1-2 and none >6 PHBs. Indeed, versus the year before RUX, patients that needed 1-2 PHBs dropped from 22% to 7%, and those that needed ≥3 from 40% to 5%.
In 8 patients with moderate-massive splenomegaly at BL, the mean spleen reduction was 60%; 3 patients had no enlargement at the end of 52 weeks.
In patients with Myeloproliferative Neoplasm Symptom Assessment Form (MPN-SAF) reports (~14%), consistently low total symptom scores were observed.
80% of patients were on continued RUX dosing during the study; dosing was interrupted in 20% at least once, only 3% had ≥1 interruption. Mean dose intensity was 20.8 ± 8.2 mg/day and mean cumulative dose was 10327.2 ± 4255.7 mg.
AEs (grade 3-4) during the study: infections 5%, SNP 2%, TEs 3% of patients.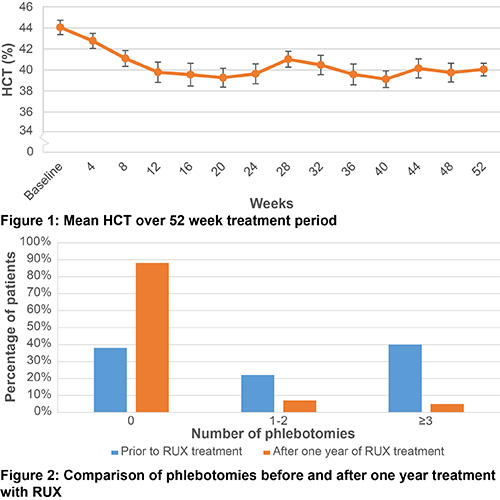 Conclusion
The results presented from this interim analysis of an observational study confirm findings from previous pivotal interventional studies of RUX in PV. Treatment with RUX lowered HCT levels rapidly and sustainably. Phlebotomy-independency of patients was greatly increased and spleen size markedly reduced in patients with reported splenomegaly.
It was observed that in practice symptoms were not captured using standardized questionnaires in a majority of patients, complete assessment of treatment effects on patients' quality of life may be limited in daily routine. More data will become available as the study nears completion for 352 patients.
Session topic: 16. Myeloproliferative neoplasms - Clinical
Keyword(s): Hydroxyurea, Myeloproliferative disorder, Polycythemia vera, Ruxolitinib