Abstract: EP1109
Type: e-Poster
Presentation during EHA25: All e-Poster presentations will be made available on the on-demand Virtual Congress platform as of Friday, June 12 at 08:30 CEST and will be accessible until October 15, 2020.
Background
MF is characterized by cytopenias, marrow fibrosis, constitutional symptoms, splenomegaly, and shortened survival. FEDR is an oral inhibitor with activity against wild-type and mutationally activated Janus kinase 2 (JAK2). In August 2019, the US FDA approved FEDR for treatment of adult patients (pts) with intermediate-2 or high-risk MF. FEDR was evaluated in the phase II, single-arm JAKARTA2 trial in pts with MF previously treated with ruxolitinib (RUX), and in the phase III, placebo (PBO)-controlled JAKARTA trial in JAK-inhibitor-naïve pts. Splenomegaly in MF is associated with debilitating symptoms that have a negative impact on pts' quality of life. Rapid improvements of splenomegaly and symptoms are important goals of treatment (Tx).
Aims
Determine time to onset of spleen size reductions and symptom improvement with FEDR 400 mg/day in pts with MF in the JAKARTA and JAKARTA2 studies.
Methods
The phase III JAKARTA trial assessed FEDR 400 mg/day and FEDR 500 mg/day vs. PBO in JAK-inhibitor naïve pts, and the phase II JAKARTA2 trial evaluated FEDR 400 mg/day (starting dose) in pts previously treated with RUX. Both studies enrolled adult pts with intermediate- or high-risk primary, post-PV, or post-ET MF, platelet counts ≥50 ×109/L, and ECOG PS scores ≤2. These analyses include pts in each study who received FEDR 400 mg/day, and JAKARTA pts randomized to PBO. FEDR was taken continuously in 28-day Tx cycles. Spleen size by palpation was measured at baseline (BL) and at each cycle. Spleen size response was defined as a ≥50% reduction by palpation from BL for spleens measuring ≥10 cm from the left costal margin at BL, or a reduction to a non-palpable spleen for spleen sizes >5–10 cm (IWG-MRT criteria). Pt-reported symptoms were evaluated using the modified Myelofibrosis Symptom Assessment Form (MFSAF), which comprised 6 key MF symptoms: night sweats, early satiety, pruritus, pain under ribs on the left side, abdominal discomfort, and bone/muscle pain. Symptom response was defined as a ≥50% reduction in MFSAF total symptom score (TSS) from BL. MFSAF-evaluable pts had non-zero BL TSS scores.
Results
In all, 96 pts were randomized to FEDR 400 mg/day and 96 pts to PBO in JAKARTA, and 97 pts received FEDR in JAKARTA2. Rapid improvements in spleen size and TSS were observed as early as end of cycle (EOC) 1, with further improvements by EOC2 that were sustained in subsequent cycles (Figure A). At EOC2, 29% and 3% of JAKARTA pts who received FEDR or PBO, respectively, had a spleen size response (≥50% reduction from BL), as did 31% of FEDR-treated pts in JAKARTA2 (Figure B). In the JAKARTA trial, median spleen size reductions from BL with FEDR and PBO by EOC2 were –40% (range –100% to +12%) and 0% (–71% to +160%), respectively; median spleen size reduction at EOC2 in JAKARTA2 was –39% (–100% to +10%) (Figure A).
The MFSAF-evaluable groups included 89 FEDR pts and 81 PBO pts in JAKARTA, and 93 FEDR pts in JAKARTA2. Median TSS reductions with FEDR at the end of each cycle were consistent with reductions in spleen size (Figure A). By EOC2, symptom responses were attained by 38% and 14% of JAKARTA pts who received FEDR and PBO, respectively, and by 34% of FEDR-treated pts in JAKARTA2 (Figure B).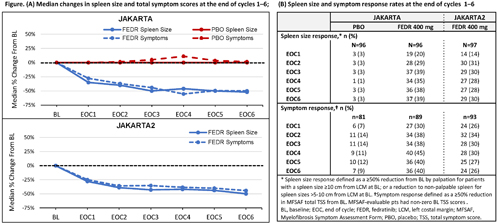 Conclusion
Substantial improvements in spleen size and MF symptom burden were observed during early treatment with FEDR. Rapid spleen size reduction and symptom improvement with FEDR by EOC2 are especially important when there is a need for prompt responses, eg, for pts who are candidates for stem cell transplant.
Session topic: 16. Myeloproliferative neoplasms - Clinical
Keyword(s): Fedratinib, Myelofibrosis, Spleen