Abstract: EP1103
Type: e-Poster
Background
Momelotinib (MMB) is a potent JAK1, JAK2 and ACVR1 inhibitor. This unique profile results in demonstrable clinical activity against each of the three hallmark features of myelofibrosis (MF), anemia, constitutional symptoms and splenomegaly, across the continuum of intermediate/high risk MF patients including JAKi-naïve and previously JAKi-treated subjects. MMB's favorable hematological safety profile and anemia benefit facilitate sustained dose intensity (DI) and prolonged clinical activity, in contrast to ruxolitinib (RUX) where progressive dose reduction due to myelosuppression is common. Literature reports indicate that decreased RUX DI is associated with a lack or loss of efficacy.
Aims
This retrospective analysis was conducted to characterize MMB DI versus RUX in the previously conducted SIMPLIFY Phase 3 studies; to investigate MMB DI in patients switching from RUX; and to define factors influencing DI for both compounds.
Methods
The mean daily doses of MMB and RUX were calculated over the 24-week randomized treatment (RT) periods in the Phase 3 SIMPLIFY-1 & -2 clinical trials (S1, S2). The S1 trial was conducted in JAKi-naïve MF patients (n=432) randomized 1:1 to MMB or RUX. S2 was conducted in prior RUX-treated MF patients with hematological toxicity (n=156) randomized 2:1 to MMB or best available therapy (BAT; consisting of RUX in 88% of patients). Patients randomized to RUX/BAT were eligible to cross-over to MMB at the end of RT and the MMB mean daily dose over the subsequent 24-week open-label (OL) periods was also calculated for both studies. The effect of baseline characteristics on DI and drivers of dose reduction for both compounds were studied.
Results
Sustained DI was noted for MMB in the RT and OL periods of the two trials, in contrast to low and diminishing DI for RUX, consistent with the differentiated myelosuppressive potential of the two agents. At each week in the 24-week RT periods, approximately 90% of MMB-randomized patients in the combined S1+S2 datasets, which represent a continuum from JAKi-naïve to advanced previously JAKi-treated MF patients, received the maximal recommended dose (MRD; 200mg QD). By contrast, only ~50% of RUX patients commenced RT at the MRD (20/25mg BID) with 32% receiving that dose in the last week of the period. MMB DI was also maintained during the 24-week OL period with 85% of patients receiving the MMB MRD throughout. Importantly, a similar proportion of patients who switched from RUX to MMB at the end of RT in both studies, including patients on very low doses of RUX, received full-dose MMB during the OL phase, confirming the tolerability of MMB in patients with RUX-induced hematological toxicity.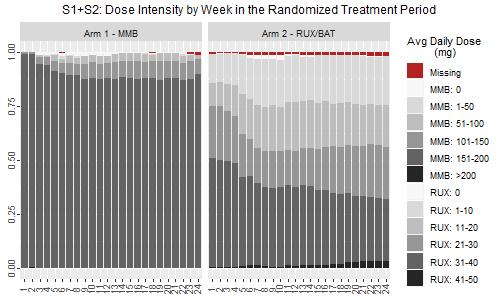 Conclusion
MMB's differentiated anemia benefit and favorable hematological toxicity profile facilitate sustained DI and prolonged efficacy across the continuum of JAKi-naïve and previously JAKi-treated intermediate/high risk MF patients, in contrast to progressive myelosuppression-induced dose reduction for RUX which is reported to be associated with a loss of efficacy. Importantly, a substantive proportion of patients who switch from RUX to MMB, including those patients receiving markedly reduced RUX doses, went on to receive full-dose MMB over an extended period, confirming MMB's ability to successfully treat MF patients with RUX-induced or exacerbated hematological toxicity. The efficacy, tolerability and DI of MMB are being further investigated in the ongoing Phase 3 MOMENTUM study in symptomatic, anemic MF patients previously treated with JAKi.
Session topic: 16. Myeloproliferative neoplasms - Clinical
Keyword(s): Anemia, Janus Kinase inhibitor, Myelofibrosis