Abstract: EP1096
Type: e-Poster
Background
Fedratinib (FEDR) is an oral, selective JAK2 inhibitor FDA approved for treatment (Tx) of patients (pts) with intermediate (Int)-2 or high-risk MF. A clinical hold placed on FEDR development in Nov. 2013 related to suspected Wernicke's encephalopathy (WE), which was later lifted, limited long-term follow-up from FEDR studies. The longest follow-up for pts treated with FEDR is available from a phase I/II extension study (NCT00724334) that followed a 6-cycle dose-finding study in 59 pts with Int- or high-risk MF (NCT00631462) (Pardanani et al, JCO, 2011).
Aims
Report long-term safety in pts with MF who received >24 cycles of FEDR.
Methods
These open-label, dose-finding and extension studies included pts with Int- or high-risk primary, post-PV, or post-ET MF. During the dose-finding study, pts received continuous FEDR at doses ranging from 30–800 mg/day for up to 6 28-day Tx cycles. The maximum tolerated dose was 680 mg/day. Pts with stable disease, clinical improvement, or complete or partial remission (IWG-MRT response criteria) after 6 cycles could enter the extension study at the last FEDR dose they received in the dose-finding study. Site visits occurred every 3 months until cycle 13 and then every 6 cycles. Here we report long-term safety in pts who received >24 total cycles of FEDR as assessed by Tx-emergent adverse events (TEAEs; coded by MedDRA v20.1), summarized in 6-cycle intervals up to cycle 36 and collectively after >36 cycles. Late-emerging TEAEs of special interest were cardiac, infectious, and neurologic events.
Results
In all, 59 pts enrolled in the dose-finding study, 43 pts (73%) entered the extension study, and 28 (47%) received >24 cycles of FEDR and comprise the Long-term (LT) Cohort. Of all 59 pts, 11 (19%) discontinued before cycle 24 due to a TEAE. In the LT Cohort, median age was 62.5 years (range 43–82). Median FEDR Tx duration was 46 cycles (25–73). Median average FEDR dose was 462 mg/day (283–800) and overall Tx compliance rate was 98% (80%–100%). Reasons for FEDR discontinuation in >1 pt in the LT Cohort were investigator decision (n=10), TEAEs (5), study termination (5), and disease progression (4).
TEAE frequencies were highest during FEDR cycles 1–6 and generally decreased or remained stable in later cycles (Table). The most common TEAEs after >24 FEDR cycles were hematologic and GI events, reported at lower or similar rates to those in early Tx cycles. Grade 3–4 TEAEs reported in >1 pt after cycle 24 were thrombocytopenia, anemia, neutropenia, and pneumonia.
Few pts experienced late-emerging cardiac events or severe/opportunistic infections. The only cardiac event of interest was 1 case of congestive cardiac failure (grade 1) during cycle 7. Pneumonia was the only infectious event observed in >1 pt after cycle 24; 5 events (all grade 3–4; 2 Tx-related) were reported in 4 pts. Three grade 3–4 serious neurologic events were reported at any time: post-herpetic neuralgia (n=2; cycle 10 and cycle 36) and cerebrovascular accident (n=1; cycle 1). No WE was reported.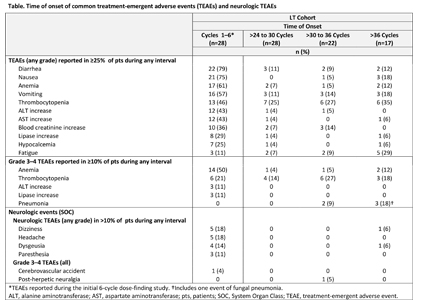 Conclusion
FEDR remained well-tolerated in pts who stayed on Tx for >24 cycles. TEAE frequencies generally decreased or remained stable relative to cycles 1–6. Among TEAEs of interest, the only event in >1 pt after cycle 24 was pneumonia. Although limited to a small pt population, these findings provide valuable information to guide clinical practice for pts requiring long-term Tx. Two phase III FREEDOM studies are ongoing (NCT03755518, NCT03952039) to assess long-term FEDR outcomes in pts with MF previously treated with ruxolitinib.
Session topic: 16. Myeloproliferative neoplasms - Clinical
Keyword(s): Fedratinib, Myelofibrosis, Safety