Abstract: EP1084
Type: e-Poster
Background
BET proteins are transcriptional regulators of oncogenic pathways and important drivers of inflammation in myelofibrosis (MF). CPI-0610, an oral, selective small molecule BET bromodomain inhibitor (BETi), in combination with ruxolitinib (CPI-0610 + rux) is currently being studied in JAK inhibitor (JAKi) treatment naïve MF patients (pts) in Arm 3 of MANIFEST, a global, open label, Phase 2 study. Historically, rux achieved ≥35% spleen volume reduction (SVR35) and ≥50% total symptom score improvement (TSS50) in 29-42% and 42-46% of pts, respectively, at wk 24 (COMFORT-I, SIMPLIFY-1). However, ≥Gr3 anemia (45.2%) and thrombocytopenia (12.9%) are concerns of rux treatment. Disease-modifying therapeutic agents are needed to improve the outcomes in MF pts. We report the updated safety and efficacy data from Arm 3 of the MANIFEST study.
Aims
To evaluate CPI-0610 + Rux in JAKi treatment naïve MF pts.
Methods
Eligibility: JAKi treatment naïve MF pts with DIPSS score ≥Int-2; platelet ≥100 x 109/L; spleen volume ≥ 450 cc by CT/MRI; ≥2 symptoms measurable (score ≥3) or a total symptom score (TSS) of ≥10 using the MFSAF v4.0. Endpoints: 1°- SVR35 at wk 24; key 2°- TSS50 at wk 24; others: safety, PK, changes in proinflammatory cytokines and bone marrow (BM) morphology/fibrosis.
Results
As of 9 Jan 2020, 53 pts treated. Baseline median age: 69 (range: 37-85); 39 (73.6%) male; primary MF: 25 (47.2%) pts; DIPSS ≥Int-2: 39 (73.6%) pts; 32 (60.4%) pts anemic (Hgb <10g/dL); median platelet: 345 x 109/L (range: 100-1849); median spleen volume: 1726.5 cc (range: 457-7842); median TSS: 14 (range: 0-38); mutational status JAK2: 39 (73.6%); CALR: 11 (20.8%); MPL: 2 (3.8%); high molecular risk: 27 (50.9%) pts. 15 pts were evaluable for SVR35 at wk 24, including 14 pts received ≥24 wks of treatment and 1 pt discontinued prior to wk 24; 66.7% (10/15) pts achieved SVR35 at wk 24 (median change -54%; range: -83.8%, -30.6%), and all 14 pts assessed at wk 24 achieved an SVR of at least 30%. 14 pts were evaluable for TSS50 at wk 24 (1 pt missing baseline evaluation); 78.6% (11/14) pts achieved TSS50 at wk 24 (median change -71.9%; range: -100%, 4.9%). 45.5% (5/11) pts had improvement in BM fibrosis by ≥ 1 grade after 6 months of treatment. 1 pt discontinued study to undergo bone marrow transplantation after 24 wks of treatment.
53 pts were safety evaluable. The most common hematological treatment-emergent adverse events (TEAEs) of any grade were anemia (20.8%, ≥Gr3: 15.1%) and thrombocytopenia (17%, ≥Gr3: 5.7%). These cytopenias were generally manageable with dose modifications, including reductions/interruptions. The most common non-hematological TEAEs were diarrhea (24.5%, No ≥Gr3), nausea (20.8%, No ≥Gr3), infections (15.1%, ≥Gr3: 3.8%), dysgeusia (11.3%, No ≥Gr3), and dyspnea (11.3%, ≥Gr3: 3.8%). 2 pts discontinued treatment due to AEs (infections unrelated to CPI-0610); 1 of them died within 30 days of treatment discontinuation.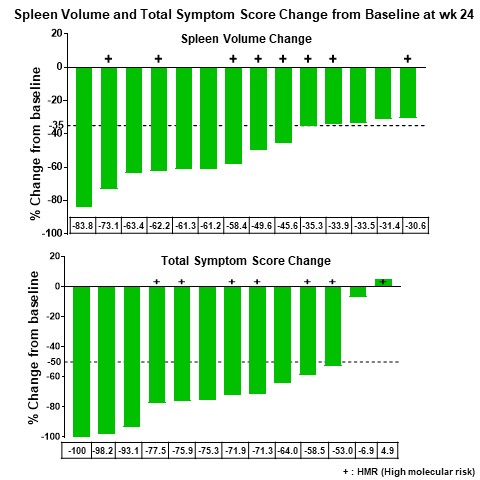 Conclusion
CPI-0610 + rux combination is generally well-tolerated in JAKi treatment naïve MF pts. The preliminary data demonstrate the potential for the combination treatment to provide enhanced efficacy as evidenced by higher SVR35 and TSS50 rates at wk 24 compared with historical data from pivotal Ph3 studies. In addition, improvements in BM fibrosis and low incidence of ≥Gr3 anemia (a known AE for JAKi), were observed. Overall, the data suggest that the addition of CPI-0610 to rux is potentially synergistic and disease modifying in JAKi naïve MF pts. We anticipate starting a Phase 3 study in 2H 2020.
Session topic: 16. Myeloproliferative neoplasms - Clinical
Keyword(s): Epigenetic, Myelofibrosis, Ruxolitinib