Abstract: EP1045
Type: e-Poster
Background

Multiple Myeloma (MM) tends to affect elderly people, a population generally not included in clinical trials. Incorporation of frailty measures into clinical trials will increase our knowledge about  achievable clinical outcomes in elderly and frail MM patients, thus helping to identify gaps on MM care.
Aims

Our aim was to describe different methods of assessing frailty and co-morbidity used in the INSIGHT MM study (NCT02761187), with the results obtained through these methods we aim to assess the importance of using a standard method to determine patients´ frailty as part of routine clinical practice.
Methods

The INSIGHT MM is an ongoing worldwide prospective observational study that has enrolled more than 4200 MM patients >18 years of age. It aims to observe patterns of patients' characteristics, clinical disease presentation, therapeutic regimen and clinical outcomes in newly diagnosed MM, within 3 months of first line treatment (NDMM), and relapsed/refractory MM patients, with up to three previous treatment lines (RRMM). Participants are treated according to the standard of care, with no changes in patients' management required.  Comorbidities are not exclusion criteria to participate in the study.
We performed an interim analysis in November 2018 including 235 Spanish patients (116 NDMM, 119 RRMM) with a median follow up of 9.10 months (P25: 4.73, P75: 15.21). The frailty and comorbidity status were measured according to the Physician Reported Status (PRS), the Myeloma Frailty Index (MFI) and the Charlson Comorbidity Index (CCI).
Results

In the Spanish population, patients were mainly white/Caucasian (98.5%, N=198/201), predominantly male (55.7%, N=131/235), with a median age of 69 years (65.5 in NDMM, 71 in RRMM), with 26.4% (N=62/235) over 75 years.
R-ISS was I in 14.5% (16/110) of cases, II in 53.6% (59/110), and III in 19.1% (21/110); 15.7% (36/230) of them presented with high risk cytogenetics at diagnosis (t [4;14], p53 and t [14;16]). At the time of diagnosis, 28.3% (65/230) of patients had more than 3 lytic lesions identified (skeletal survey and/or CT), and creatinine clearance was >60 mL/min in 49.2% (94/191) of patients. Patients living alone were 10.8% (21/195), 5.8% (11/189) had a part-time caregiver and 11.1% (21/189) a full-time caregiver.
Results of the three scores are summarized in Table 1. According to the PRS and MFI, more than half of patients were classified as intermediate frail or frail. Regarding CCI; the majority had ≥ 1 significant comorbidities. Although the number of patients evaluated with MFI is limited, the percentage of cases identified as frail was significantly higher than PRS.
Considering CCI components, the most prevalent condition was diabetes (14%, 32/221) followed by moderate or severe renal disease (11%, 23/210) and chronic pulmonary disease (4.5%, 10/221), with no differences between NDMM and RRMM patients.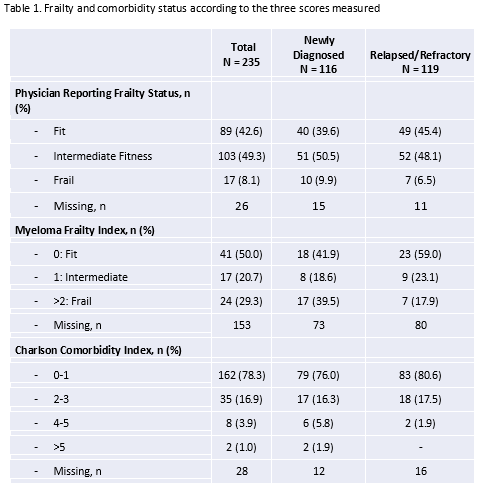 Conclusion
This analysis helps to fill the knowledge gap about tools used to assess frailty and physical status of MM patients. Among the scales included, CCI may have less sensitivity in identifying frailty in MM patients compared to MFI, however the largest discrepancy was seen between PRS and MFI. This emphasizes the need for implementing assessment tools in routine clinical practice to determine the fitness/frailty status of MM patients and optimize outcomes.  Clinical trials should consider broadening eligibility criteria to include this patient subgroup along with the  use of geriatric/frailty scales  to increase our understanding of how best to   care for this subgroup of patients.
Session topic: 14. Myeloma and other monoclonal gammopathies - Clinical
Keyword(s): Clinical data, Comorbidities, Elderly, Multiple myeloma