Abstract: EP1037
Type: e-Poster
Presentation during EHA25: All e-Poster presentations will be made available on the on-demand Virtual Congress platform as of Friday, June 12 at 08:30 CEST and will be accessible until October 15, 2020.
Background
Patients with RRMM and HR cytogenetics have a poor prognosis and need effective therapies. In DREAMM-2 (NCT03525678), investigational single-agent belantamab mafodotin (an immunoconjugate targeting B-cell maturation antigen) demonstrated clinically meaningful activity and a manageable safety profile in patients with heavily pretreated RRMM (Lancet Oncol. 2020). We present outcomes in patients with HR cytogenetics (9-month follow-up).
Aims
-
Methods
Patients with RRMM who had provided informed consent received single-agent belantamab mafodotin (2.5 or 3.4 mg/kg). For this post hoc analysis, HR cytogenetics included t(4;14), t(14;16), 17p13del, or 1q21+ (tested locally).
Results
The median number of cycles was 3 (2.5: range: 1–15) and 4 (3.4: range: 1–14). Overall response rate (ORR; ≥partial response [PR] per independent review committee) was 27% in the 2.5 mg/kg group (22% with ≥very good partial response [VGPR]) and 40% in the 3.4 mg/kg group (27% with ≥VGPR; Table). The median duration of response (DoR) was not reached in the 2.5 mg/kg group and was 6.2 months in the 3.4 mg/kg group. The most common adverse events (>30% in either group) were consistent with the overall population (Lancet Oncol. 2020): keratopathy (2.5: 59%; 3.4: 79%), thrombocytopenia (2.5: 44%; 3.4: 65%), nausea (2.5: 27%; 3.4: 33%), anemia (2.5: 24%; 3.4: 42%), and blurred vision (2.5: 20%; 3.4: 42%).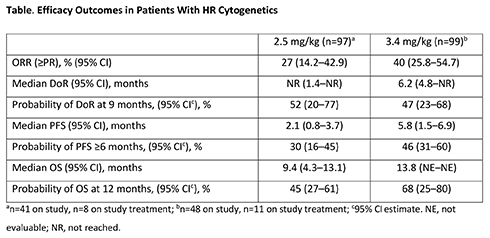 Conclusion
Patients with HR cytogenetics maintain deep and durable clinical responses with single-agent belantamab mafodotin, comparable to that reported in the overall population. The safety profile remained consistent with previous reports.
Funding: GlaxoSmithKline (205678). Drug linker technology licensed from Seattle Genetics; monoclonal antibody produced using POTELLIGENT Technology licensed from BioWa.
Session topic: 14. Myeloma and other monoclonal gammopathies - Clinical
Keyword(s): Clinical trial, Immunoconjugate, Multiple myeloma

© 2020 American Society of Clinical Oncology, Inc. Reused with permission. This abstract was accepted and previously presented at the 2020 ASCO Annual Meeting. All rights reserved