Abstract: EP1034
Type: e-Poster
Background
Current guidelines for FL nSCT NDMM patients (pts) with a response after induction therapy entail either continuous therapy with the induction regimen or consideration of MT1.  
Aims
We evaluated the adoption of MT in FL nSCT NDMM pts engaged in routine care in the United States (US).
Methods
In this retrospective study, NDMM pts initiating FL therapy were randomly selected from the Integrated Oncology Network (ION) electronic healthcare record system, representing about 50% of US community oncology practices. Pts were followed from MM diagnosis (July/2007) to death, loss of follow-up, or end-of-study (March/2018). Lines of therapy (LOTs) were defined based on consensus guidelines1-3, with MT defined as dose-attenuated therapy intended to sustain response to FL therapy in the absence of progression, relapse, or toxicity. LOTs, including MT, were captured via chart review and verified independently by a MM expert oncologist. Number of administered induction therapy agents were categorized as doublet (≤2 drugs) and triplet (≥3 drugs). MT regimens were categorized as monotherapy (1 drug) and doublet (2 drugs). Clinical characteristics were captured longitudinally. Duration of therapy (DOT) was estimated using Kaplan-Meier analysis.
Results
207 pts diagnosed with symptomatic MM were evaluated. At diagnosis, mean age was 73.9 years, 65.7% had a Charlson Comorbidity Index of ≥2, 23.2% had an ECOG PS ≥2 (30%, unknown), 29.0% had ISS 3 disease (46%, unknown), and 18.8% of tested pts (n=120) had high-risk cytogenetics (42%, unknown). Median duration of follow-up was 18.2 months (mos) (interquartile range [IQR]: 5.0, 29.8). Median time to initiation of induction therapy from diagnosis was 1.2 mos (IQR: 0.23, 1.2). Of 207 pts, induction therapy consisted of triplets in 50.2% of pts (bortezomib [V]/dexamethasone[d] with lenalidomide [VRd, 30.4% (63/207)] or cyclophosphamide [VCd, 16.4% (34/207)]) and doublets in 49.8% (Vd, 27.1% [56/207]; Rd, 18.4% [38/207]). Median induction DOT was 4.4 mos (95% CI: 3.9, 5.0). Post induction therapy discontinuation (d/c), 34.8% (n=72) did not receive additional therapy, 29.5% (n=61) initiated MT, 27.1% (n=56) received second LOT without MT documented, and 8.7% were on induction therapy at end of follow-up. In 61 MT pts, most pts (55.7%) received monotherapy MT (R, 36.1% [22/61]; V, 19.7% [12/61]); doublet MT was used in 44.3% (Rd, 26.2% [16/61]; Vd, 16.4% [10/61]) (Figure 1). The median duration of MT was 12.2 mos [95% CI: 6.5, 19.3]). Overall, 68.9% (n=42) of pts d/c'd MT; top reasons for MT d/c were disease progression (23.8%), adverse events (21.4%), and death (16.7%). By MT regimen, reasons for d/c were disease progression (9.1%/16.7%/18.8%/30.0% for R/V/Rd/Vd), adverse events (13.6%/25.0%/18.8%/0%) and death (4.5%/16.7%/12.5%/20.0%).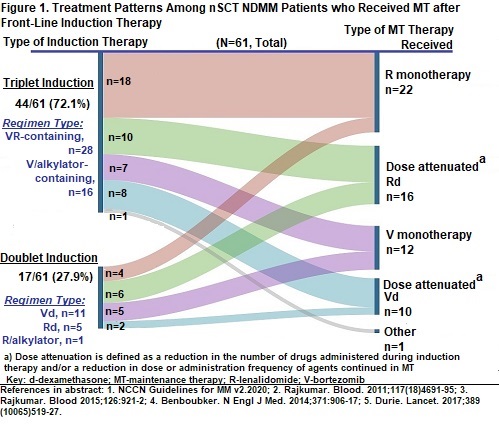 Conclusion
 In a real-world population of FL nSCT NDMM pts treated in US community settings, treatment after MM diagnosis occurred within 6 weeks, and 50.2% of pts received triplet induction therapy. Median induction DOT of 4.4 mos was shorter than reported in clinical trials.4,5 About 1/3 of pts d/c'd induction without further therapy, and just over 1/4 of pts initiated MT. MT DOT was nearly 1 year, suggesting that despite likely suboptimal induction therapy, clinical benefit may have been realized in the MT group due to continuation of therapy. As prolonged DOT has been previously reported to improve outcomes, further evaluation of patients who responded to induction requires further elucidation.
Session topic: 14. Myeloma and other monoclonal gammopathies - Clinical
Keyword(s): Maintenance, Multiple myeloma, Treatment