Abstract: EP1024
Type: e-Poster
Background

Systemic AL amyloidosis is a rare disease, caused by the production of abnormal free light chains derived from the production of clonal plasma cells. The disease has high morbidity and poor survival, especially in patients with symptomatic heart failure. Due to a lack of contemporary, population-based registries, reported annual incidence rates are estimates based on results from single, multicenter studies or claims databases in the USA and Europe, and overall, an estimate between 3-12 patients/million persons/year was suggested.
We set up an AL amyloidosis registry as of year of diagnosis 2017, embedded in the nationwide Netherlands Cancer Registry (NCR). For this registry, the diagnosis code specific to systemic AL amyloidosis is extracted from the Nationwide Network of Histopathology and Cytopathology and the National Registry of Hospital Discharges and is ideally suited for research purposes.
Aims

This study aimed to provide an up-to-date annual incidence estimate of systemic AL amyloidosis diagnosed in 2017-2018 in the Netherlands, and to describe clinicopathological characteristics, first-line treatment regimens and outcome. Here, we report on 1-year overall survival (OS).
Methods
We identified 205 systemic AL amyloidosis patients diagnosed in 2017-2018 in the NCR. Two patients diagnosed at autopsy were excluded for further analyses such as evaluation of the clinicopathological factors type of M protein, number and type of organ involvement, cardiac stage and cytogenetic assessment. Cardiac stage was defined according to the MAYO2004/European model. OS was defined as the date from AL amyloidosis diagnosis to all-cause death. Patients alive were censored at February 1, 2019.
Results

The average annual incidence of systemic AL amyloidosis is 102 patients which corresponds to 6 patients/million persons/year in the Netherlands. Demographics and clinicopathological factors are presented in the Table. Overall, a median plasma cell percentage in the bone marrow of 15% (range, 1%>93%) was observed. Most AL amyloidosis patients were non-IgM (79%; 160/203) and 71% of these patients had lambda subtype. The baseline difference between involved and uninvolved free light chains (dFLC) was >180 mg/L in 95 (47%) out of 203 patients. Over 40% of patients was cardiac stage I, 37% cardiac stage II, and 22% was cardiac stage IIIa (14%) or stage IIIb (8%). In 84% of the patients with cardiac stage III (a or b), organ involvement of the heart was confirmed with MRI or echocardiogram evaluation. Cytogenetic assessment was performed for 64% of patients and a t(11;14) was detected for 10% of the patients who had the cytogenetic assessment.
During this still short follow-up, the 6-month and 1-year OS for AL amyloidosis patients were 73% and 64%, respectively. 
Information regarding cardiac risk score and outcome, first-line treatment and corresponding hematological and organ responses will soon be completed for all patients diagnosed in 2017-2018.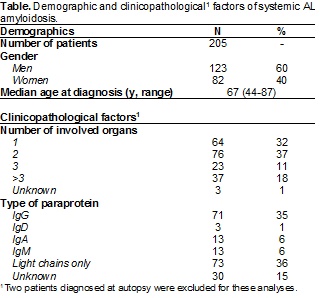 Conclusion
The average incidence of systemic AL amyloidosis is 6 patients/million persons/year in the Netherlands. This is within the range estimated in previous studies for which various data sources were used and/or data was extrapolated. The 1-year OS remains disappointingly poor, and early detection will be  important to improve this. Using this population-based systemic AL amyloidosis register, an important tool is available to gain more insight into demographics, clinical data and outcome since all diagnosed patients are captured. 
Session topic: 14. Myeloma and other monoclonal gammopathies - Clinical
Keyword(s): AL amyloidosis, Population