Abstract: EP1000
Type: e-Poster
Presentation during EHA25: All e-Poster presentations will be made available on the on-demand Virtual Congress platform as of Friday, June 12 at 08:30 CEST and will be accessible until October 15, 2020.
Background
Patients (pts) with relapsed and refractory multiple myeloma (RRMM) who are triple-class exposed (to immunomodulatory drugs [IMiDs], proteasome inhibitors [PIs], and anti-CD38 monoclonal antibodies [mAbs]) experience poor health-related quality of life (HRQoL) and have limited treatment options. Ide-cel, a BCMA-targeted CAR T cell therapy, has shown a favorable clinical benefit-risk profile in RRMM pts in the phase II, single-arm KarMMa trial (NCT03361748). However, the impact of ide-cel therapy on HRQoL has not been reported.
Aims
To characterize HRQoL in ide-cel−treated pts based on changes from baseline (BL) in HRQoL scores and the proportion of pts reaching clinically meaningful change in HRQoL in the KarMMa trial.
Methods
Pts enrolled in KarMMa had ≥3 prior antimyeloma treatment regimens (an IMiD, a PI, and an anti-CD38 mAb inclusive) and were refractory to their last regimen per IMWG criteria. After lymphodepletion, pts received ide-cel at target dose levels of 150─450 × 106 CAR+ T cells. HRQoL was assessed by the European Organization for Research and Treatment of Cancer (EORTC) Quality of Life C30 questionnaire (QLQ-C30) and Multiple Myeloma Module (MY20) with a primary focus on Fatigue, Pain, Physical Functioning, Cognitive Functioning, Global Health/QoL (GH/QoL), Disease Symptoms, and Side Effects subscales, at screening and BL, at the day of ide-cel infusion, and at months 1─6, 9, 12, and 15 post-infusion. Comparisons with population norms were performed for each domain of interest. Clinically meaningful changes were predefined as per the literature for QLQ-C30 and MY20 (Eur J Cancer 2012;48:1713-1721; Eur J Haematol 2019;103:500-509) 
Results
Of 140 pts enrolled in KarMMa, 128 received ide-cel, of whom 95% (EORTC QLQ-C30) and 94% (EORTC QLQ-MY20) were evaluable for HRQoL, having had BL and ≥1 post-BL HRQoL assessment. At BL, mean subscale scores were less favorable than general population norms for Fatigue (39.3 vs 29.5), Pain (39.9 vs 23.5), Physical Functioning (69.4 vs 85.1), and GH/QoL (60.7 vs 66.1) subscales. KarMMa pts had clinically meaningful improvements in multiple QLQ-C30 subscale scores shortly after infusion, which became statistically significant (P<0.05) at multiple time points through month 9 for Fatigue, Pain, Physical Functioning, and GH/QoL. Cognitive Functioning tended to be stable from BL through month 9. For MY20, pts had small but clinically meaningful decreases in Disease Symptoms from BL through month 15 and no clinically meaningful or significant worsening in Side Effects. For most outcomes, a greater percentage of pts reported clinically meaningful improvement than deterioration at month 9 (Figure). For the GH/QoL subscale, the median time to stable improvement was 3.1 months for responders but was not estimated in nonresponders due to the low percentage of pts experiencing an event (<30%). Overall, more responders than nonresponders experienced clinically meaningful improvement in various HRQoL domains.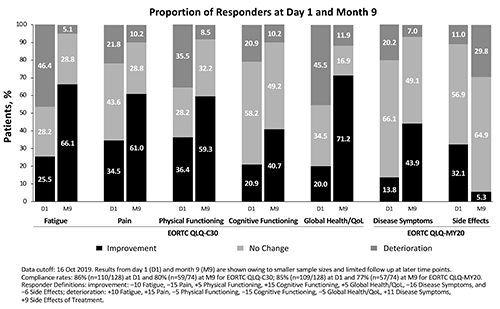 Conclusion
Heavily pre-treated pts with RRMM who received ide-cel in KarMMa showed significant improvements in scores for QLQ-C30 Fatigue, Pain, Physical Functioning and GH/QoL subscales. There was no deterioration in scores for subscales measuring cognitive functioning, disease symptoms, or side effects. These results support previously reported efficacy outcomes and demonstrate that ide-cel provides meaningful improvements in measures of both global function and symptoms related to disease.
Session topic: 14. Myeloma and other monoclonal gammopathies - Clinical
Keyword(s): CAR-T, Multiple myeloma, Quality of life