Abstract: LB2606
Type: Oral Presentation
Presentation during EHA24: On Sunday, June 16, 2019 from 12:30 - 12:45
Location: Hall 5
Background
Most patients (pts) with CLL respond to initial therapies though nearly all relapse and require subsequent therapy. More effective and tolerable treatments are needed for R/R CLL. Acalabrutinib is a highly selective, potent, covalent Bruton tyrosine kinase inhibitor with clinical benefit in pts with R/R CLL.
Aims
In this randomized, global, multicenter, open-label Phase 3 study (CL-309; ASCEND; NCT02970318), the efficacy and safety of acalabrutinib monotherapy was evaluated vs investigator choice of IdR or BR in R/R CLL.
Methods
Eligible pts with R/R CLL were randomized 1:1 to receive 100 mg oral acalabrutinib BID until progression vs IdR (Id 150 mg oral BID in combination with up to 8 IV infusions of R [375 or 500 mg/m2]) or BR (70 mg/m2 IV B on Day 1 and 2 of each cycle combined with R [375 or 500 mg/m2 IV] on Day 1 of each 28-d cycle for up to 6 cycles). Pts were stratified by del(17p) status (y vs n), ECOG status (0-1 vs 2) and prior lines of therapy (1-3 vs ≥4). The primary endpoint was progression-free survival (PFS) assessed by independent review committee (IRC). Secondary endpoints included overall survival (OS), IRC-assessed overall response rate (ORR) and safety. Pts with confirmed progression on IdR/BR could cross over to receive acalabrutinib monotherapy.
Results
310 pts were randomized to acalabrutinib (n=155) or IdR/BR (n=155 [IdR, n=119; BR, n=36]); median age was 67 y (range, 32-90); 16% had del(17p); 27% had del(11q); 42% had Rai stage III/IV CLL. Median (range) no. of prior therapies was 1 (1-8) for acalabrutinib and 2 (1-10) for IdR/BR; pts received prior purine analogues (69%), alkylating agents (85%) and anti-CD20 antibodies (80%). Discontinuation due to AEs occurred in 11% of pts on acalabrutinib vs 49% Id, 12% R in IdR, 11% B and 17% R in BR. At a median follow-up of 16.1 mo, acalabrutinib significantly prolonged IRC-assessed PFS vs IdR/BR (median NR vs 16.5 mo; HR 0.31, 95% CI 0.20-0.49, P<.0001); this represents a 69% reduction in risk of progression or death (Figure). PFS rates at 12 mo were 88% with acalabrutinib and 68% with IdR/BR. PFS improvement with acalabrutinib (vs IdR/BR) was seen across subgroups including del(17p), TP53 mutation and Rai stage. IRC-assessed ORR was not significantly different with acalabrutinib vs IdR/BR (81% vs 75%, respectively; p<.22). 12-mo OS rates were 94% and 91% (with 15 and 18 deaths) for acalabrutinib and IdR/BR, respectively. 23% of pts randomized to IdR/BR crossed over to receive subsequent acalabrutinib monotherapy. Common all-grade AEs (≥15%) with acalabrutinib were headache (22%), neutropenia (19%), diarrhea (18%), anemia and cough (15% each); with IdR, diarrhea (47%), neutropenia (45%), pyrexia (18%) and cough (15%); and with BR, neutropenia (34%), infusion-related reaction and fatigue (23% each), nausea (20%) and pyrexia (17%). Grade ≥3 AEs with acalabrutinib (≥5%) were neutropenia (16%), anemia (12%) and pneumonia (5%); with IdR (≥15%), neutropenia (40%) and diarrhea (24%); and with BR (≥5%), neutropenia (31%), anemia (9%) and constipation (6%). AEs of interest were atrial fibrillation (5.2% of pts on acalabrutinib vs 3.3% on IdR/BR), bleeding AEs (26% vs 7.2%; including major hemorrhage [1.9% vs 2.6%]), Grade ≥3 infections (15% vs 24%), and 2nd primary malignancies (excluding NMSC; 6.5% vs 2.6%).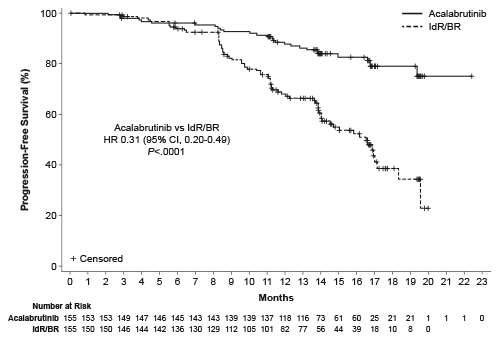 Conclusion
Acalabrutinib monotherapy significantly improved PFS with a more tolerable safety profile compared with IdR/BR in pts with R/R CLL.
Session topic: 6. Chronic lymphocytic leukemia and related disorders - Clinical
Keyword(s): Clinical trial, Kinase inhibitor, Phase III