Abstract: LB2604
Type: Oral Presentation
Presentation during EHA24: On Sunday, June 16, 2019 from 12:00 - 12:15
Location: Hall 5
Background
Hematopoietic stem cells (HSCs) slowly self-renew and differentiate in adult bone marrow (BM) to sustain lifelong hematopoiesis, while their offspring, lineage-restricted progenitors actively divide and mainly contribute to daily hematopoiesis. When hematopoietic need increases upon hematopoietic challenges such as inflammation, infection, HSCs can also be activated to self-renew and differentiate to adapt hematopoiesis to the situation. We have previously shown that systemic challenge of gram-negative bacteria directly activates dormant HSCs to proliferation and impairs their competitive fitness via Toll like receptor (TLR)-4 signaling (Cell Stem Cell 2017). Taken together with the fact that some microorganisms coexist in our body as symbiont, these findings let us hypothesize that commensal bacteria, often referred to as microbiota, might also impact on early hematopoiesis upon intestinal barrier break.
Aims
We aim at clarifying how HSC and progenitor cells (HSPCs) can sense and integrate tissue damage signal derived from distal organ such as a gut, to hematopoietic production, and what the biological consequence of acute versus chronic inflammation is on their cell fate decision.
Methods
Inflammatory bowel disease (IBD) model was employed to induce acute gut inflammation by giving mice dextran sodium sulfate (DSS) in a drinking water. Hematopoietic response to DSS was characterized on flow cytometer, microscopy, in vivo pharmacological treatment and in vivo serial transplantation. Transcriptome and microbiome were analyzed by RNA sequencing and metagenome profiling, respectively.
Results
Acute IBD induced proliferation and expansion of HSPCs such as multipotent progenitors (MPPs), myeloid-restricted progenitors in primary BM, whereas reducing lymphoid-restricted progenitors. We unexpectedly found that the proliferating MPPs, especially MPP2, were localized in a close proximity to endothelium within gut-associated mesenteric lymph node (MLN) but not in other lymph nodes, suggesting dynamic and specific hematopoietic response to gut inflammation. Genetic depletion of TLR-related signaling molecules resulted in no induction of the above-mentioned hematopoietic changes in both BM and MLN, indicative of the TLR signal dependency. To characterize what activates TLR, mice were pre-treated with a single or mixture of antibiotics to deplete specific type of bacteria. Pretreatment of vancomycin and ampicillin, both effective against gram positive bacteria, completely abrogated hematopoietic responses to IBD, whereas neomycin and metronidazole, against gram negative bacteria, enhanced them. Metagenome profiling and bacterial lysate injection identified that bacteroidales directed MPP2 migration to MLN through TLR-related signals. Following the MPP recruitment, myeloid cells including eosinophil and monocyte rapidly increased in MLN and their cell depletion by neutralizing antibody worsened IBD-induced colitis.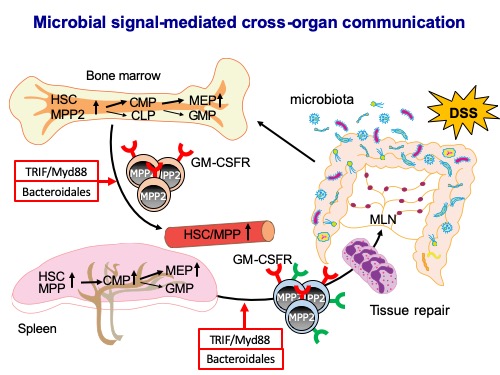 Conclusion
Our findings suggest that in response to intestinal damage, BM hematopoiesis sense microbiota via innate immune receptor, and induce HSPC expansion followed by directional MPP migration to inflamed lymphoid tissues and generation of myeloid cells specialized for intestinal tissue repair. Uncovering the underlying mechanism for gut-associated inflammation will help to understand inflammatory feedback signals through cross-organ communications that tailor hematopoiesis for tissue surveillance and repair, and might be highly relevant to ageing-associated chronic disorders.
Session topic: 23. Hematopoiesis, stem cells and microenvironment
Keyword(s): Hematopoietic stem and progenitor cells, Inflammation, Innate Immunity