Abstract: LB2602
Type: Oral Presentation
Presentation during EHA24: On Sunday, June 16, 2019 from 11:30 - 11:45
Location: Hall 5
Background
So far, treatment of asymptomatic, early stage CLL patients has not been proven beneficial. Ibrutinib is a BTK inhibitor with impressive clinical efficacy in advanced or relapsed CLL. It has not been tested in treatment-naïve early stage CLL.
Aims
The aim of the double-blind, randomized, placebo-controlled CLL12 trial was to evaluate whether ibrutinib prolongs event-free survival (EFS) in early stage CLL patients with increased risk of progression defined by a recently developed score (Pflug et al., Blood 2014).
Methods
We randomly assigned treatment-naïve, asymptomatic Binet A patients with intermediate, high or very high risk of progression to receive either ibrutinib or placebo 420mg per day. The primary endpoint was EFS defined as time from randomization until occurrence of active disease according to iwCLL guidelines, new CLL treatment or death. Secondary endpoints progression free survival (PFS) and time to next treatment (TTNT) were defined as time from randomization until progression/death (PFS) or until the date of initiation of subsequent treatment for CLL (TTNT).  Survival will be analyzed later with 60% (N=28) of the required events being reported. Patients with low risk (N=152) were allocated to an observational arm and were not included in primary endpoint analysis.
Results
A total of 182 or 181 patients were assigned to receive ibrutinib or placebo, respectively. At median observation time of 31 months EFS was not reached in the ibrutinib arm and was 47.8 months in the placebo arm (HR 0.25; 95%CI, 0.14 to 0.43; P<0.0001; Figure 1). Similarly PFS was not reached for ibrutinib and 14.8 months with placebo (HR 0.18; 95%CI, 0.12 to 0.27). TTNT was longer in the ibrutinib arm (HR 0.21; 095%CI, 0.11 to 0.39). EFS, PFS and TTNT improvement was consistent across all risk groups analyzed, except for very high risk patients due to small numbers (N=8). At cut-off, 6 and 5 deaths were documented in the ibrutinib and placebo group, respectively. There was no significant difference in all-grade (grade ≥3) adverse events occurring in 82.2% (43.3%) of patients in the ibrutinib group and in 84.8% (38.7%) in the placebo group. Most common serious adverse events (N=126) were infections (11.4 vs. 11.8%), neoplasms (5.9 vs. 10.7%) and cardiac disorders (8.6 vs. 6.7%) for patients of the ibrutinib and placebo group, respectively. Adverse events of clinical interest were mostly of CTC-grade 1-2 and significantly more frequent in ibrutinib treated patients (Table 1).
Table1: AEs of clinical interest: number of patients (percent). [3 patients of the placebo-arm received 1 cycle (28 days) of ibrutinib]



ibrutinib

n=185

placebo

n=178

P-value

Any AE of clinical interest

106 (57.3)

71 (39.9)

0.001

Diarrhea

-       CTC ≥ 3

58 (31.4)

2 (1.1)

44 (24.7)

5 (2.8)

n.s.

Bleeding

-       CTC ≥ 3

51 (27.6)

6 (3.2)

17 (9.6)

2 (1.2)

0.000

Atrial fibrillation

-       CTC ≥ 3

33 (17.8)

11 (6.5)

13 (7.3)

3 (1.7)

0.003

Hypertensive disorders

-       CTC ≥ 3

18 (9.7)

3 (1.6)

7 (3.9)

3 (1.7)

0.04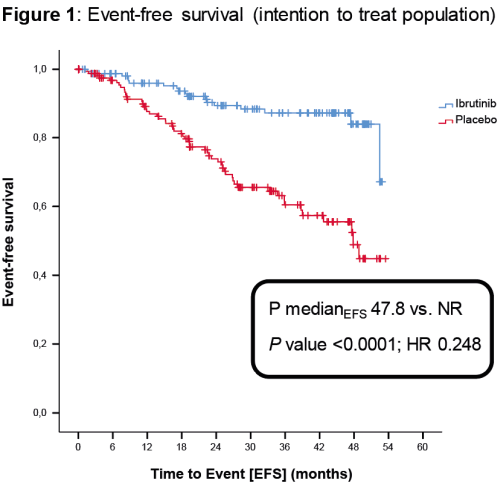 Conclusion
The results of this study allow to conclude that ibrutinib significantly improves EFS, PFS and TTNT in patients with treatment-naïve early stage CLL when compared to placebo. There were no significant differences in adverse events between both study arms.
Session topic: 6. Chronic lymphocytic leukemia and related disorders - Clinical
Keyword(s): Chronic lymphocytic leukemia, Ibrutinib, Phase III, Treatment