Abstract: LB2601
Type: Oral Presentation
Presentation during EHA24: On Sunday, June 16, 2019 from 11:15 - 11:30
Location: Hall 5
BackgroundVenetoclax (Ven) is a highly selective, potent, oral BCL-2 inhibitor that induces apoptosis in multiple myeloma (MM) cells and has shown synergistic activity with bortezomib (B) and dexamethasone (d). Ven±d had encouraging clinical efficacy in t(11;14) MM and in a broader pt population administered with B, with a tolerable safety profile in Phase 1 studies.
Aims
To compare efficacy and safety of VenBd vs Bd in pts with relapsed/refractory (RR) MM in a Phase 3 study.&nbsp
Methods
BELLINI (NCT02755597) was a randomized, double-blind, multicenter Phase 3 study of Ven or placebo (Pbo) + Bd in pts with RRMM who received 1-3 prior therapies and were either sensitive or naïve to proteasome inhibitors (PIs). Pts were randomized 2:1 to receive Ven 800 mg/day or Pbo + Bd. Cycles 1-8 were 21-day with B 1.3 mg/m2 on Days 1, 4, 8, 11 + d 20 mg on Days 1, 2, 4, 5, 8, 9, 11, 12. Cycles 9+ were 35-day with B 1.3 mg/m2 on Days 1, 8, 15, 22 + d 20 mg Day 1, 2, 8, 9, 15, 16, 22, 23. The primary endpoint was progression-free survival (PFS) by independent review committee.
Results
As of the data cut-off of 26 Nov 2018, 291 pts were randomized, 194 to the Ven arm and 97 to the Pbo arm. Median age was 66 (range, 36-87); 53% had ISS II/III disease; 54% received 2 or 3 prior lines of therapy with a median of 2 prior lines; 59% had prior stem cell transplant; 70% had prior PI, 68% had prior immunomodulatory drug, 41% had both; 18% had high-risk cytogenetics; 13% were t(11;14); and 79% were BCL-2 high by immunohistochemistry (IHC). The median PFS was 22.4 months (mo) in Ven vs 11.5 mo in Pbo (HR=0.630, p=0.01), with a median follow-up of 18.7 mo. Higher overall response (ORR, 82% vs 68%, p<0.01), very good partial or better response (≥VGPR, 59% vs 36%, p<0.01) and undetectable minimal residual disease (uMRD [10-5], 13% vs 1%) rates were observed in the Ven vs Pbo arm. Median duration of response was not reached for Ven (12.8 mo for Pbo). In the overall population, median overall survival (OS) was not reached in either arm but favored Pbo (HR 2.027, 95% CI=1.042-3.945). Median PFS has not been reached for those receiving VenBd in t(11;14) pts (HR=0.110), or in pts with high BCL-2 expression by IHC (HR=0.502). Subgroup analyses indicate that low BCL-2 expression, high-risk cytogenetics, or ISS III disease were associated with decreased PFS and OS in the Ven arm (Table for all). There were 51 deaths in the safety population, 40 (21%) in the Ven arm and 11 (12%) in the Pbo arm, with progressive disease (PD) the most common cause (40% Ven, 64% Pbo). Among 14 treatment-emergent (TE) deaths (those occurring on therapy or ≤30 days from the last dose), 13 were in the Ven arm (8 due to infection, 2 due to PD), and 1 (PD) was in the Pbo arm. In the safety population (N=289), the most common TE adverse events (TEAEs; VenBd/Bd) were diarrhea (58%/48%), nausea (36%/22%), constipation (34%/31%), and fatigue (31%/32%). The most common Grade 3/4 TEAEs were neutropenia (18%/7%), pneumonia (16%/9%), thrombocytopenia (15%/30%), and anemia (15%/15%); 16%/8% discontinued Ven due to a TEAE. The rates of serious AEs (48%/50%) and serious infections (28%/27%) were comparable between arms.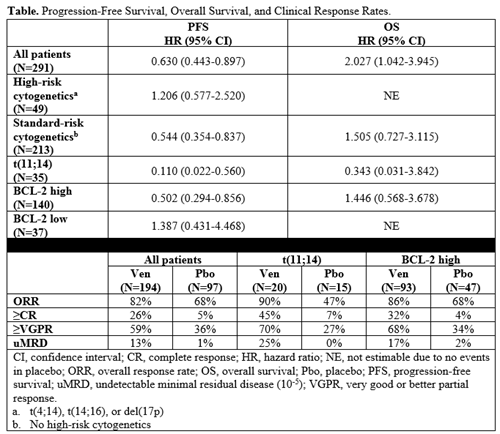 Conclusion
Although the addition of Ven to Bd significantly improved PFS, ORR, ≥VGPR, and uMRD rates, the increased risk of death results in an unfavorable benefit-risk profile in a broad population. In t(11;14) pts, in addition to improvements in PFS, a positive trend in OS with Ven was observed, suggesting that a biomarker-driven approach with Ven may be most appropriate in MM. 
Session topic: 14. Myeloma and other monoclonal gammopathies - Clinical
Keyword(s): BCL2, Bortezomib, Multiple myeloma, Phase III