Abstract: LB2600
Type: Presidential Symposium
Presentation during EHA24: On Friday, June 14, 2019 from 17:00 - 17:15
Location: Hall 5
Background
Patients with acute myeloid leukemia (AML) are at risk of relapse after allogeneic hematopoietic cell transplantation (alloHCT). AML measurable residual disease (MRD) status prior to alloHCT has been shown to be prognostic. It is currently unknown if modulating the intensity of the alloHCT conditioning regimen in AML patients testing positive for MRD can prevent relapse and improve survival rates.
BMT CTN 0901 [NCT NCT01339910] was a phase III randomized clinical trial comparing outcomes by conditioning intensity in adult patients with myeloid malignancy undergoing an alloHCT in morphological complete remission (ie: <5% marrow myeloblasts at the time of pre-transplant assessment, CR).
Aims
To determine the impact of alloHCT conditioning intensity on post-transplant outcomes in AML patients in CR but with pre-transplant genomic evidence of residual disease.
Methods
A custom 51kb anchored multiplex PCR panel (ArcherDx, CO) with coverage of 13 commonly mutated genes in AML      (ASXL1, DNMT3A, FLT3, IDH1, IDH2, JAK2, KIT, NPM1, NRAS, RUNX1, SF3B1, TET2 and TP53) was deployed, using an automated liquid handler, on 400ng of gDNA isolated from a frozen blood sample. Libraries, each with a unique dual index, were sequenced using an average of 41 million paired-end reads of a HiSeq 2500 rapid run. Error-corrected consensus clustering analysis required ≥5 independent UMI read families per variant (each with ≥3 supporting reads) and ≥5 unique start sites. Filtering for sample strand and sequencing direction bias, homopolymer runs, heterozygosity, variant effect and gnomAD population frequency was performed. A parametric model of sequencing error was estimated by grouping samples with similar error profiles with outliers to the model identified as variants. Based on depth of unique molecule sequencing (average 5,000 UMI read families) a limit of detection was set at an allele frequency of 0.001
Cox proportional hazards regression models were fit to TRM, Relapse, DFS, and OS.
Results
Of 218 AML patients randomized, 190 research blood samples collected immediately pre-conditioning were available. Analyzed samples (n=188) came equally from those receiving either myeloablative (MAC) or reduced intensity conditioning (RIC) and were well matched for other baseline characteristics including age, gender, comorbidity, disease risk, disease duration, cytogenetics, donor type and match, graft type and ATG use.
No genomic variants were detected in pre-conditioning blood of 31% of MAC and 33% of RIC patients, these groups had similar survival (3yr OS: 58% vs. 65%, p: 0.98). In those with detectable variants however, survival was significantly different between the arms (3yr OS: 61% vs. 44%, p: 0.02, see figure). In those relapsing in the first year after transplant, 76% had at least one detectable variant pre-conditioning. In multivariate analysis for those with detectable variants, adjusting for disease risk and donor group, reduced conditioning intensity was significantly associated with increased relapse (HR: 5.98 [3.19-11.26], p: <0.001), decreased DFS (HR: 2.80 [1.76-4.44], p<0.001) and decreased overall survival (HR: 2.16 [1.30-3.60], p: 0.003] compared to MAC.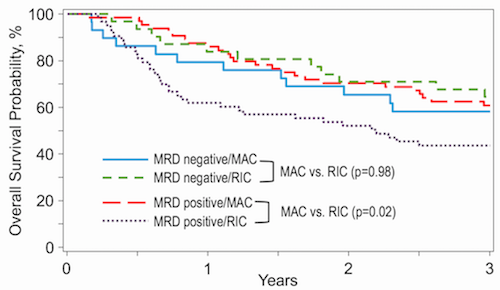 Conclusion
Detection of an AML-associated variant using ultra-deep next-generation DNA sequencing in the blood of AML patients in CR prior to alloHCT was associated with increased relapse rate and inferior overall survival in those randomized to RIC. This study provides evidence that intervention for AML patients with MRD can result in improved survival.
Session topic: 22. Stem cell transplantation - Clinical
Keyword(s): Acute myeloid leukemia, Allogeneic hematopoietic stem cell transplant, MRD, Randomized