Abstract: S909
Type: Oral Presentation
Presentation during EHA24: On Saturday, June 15, 2019 from 16:00 - 16:15
Location: Hall G106
Background

The expression of the receptor tyrosine kinase (RTK) Axl on cancer cells has been associated with poor prognosis and implicated in disease progression. Inhibition of Axl-RTK with TP-0903, a high affinity Axl-RTK inhibitor induces robust apoptosis of several tumors, including chronic lymphocytic leukemia (CLL). Axl-RTK inhibition has also been found to induce nonspecific immunomodulatory effects in syngeneic tumor models.
Aims

We aimed to investigate the impact and downstream effects of Axl-RTK inhibition on naïve T cells and chimeric antigen receptor T cells (CART), using CD19 directed CART cells (CART19) as a model.
Methods

We utilized either PMA/Ionomycin or the CD19+ mantle cell lymphoma cell line, JeKo as a stimulant for naïve T cells and CART19, respectively. Cells were analyzed for cytokine profile, T cell phenotype, and kinetics after the stimulation in the presence or the absence of the Axl-RTK inhibitor TP-0903. Regarding in vivo experiment, a relapse JeKo xenograft model was used. Mice were treated with vehicle alone, TP-0903 alone, CART19 alone, or TP-0903 + CART19. Three weeks after the treatment, mice were re-challenged with JeKo as a CART19 relapse model.
Results

Stimulation of naïve T cells in the presence of the Axl-RTK inhibitor TP-0903 resulted in a significant reduction of Th2 cytokines and downregulation of inhibitory receptors. The differential expansion of either effector T cells or Tregs in the presence of TP-0903 resulted in a preferential reduction of Tregs (Fig 1A). Axl-RTK inhibition of CART19 led to Th1 polarization upon stimulation with the JeKo, as evident by the selective reduction of Th2 cytokine. Additionally, this resulted in a reduction of myeloid attracting cytokines, such as CXCL1, IL-8, IL-6, and IL-10, cytokines implicated in the development cytokine release syndrome and neurotoxicity after CART cell therapy and in adaptive resistance to immunotherapy (Fig 1B). TP-0903 also significantly downregulated inhibitory receptors on activated CARTs (Fig 1C). In our relapsed in vivo model, mice treated with CART19 + TP-0903 rejected the JeKo challenge while mice received CART19 alone redeveloped disease, suggesting that Axl-RTK inhibition enhanced CART cell persistence. Peripheral blood analysis of mice after the rechallenge showed a higher number of circulating T cells and lower level of MCP-1. Western blotting was performed to investigate the downstream effect of Axl-RTK inhibition on CART19 and it revealed a relatively selective inhibition of LCK on stimulated CART19. Transcriptome analysis of activated CARTs treated with TP-0903 revealed >100 genes that were differentially expressed compared to untreated cells. Among these, Th cell and Treg polarization genes were significantly altered in activated CARTs treated with TP-0903.
Finally, we validated our findings in phase I clinical trial of TP-0903 (NCT02729298). T cells isolated from 3 cancer patients showed a significant reduction of Tregs and Th1 polarization. This will be further investigated in a planned phase I clinical trial of TP-0903 in relapsed/refractory CLL (NCT03572634).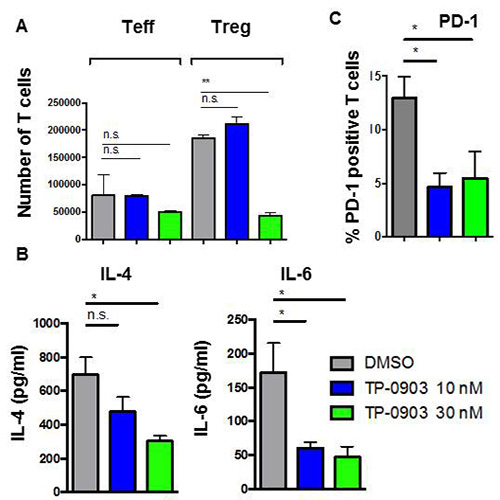 Conclusion
We showed for the first time that Axl-RTK inhibition polarizes T cells into a Th1 functional phenotype, downregulates inhibitory receptors, and reduces myeloid associated cytokine production by CART19. The combination therapy yielded synergistic cytotoxicity against JeKo in vitro and in a CART19 relapse model. These findings encourage further study of Axl-RTK inhibition with TP-0903 as an enhancer of T cell immunotherapies.
Session topic: 24. Gene therapy, cellular immunotherapy and vaccination - Biology & Translational Res
Keyword(s): Adoptive immunotherapy, Chronic lymphocytic leukemia, Receptor tyrosine kinase, Tyrosine kinase inhibitor