Abstract: S898
Type: Oral Presentation
Presentation during EHA24: On Saturday, June 15, 2019 from 17:00 - 17:15
Location: Hall 3B
Background
Although exciting clinical data have been presented with the use of the two autologous CD19 CAR T cells approved for the treatment of ALL and refractory lymphomas, challenges remain and their use in CLL remains experimental. CD19 positive and negative relapses have been described for which different mechanisms of resistance have been proposed. CD19+ relapses could be related to the host immune microenvironment or due to inadequate T cell fitness due to exhaustion. Therefore, there is still a need for further pre-clinical modelling using immunocompetent mice to explore CAR plus immunotherapy combinations to enhance efficacy. CLL is an ideal disease model to explore this as it is associated with a tumour supportive microenvironment and T cells exhibit multiple functional defects and features of exhaustion, features closely recapitulated in Em-TCL1 (TCL1) mice, and induced in healthy mice by adoptive transfer (AT) of murine CLL splenocytes. 
Aims
To demonstrate the effect of CLL T cell dysfunction on CAR T cell efficacy and improve function using aPDL1 blocking antibodies.
Methods
Immunocompetent C57BL/6 mice (WT) received AT of pooled 35 x106 syngeneic splenic TCL1 CLL cells. Syngeneic donor CAR T cells were generated from T cells from WT or WT mice given AT CLL with CLL load >80% (AT CAR). CD3+ were magnetic bead enriched then activated with CD3/CD28 Dynabeads (Thermofisher) and r-IL2 (Roche), transduced with retroviral supernatant from MSGV-1D3-28Z-1.3mut (CD19-CD28) and cultured and expanded for 4 days before injection. Two groups received intraperitoneal (IP) aPDL1 10mg/kg from D-1 every 72 hours (with and without AT CAR T cells) and all groups (except aPDL1 alone) were given 100mg/kg IP cyclophosphamide on D-1. On D0 the CAR groups received 1.5-2x106 CAR T cells with aPDL1 continuing until W12. Mice were bled every two weeks starting D+7 from CAR T cells to assess CLL load, CAR/T cell subsets and groups were culled together when they got sick or peripheral blood (PB) CLL>70%.
Results
Compared to WT CAR T cells, AT CAR T cells proliferate less in culture, skew towards CD8 cells, exhibit significantly lower transduction efficiencies in CD8 cells and have higher expression of PD1+ in both CD4 and CD8 cells. All mice treated with CAR T cells cleared their CLL and normal B cells at D+7, and those mice treated with WT CAR T cells all remained in remission until W18, whereas 50-60% of mice treated with AT CAR T cells slowly relapsed from D+21. Spleen weights in WT CAR treated mice were equivalent to age matched controls whilst AT CAR treated mice had variable size by W18. The addition of aPDL1 to AT CAR T cells did not alter their performance from AT CAR T cells alone in any parameter examined. CAR T cell expansion in all groups was greatest at D+7 and the majority of CAR+ cells were CD8+ and PD1+. PD1+ expression was significantly higher in AT compared to WT CAR T cells at D+7.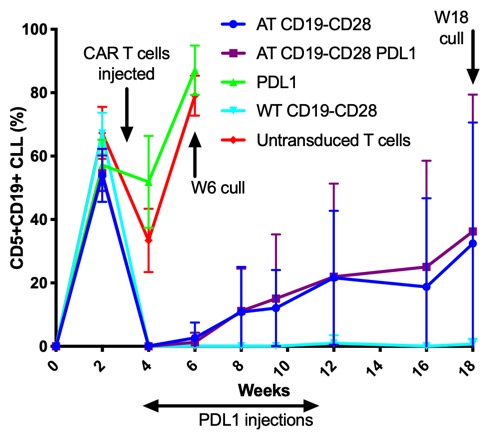 Conclusion

CD19+ relapse post CAR T cells is determined by T cell fitness as WT CAR T cells can prevent relapse and can normalise PD1+ expression and spleen size. CAR T cells derived from CLL T cells are less able to prevent CD19+ relapse and this is not improved using concurrent aPDL1, which also seems to have limited activity in treatment alone of AT TCL1 CLL. Ongoing studies using CAR plus immunotherapy and BTK inhibitor combinations are addressing which steps are necessary to optimize CAR T cell fitness.
Session topic: 5. Chronic lymphocytic leukemia and related disorders - Biology & Translational Research
Keyword(s): CD19, Chronic lymphocytic leukemia, Immunotherapy, Mouse model