Abstract: S893
Type: Oral Presentation
Presentation during EHA24: On Saturday, June 15, 2019 from 16:45 - 17:00
Location: Hall 3A
Background

Human mesenchymal stromal cells (MSCs) therapy has demonstrated convincing efficacy in steroid-resistant acute graft-versus-host disease (GvHD). Recently, it has been shown that MSC apoptosis and efferocytosis are essential to mediate MSC therapeutic effects in GvHD. However, there are currently no molecular markers for monitoring this process in patients.
Aims
To identify the potential tools for this, we decided to interrogate the molecular and functional profile of human phagocytes exposed to apoptotic MSCs (ApoMSCs) and examined these molecules in GvHD patients.
Methods

CD14+ monocytes were isolated from healthy donors' blood whilst ApoMSCs were generated by treating MSCs with anti-Fas antibody. Monocytes co-cultured with ApoMSCs for 8 hours (ApoMSC-Mono) were characterized using flow cytometry, ELISAs and CD3 T cell proliferation assay. Selective cyclooxygenase2 (COX2) inhibitor NS-398 was added during the monocyte-conditioning to assess the role of COX2/prostaglandin E2 (PGE2) in ApoMSC-Mono. To validate our findings in GvHD patients, sera from 8 severe steroid-resistant GvHD patients before and after MSC treatment were collected and analyzed. Patients' clinical responses to MSCs, defined by at least 1 stage reduction in any GvHD organ after infusion, were assessed 1 week after the infusion. To compare the results across patients, we calculated the change in PGE2 levels before and after MSC infusion using the formula [PGE2after infusion - PGE2before infusion]/PGE2before infusion x 100%].
Results

ApoMSC-Mono inhibited 50% of the T-cell proliferation in relative to the monocytes or ApoMSCs alone (Figure 1D, n=4, p < 0.01). Examining their immunological profiles, there was a significant increase of COX2/PGE2 (n=3, p < 0.05), indoleamine 2,3-dioxygenase (IDO) (n=4, p < 0.01) and programmed death-ligand 1 (PD-L1) (n=3, p < 0.01) compared to the monocyte alone (Figure 1A). Using fluorescent-labelled ApoMSCs, we confirmed that increased expression of COX2, IDO and PD-L1 was selectively detected in the monocytes efferocytosing ApoMSCs (Figure 1B, n=3, p < 0.05). Among the molecules identified, we have found that COX2/PGE2 is the key effector of ApoMSC-induced immunosuppressive monocytes as COX2 inhibitor NS-398 significantly impaired the immunosuppressive activity of ApoMSC-Mono (Figure 1D, n=4, p < 0.01). NS-398 prevented the induction of PGE2 (n=4, p < 0.01), IDO (n=5, p < 0.01) and PD-L1 (n=4, p < 0.01) without interfering with efferocytosis (Figure 1C). Because of this, we asked whether PGE2 levels could reflect the MSC immunological activity in GvHD patients receiving MSC treatment. Therefore, the serum level of PGE2 from 8 GvHD patients before and after the MSC treatment were measured. 4 patients achieved a partial response. One of the responder patients received two independent MSC infusions and assessed twice accordingly. 4 patients were non-responders. Remarkably, we found that patients responding to MSCs exhibited a significant increment of PGE2 levels compared to the clinical non-responders (Figure 1E, n=9, p < 0.05).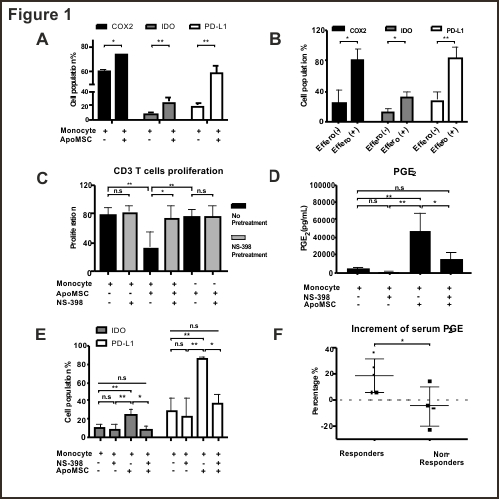 Conclusion

Overall, this study reveals the ultimate role of efferocytosis-induced COX2/PGE2 in delivering immunosuppression, strengthening the role of MSCs apoptosis and efferocytosis in driving MSC immunosuppression. It also advocates the measurement of serum PGE2 in GvHD patients receiving MSC treatment to monitor the immunological effects of MSCs.
Session topic: 21. Stem cell transplantation - Experimental
Keyword(s): Apoptosis, Graft-versus-host disease (GVHD), Immunomodulation, Mesenchymal stem cell