Abstract: S883
Type: Oral Presentation
Presentation during EHA24: On Saturday, June 15, 2019 from 16:30 - 16:45
Location: Forum Hall
Background
Asciminib is a potent and specific inhibitor of BCR-ABL1. Unlike BCR-ABL1 TKIs that target the ATP binding site, asciminib binds to the myristoyl pocket of ABL1. The combination of asciminib with ATP-competitive TKIs showed cooperativity in preclinical studies and may provide more potent BCR-ABL1 inhibition and prevent emergence of resistance mutations. In an ongoing phase 1 study (NCT02081378), asciminib monotherapy demonstrated clinical activity and good safety/tolerability in CML pts, including those with the T315I mutation; for CML chronic phase (CP) pts without T315I, asciminib 40 mg BID was the recommended dose. We report results from pts in this study who received asciminib in combination with IMA.
Aims
To assess treatment with asciminib + IMA in CML pts.
Methods
Eligible pts had CML in CP or accelerated phase and resistance or intolerance to ≥2 prior TKIs; pts with intolerance to IMA or uncontrolled CV conditions were excluded. Pts received treatment in continuous 28-d cycles at 1 of 4 asciminib dose levels—40, 60 or 80 mg QD, or 40 mg BID—combined with IMA 400 mg QD. Data cut-off date: 15 Jul 2018.
Results
25 pts, all with CML-CP, were enrolled. Pt characteristics are shown in the Table. 15/25 pts (60%) had received >2 prior TKIs and 17/25 (68%) had received prior IMA. At the data cut-off, treatment was ongoing in 17 pts (68%). Reasons for discontinuation were pt/physician decision (n=4), AEs (pruritus [n=1] and proximal myopathy [n=1]), pregnancy (n=1), and progressive disease (n=1). Median treatment exposure was 54.6 wks.
Among these heavily pretreated pts, 22 (88%) had any-grade drug-related AEs (grade 3/4, 11 [44%]); most common any-grade AEs were nausea (32%), increased lipase (20%), as well as abdominal pain, peripheral edema and vomiting (16% each). Dose-limiting toxicities (DLTs) during cycle 1 for each asciminib dose level were: decreased neutrophil count (n=1; 40 mg QD); abdominal pain and nausea (n=1 each; 60 mg QD); pancreatitis and increased lipase (n=1 each; 80 mg QD); and pancreatitis (n=1; 40 mg BID). Both pts with pancreatitis tolerated treatment after dose reduction and remained on study. No drug-related CV events were reported. 1 pt, who discontinued due to progressive disease, progressed to blast phase. No pt died on treatment.
Drug-drug interaction was observed between asciminib and IMA: asciminib AUC and Cmax increased in the presence of IMA, whereas the PK of IMA was unaffected by asciminib. PK analysis helped identify asciminib doses that, in combination with IMA, provided comparable exposure to that of the asciminib single-agent recommended dose (40 mg BID). Asciminib 60 mg QD + IMA showed comparable steady-state AUC but a 1.5- to 1.85-fold increase in Cmax. Asciminib 40 mg QD + IMA showed comparable Cmax but up to a 40% decrease in AUC.
Among pts without BCR-ABL1IS <1% at baseline (BL), 9/15 (60%) achieved this response by 48 wks. Among evaluable pts without major molecular response (MMR; BCR-ABL1IS ≤0.1%) at BL, 8/19 (42%) achieved MMR and 3/20 (15%) achieved MR4.5 (BCR-ABL1IS ≤0.0032%) by 48 wks. All 3 pts with BL mutations achieved MMR by 32 wks. No loss of MMR was seen among pts with MMR at BL.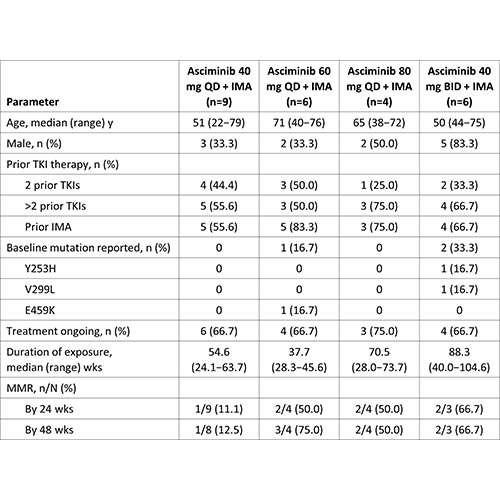 Conclusion
Asciminib + IMA showed promising preliminary efficacy and a good safety profile in pts resistant/intolerant to ≥2 prior TKIs. Based on overall efficacy, safety and PK data from this study, asciminib doses of 40 and 60 mg QD were selected for further study in an ongoing phase 2 trial (NCT03578367) of asciminib add-on to IMA in pts not achieving deep molecular response with IMA.
Session topic: 8. Chronic myeloid leukemia - Clinical
Keyword(s): Chronic myeloid leukemia, Imatinib