Abstract: S882
Type: Oral Presentation
Presentation during EHA24: On Saturday, June 15, 2019 from 16:15 - 16:30
Location: Forum Hall
Background

The therapeutic strategy of CML in the TKIs era aims to improve the management of the disease and possibly also patients' quality of life (QoL).
Aims

In July 2015, we started a prospective multicentric randomized trial with the aim to validate the policy of the intermittent de-escalation treatment and to examine the impact of this strategy on QoL.
Methods

To this purpose, CML patients older than 60 years in stable (≥2 years) MR3.0 or MR4.0 molecular response were randomized to receive a FIXED intermittent TKIs regimen (one month ON and one month OFF) (Russo D, Blood 2013; Russo D, BCJ 2015), versus a PROGRESSIVE intermittent TKIs regimen (one month ON and one month OFF for the 1st year; one month ON and two months OFF for the 2nd year; one month ON and three months OFF from the 3rd year) (OPTkIMA study, ClinicalTrials.gov: NCT02326311). Molecular monitoring was performed according to the 2015 ELN guidelines (Baccarani M, Blood2013). In case of confirmed MR3.0 (MMR) loss, patients were planned to exit the study and to resume TKIs daily. QoL was evaluated at baseline, every three months during the first year and regularly thereafter, using the well validated EORTC QLQ-C30 and its CML module (EORTC QLQ-CML24) as well as the EORTC Elderly Module (EORTC QLQ-ELD14). For the purpose of this preliminary QoL analysis we only considered changes from baseline up to 12 months, that is when both patient groups receive the same treatment schedule (one month ON and one month OFF).
Results

This first interim report, have been focused on the patients who, by intention to treat, have completed the first year of the study. Up to December 2018, 186 patients have been enrolled by 26 Italian Hematological Centers and 166/186 patients (89%) completed the first year of OPTkIMA study. The median age was 71 years (range 60-89) and 66% of the patients were belonging to the Sokal intermediate/high risk goup. 129/166 (77%) patients were receiving imatinib (IMA). Overall, 89/166 (54%) and 77/166 (46%) patients have been randomized in the FIXED and PROGRESSIVE arm, respectively. 46/76 patients (61%) randomly assigned to the PROGRESSIVE arm have entered the second year of therapy. 47/166 patients (28%) went out of the study during the first year (Table 1). 39/166 cases (23%) lost MR3.0. Thus the probability of loosing the MR3.0 while on OPTkIMA was 19% at one year (Figure 1). All the 39 patients resumed TKIs continuously and all obtained at least the MR3.0 response, within 6 months. The intermittent treatment was well tolerated, with 7 serious adverse events, none of which treatment-related. None of the patients experienced the TKI withdrawn syndrome. QoL analysis was based on 166 patients with currently available QoL data. The top three most prevalent baseline symptoms (EORTC QLQ-C30) were fatigue (80%), pain (51%) and sleep disturbance (48%). With regard to QoL disease-specific domains (EORTC QLQ-CML24), no statistically significant changes were noted during the first year of treatment. Further QoL analyses are currently ongoing.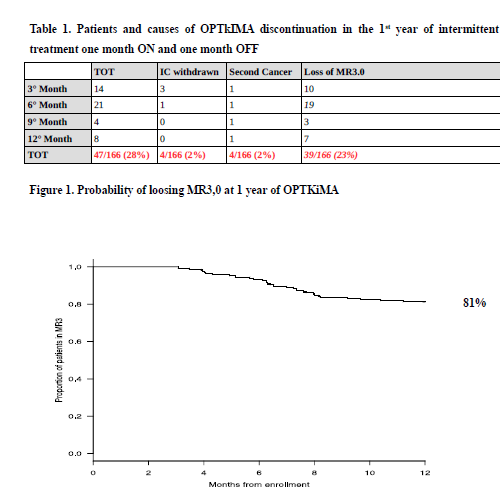 Conclusion

According to this first interim report, we found that a policy of intermittent TKIs administration in elderly patients is safe and well tolerated. After the 1st year, 28/166 patients (23%) lost MR3.0 and all of them re-gained the major molecular response within 6 months from resumption of continuous treatment. Thus, the probability of MR3.0 loss while on OPTkIMA at 1 year was 19%, comparable to the 20% of the previously published INTERIM trial.
Acknowledgements: GIMEMA CML WP, ELN, COFIN2009
Session topic: 8. Chronic myeloid leukemia - Clinical
Keyword(s): Molecular response, Quality of life, Tyrosine kinase inhibitor