Abstract: S879
Type: Oral Presentation
Presentation during EHA24: On Saturday, June 15, 2019 from 16:45 - 17:00
Location: Elicium 2
Background
G is a next generation hypomethylating agent (HMA) given subcutaneously (SC) which provides prolonged in vivo exposure to its active metabolite decitabine, thus offering potential clinical advantages over current HMAs. A multicenter phase 2 study reported a 38% CR rate, and a 54% composite CR (CR+CRp+CRi) rate using 5-day regimen at 60 mg/m2/d SC Q28 days in TN-AML not eligible for IC (Kantarjian et al, Lancet Oncology 2017). This led to ASTRAL-1 study, an international phase 3 randomized trial comparing G to TC of azacitidine (AZA), decitabine (DEC) or Low Dose Ara-C (LDAC).
Aims
To report ASTRAL-1 study primary analyses results.
Methods
TN-AML not eligible for IC due to age ≥ 75 y or comorbidities including ECOG PS 3 were randomized 1:1 to either G (60 mg/m2/d SC for 5-days Q28 days) or a preselected TC of AZA, DEC, or LDAC at standard regimens. AML diagnosis and response status were assessed by an independent central pathologist blinded to randomization assignment. CR and Overall Survival (OS) were co-primary endpoints.
Results
815 patients were randomized to G (408) or TC (407). Preselected TCs were DEC (43%), AZA (42%), and LDAC (15%). Baseline variables were balanced across the 2 arms. Median age 76 y for both arms, patients ≥75 y were 62% vs 62.4%, PS 2-3 in 50.5% vs 50.4% (including 10.8% vs 8.8% PS 3), poor risk cytogenetics 34.3% vs 34.6%, secondary AML 36.3% vs 36.9%, WBCs ≥20x109/L 15.2% vs 14.3%, and median BM blasts 56% vs 53% for G vs TC respectively. Median follow up was 25.5 m and median number of treatment cycles was 5 for both arms. Many patients (41.6%) received ≤ 3 cycles mainly due to early death or progression with no difference between the 2 arms (42.4% on G, and 40.8% on TC). The co-primary endpoints ITT analyses showed a CR rate of 19.4% vs 17.4% for G vs TC (p = 0.48). The median, 1-y, and 2-y survival were 7.1 m, 37%, and 18% for G, and 8.4 m, 36%, and 14% for TC (Figure 1). OS HR was 0.91, 0.98, and 0.96 for G vs AZA, DEC, and LDAC respectively. Landmark survival analyses showed potential benefit of G vs TC in patients who received >3 cycles (median, 1-y, and 2-y OS 15.6 m, 60% and 29% on G vs 13 m, 52%, and 20% on TC; log-rank p value=0.02, HR 0.78, 95% CI 0.64-0.96), and those who achieved any CR (CR, CRp, or CRi): OS HR 0.72, 95% CI 0.50-1.05. Analyses of predefined clinical, cytogenetics, and molecular genetics variables assessed by PCR (Flt-3 ITD, CEBPA, NPM1, and TP53) did not show significant differences of primary outcomes between G and TC in any subgroup except for TP53. Patients with identified baseline TP53 mutations did worse on G vs TC while those without identified TP53 mutations had a more favorable outcome on G vs TC. Both treatment arms showed overall similar safety profiles with slightly higher but not significant serious AEs incidence (81% vs 75.5%) and Grade ≥ 3 AEs (91.5% vs 87.5%) on G vs TC respectively. There was no difference in AEs leading to death (28.7% for G vs 29.8% for TC).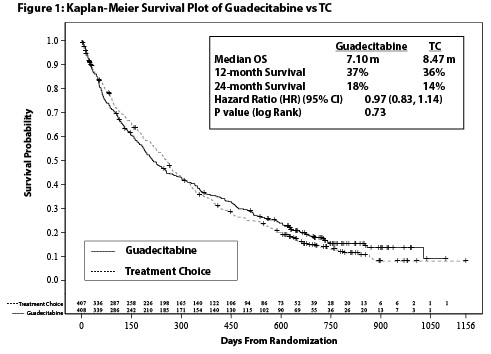 Conclusion
The trial did not achieve its primary endpoints of statistically significant superiority of G vs TC for CR or OS. However due to the large sample size and narrow 95% CI for OS difference, the trial suggests that G is an active drug with an overall similar efficacy and safety profiles to standard therapy. Potential benefit of G vs TC was observed in patients who were able to receive adequate treatment (>3 cycles), and those who achieved any CR. The significance of TP53 mutations needs to be further explored.
Session topic: 4. Acute myeloid leukemia - Clinical
Keyword(s): AML, Azacitidine, Decitabine