Abstract: S876
Type: Oral Presentation
Presentation during EHA24: On Saturday, June 15, 2019 from 16:00 - 16:15
Location: Elicium 2
Background
Gilteritinib is a potent/selective oral inhibitor of fms-like tyrosine kinase 3 (FLT3). Based upon interim analysis response rates from the ADMIRAL phase 3 study of gilteritinib vs salvage chemotherapy (SC) in patients with R/R FLT3mut+ AML (NCT02421939), gilteritinib became the first FLT3 inhibitor approved as single-agent therapy in this population. 
Aims

We present the final results of the ADMIRAL trial. 
Methods
Adults with confirmed FLT3mut+ AML (FLT3-ITD and/or FLT3-TKD D835 or I836 mutations) refractory to induction chemotherapy or in untreated first relapse were randomized (2:1) to receive continuous 28-day cycles of 120 mg/day gilteritinib or pre-randomization selected SC: low-dose cytarabine (LoDAC), azacitidine (AZA), mitoxantrone/etoposide/cytarabine (MEC), or fludarabine/cytarabine/granulocyte colony-stimulating factor/idarubicin (FLAG-IDA). Prior FLT3 inhibitor use, other than midostaurin or sorafenib, was excluded. Overall survival (OS) and the combined rate of complete remission/complete remission with partial hematologic recovery (CR/CRh) were co-primary endpoints. Secondary endpoints were event-free survival (EFS) and CR rate; safety/tolerability was also examined.
Results
A total of 371 patients were randomized: 247 to gilteritinib and 124 to SC (MEC, 25.7%; FLAG-IDA, 36.7%; LoDAC, 14.7%; AZA, 22.9%). Median age was 62 years (range, 19–85). Baseline FLT3 mutations were: FLT3-ITD, 88.4%; FLT3-TKD, 8.4%; both FLT3-ITD and FLT3-TKD, 1.9%; unconfirmed, 1.3%. Overall, 39.4% of patients had refractory AML and 60.6% had relapsed AML. Patients randomized to gilteritinib had significantly longer OS (9.3 months) than SC (5.6 months; hazard ratio [HR] for death = 0.637; P=0.0007); 1-year survival rates were 37.1% and 16.7%, respectively. The CR/CRh rates for gilteritinib and SC were 34.0% and 15.3%, respectively (P=0.0001); CR rates were 21.1% and 10.5% (2-sided P=0.0106). Median EFS was 2.8 months and 0.7 months in the gilteritinib and SC arms, respectively (HR 0.793, P=0.0830). Common adverse events (AEs) in all randomized patients were febrile neutropenia (43.7%), anemia (43.4%), and pyrexia (38.6%). Common grade ≥3 AEs related to gilteritinib were anemia (19.5%), febrile neutropenia (15.4%), thrombocytopenia (12.2%), and decreased platelet count (12.2%). Adjusted for exposure duration, serious treatment-emergent AEs per patient year were less common with gilteritinib (7.1%) than SC (9.2%).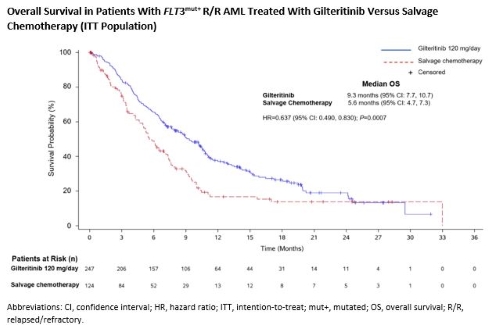 Conclusion
In patients with R/R FLT3mut+ AML, the potent, selective FLT3 inhibitor gilteritinib resulted in significantly longer overall survival and higher response rates compared with chemotherapy and had a favorable safety profile. These results change the treatment paradigm for salvage therapy of R/R FLT3mut+ AML and establish gilteritinib as the new standard of care.
Session topic: 4. Acute myeloid leukemia - Clinical
Keyword(s): Acute myeloid leukemia, Flt3 inhibitor, Salvage chemotherapy