Abstract: S874
Type: Oral Presentation
Presentation during EHA24: On Saturday, June 15, 2019 from 16:45 - 17:00
Location: Auditorium
Background
VTd is considered a standard of care for patients with newly diagnosed multiple myeloma (NDMM) who are transplant eligible. The CD38-targeted monoclonal antibody daratumumab (DARA) demonstrated a significant reduction in the risk of progression or death and improvement in stringent complete response (sCR), CR or better (≥CR), and minimal residual disease (MRD)-negative rates when added to VTd in transplant-eligible NDMM patients in the phase 3 CASSIOPEIA study.
Aims
Determine MRD status and its association with progression-free survival (PFS) in transplant-eligible NDMM patients receiving D-VTd versus VTd as pre-transplant induction and post-transplant consolidation in CASSIOPEIA.
Methods
Transplant-eligible NDMM patients were randomized 1:1 to 4 cycles of pre-autologous stem-cell transplant (ASCT) induction and 2 cycles of post-ASCT consolidation with DARA + VTd or VTd. Analyses of MRD were performed on bone marrow aspirates after induction and after consolidation (at Day 100 post-ASCT) for all patients, regardless of response. MRD was assessed primarily by EuroFlow-based multiparametric flow cytometry (MFC) and, based on sample yield, secondarily with next-generation sequencing (NGS; Adaptive clonoSEQ® Assay). Here, we report post-induction and post-consolidation MFC results (10–5 sensitivity threshold) and post-consolidation NGS results (10–6).
Results

A cohort of 1,085 patients received D-VTd (n = 543) or VTd (n = 542). The post-induction MRD-negative rate (MFC, 10–5) was significantly higher for the D-VTd arm versus the VTd arm (34.6% vs 23.1%; P <0.0001; Table). Similarly, post-consolidation MRD-negative rates by MFC (10–5) and NGS (10–6) were significantly higher for patients receiving D-VTd versus VTd (63.7% vs 43.5% and 39.1% vs 22.8%, respectively; P <0.0001 for both analyses; Table). Post-consolidation MRD-negative rates (MFC, 10–5) were consistent across patient subgroups, including ISS stage III or high-risk cytogenetics.
Multivariate analyses accounting for treatment arm and MRD negativity (MFC) showed a PFS benefit in patients reaching MRD negativity (HR, 0.31; 95% CI, 0.20-0.50; P <0.0001), and D-VTd showed additional PFS benefit versus VTd alone (HR, 0.48; 95% CI, 0.30-0.78; P = 0.0028). Analysis of MRD based on response (per IMWG criteria) will be presented.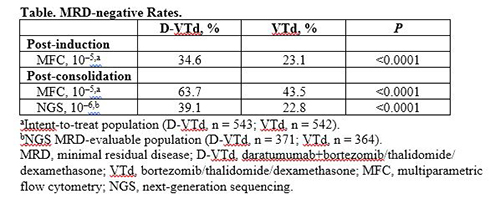 Conclusion
The addition of DARA to VTd during induction and consolidation deepened responses, as demonstrated by significant increases in MRD-negative rates. Deepened post-consolidation responses with D-VTd led to improved outcomes, with MRD negativity associated with prolonged PFS, versus VTd in patients with NDMM who were transplant eligible.
Session topic: 14. Myeloma and other monoclonal gammopathies - Clinical
Keyword(s): Minimal residual disease (MRD), Monoclonal antibody, Multiple myeloma, Stem cell transplant