Abstract: S850
Type: Oral Presentation
Presentation during EHA24: On Saturday, June 15, 2019 from 12:15 - 12:30
Location: Hall 3B
Background
Rozanolixizumab, a subcutaneous (SC) monoclonal antibody specific for the human neonatal Fc receptor (FcRn), is being developed with the aim of improving the lives of people with immunoglobulin G (IgG)-mediated autoimmune diseases, by reducing pathogenic IgG autoantibodies. 
Aims
To report a planned interim analysis (13th Data Monitoring Committee review; data cut-off: 02-Aug-2018) of an ongoing Phase II, open-label study of rozanolixizumab in patients with primary immune thrombocytopenia (ITP) (NCT02718716).
Methods
Eligibility criteria included: ≥18 years of age; diagnosis of primary ITP for ≥3 months prior to screening; platelet count <30x109/L at screening and <35x109/L at baseline; current/history of peripheral blood smear consistent with ITP. Eligible patients received 4 mg/kg (5 doses), 7 mg/kg (3 doses), 10 mg/kg (2 doses) or 15 mg/kg (1 dose) rozanolixizumab SC weekly; the study is ongoing with 20 mg/kg (1 dose). An 8-week observation period followed dosing. Primary objective: evaluate safety and tolerability of rozanolixizumab by occurrence of treatment-emergent adverse events (TEAEs); secondary objective: assess clinical efficacy through assessment of platelet count. 
Results
Median number of prior ITP therapies was 3.5-7.0, suggesting a difficult-to-treat population.
39/54 (72%) patients reported ≥1 TEAE (104 TEAEs total). There were four serious TEAEs overall (none deemed treatment-related by the investigator): bleeding from genital tract (4 mg/kg group), thrombocytopenia (10 mg/kg group), thrombocytopenia, platelet count decrease (both 15 mg/kg group). The most frequently reported TEAE was headache (17/31 overall; all mild or moderate in severity). 1 patient in each of the 4 mg/kg, 7 mg/kg and 10 mg/kg groups and 8 patients in the 15 mg/kg group reported TEAEs deemed treatment-related by the investigator, of which headache was the most frequent (0/15, 4 mg/kg; 1/15 (7%), 7 mg/kg; 1/12 (8%), 10 mg/kg; 5/12 (42%), 15 mg/kg). No deaths or treatment discontinuations due to TEAEs were reported. No clinically relevant changes were observed in all other routine safety parameters. No unexpected changes in total protein were observed.
Clinically relevant improvements in platelet count (≥50x109/L) were observed across all dose groups; 4 mg/kg group: 5/15 (33%), 7 mg/kg group: 5/15 (33%), 10 mg/kg group: 6/12 (50%), and 15 mg/kg group: 8/12 (67%). Of those with a platelet count ≥50x109/L, a response was seen ≤8 days after first rozanolixizumab dose for 1/5 (4 mg/kg), 2/5 (7 mg/kg), 3/6 (10 mg/kg), and 7/8 (15 mg/kg) patients. Maximum mean (range) decreases in total IgG concentration were observed at Day 29, after 4 doses, for the 4 mg/kg group (43.6%, 21.9–68.6); at Day 22, after 3 doses, for the 7 mg/kg group (49.9%, 29.5–65.5); at Day 15, after 2 doses, for the 10 mg/kg group (63.8%, 38.4–75.0) and at Day 8, after a single dose, for the 15 mg/kg group (52.3%, 30.1–68.0) (Figure).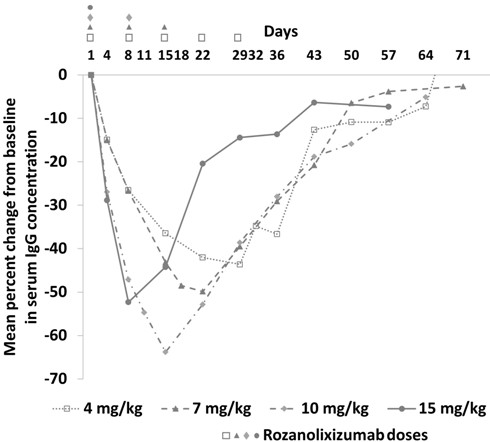 Conclusion
Rozanolixizumab demonstrated a well-tolerated safety profile across all reported dose groups. Clinically meaningful platelet responses were observed for all doses; response rate increased in line with dose, maximum response was seen after the single 15 mg/kg SC dose. For patients achieving a platelet response, the time to response reduced with increasing dose. Rapid decreases in IgG concentration were observed. Data support the rationale that targeting the natural IgG recycling mechanism could offer a new treatment paradigm for people with IgG-driven autoimmune diseases.
Session topic: 33. Bleeding disorders (congenital and acquired)
Keyword(s): Immunoglobulin, ITP