Abstract: S841
Type: Oral Presentation
Presentation during EHA24: On Saturday, June 15, 2019 from 12:30 - 12:45
Location: Elicium 1
Background
  Myelodysplastic syndromes (MDS) are heterogeneous clonal myeloid disorders with increased risk of transformation to acute myeloid leukemia (AML). To understand the role of genetic evolution in the progression of MDS and its prognostic implication, comprehensive mutation analyses of large MDS cohorts sequentially by next generation sequencing during the clinical course are mandatory.
Aims
  The study was aimed to explore the evolution profile of genetic alterations and its clinic-prognostic impact in MDS patients.
Methods
  Totally, 161 de novo MDS patients diagnosed according to the 2016 WHO classification who had paired samples both at diagnosis and subsequent follow-ups were recruited. Among them, 81 patients had disease progression: 24 patients progressed to high-risk MDS and 57 progressed to AML. Gene mutations were analyzed by targeted next generation sequencing of 54 genes involving in myeloid malignancies using TruSight Myeloid Panel.
Results
  The most prevalent gene mutations at diagnosis and progression were similar, including ASXL1, followed by RUNX1, SRSF2, and U2AF1 mutations. The most common genetic evolution was acquisition of NRAS mutation (16.0%), followed by that of chromosome 8 abnormalities (14.8%), and RUNX1 mutations (13.5%). Among the 81 patients with disease progression, 57 (70.4%) patients had genetic evolution: 18 patients had only cytogenetic evolution, 22 had only mutation shift (either acquisition or loss), and 17 had both cytogenetic evolution and mutation shift. The patients with disease progression had a higher frequency of mutation shift than those with stable disease (48.1% vs. 30.0%, P=0.024). The gene mutation numbers were not associated with the risk of disease at diagnosis, but at progression, patients with acute myeloid leukemia (AML) had more gene mutation numbers than those with high risk MDS. Progression to AML rather than to high-risk MDS and presence of cytogenetic or genetic evolution predicted poorer overall survival (OS) after progression (Fig 1A), irrespective of the original subtypes of MDS.
We used SciClone to analyze the clonal architecture of gene mutations at diagnosis and at disease progression and identified two clusters of gene mutations. Cluster 1 gene mutations, including DNMT3A, NRAS, RUNX1, WT1, IDH2, splicing factors (including SRSF2, SF3B1, and U2AF1), and TET2 mutations, tended to have increasing allelic burdens or be acquired at progression; cluster 2 gene mutations, including ASXL1, SETBP1, STAG2, BCOR, and TP53 mutations, tended to be stationary, decreasing, or lost at disease progression. At diagnosis, the cluster 1 gene mutations were significantly more prevalent in MDS with subsequent progression to secondary AML but the cluster 2 gene mutations were more common in those with progression to high-risk MDS. We risk-stratified patients into three groups at diagnosis: the group 1 patients with cluster 1 ± cluster 2 gene mutations, the group 2 patients with the only cluster 2 gene mutations, and the group 3 patients with neither cluster 1 nor cluster 2 gene mutations. The group 3 patients had the longest OS, followed by the group 1, and the group 2 patients had the worst OS (Fig 1B).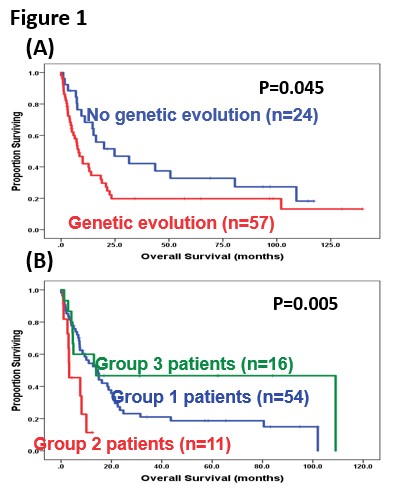 Conclusion
  More than two-thirds of MDS patients experienced genetic evolution during disease progression and the presence of the genetic evolution had a poor prognostic impact. It is necessary to develop novel treatment strategies for patients with genetic evolution in the near future.
Session topic: 10. Myelodysplastic syndromes - Clinical
Keyword(s): Genetic, Myelodysplasia, Prognostic factor