Abstract: S838
Type: Oral Presentation
Presentation during EHA24: On Saturday, June 15, 2019 from 11:45 - 12:00
Location: Elicium 1
Background
Patients with lower-risk MDS (LR-MDS) are prone to iron toxicity due to long-term iron accumulation either caused by RBC transfusions or ineffective erythropoiesis. Nontransferrin bound iron (NTBI), including labile plasma iron (LPI), are toxic iron species that may mediate cellular damage via oxidative stress.
Aims
To evaluate temporal changes in iron metabolism over time, the presence of toxic iron species, and their impact on overall and progression-free survival (PFS) in patients with LR-MDS.
Methods
The EUMDS registry prospectively collects observational data on newly diagnosed LR-MDS patients from 145 centers in 17 countries since 2008. We analyzed serum from 247 LR-MDS patients collected at six-month intervals for ferritin, transferrin saturation (TSAT), hepcidin-25, soluble transferrin receptor (sTfR), and toxic iron species (NTBI and LPI).  
Results
The median age was 73 years (range: 37 to 95) and 66% were males. WHO2001 MDS-subtypes were RCMD (45%), RARS (22%), RA (18%), RAEB-1 (7%), 5q-syndrome (4%) and RCMD-RS (4%). The IPSS-R categories were: (very) low risk: 66%; intermediate risk: 12%; (very) high risk: 2% and unknown: 20%. Median follow-up time was 2.7 years (95% CI 2.6-2.8). The table shows iron parameters at registration, 1 and 2 years follow-up both in transfusion-dependent (TD) and transfusion-independent (TI) patients and according to: MDS-RS (RARS/RCMD-RS) or MDS Non-RS (RA/RCMD/RAEB/5q-syndrome).
Mean serum ferritin levels were elevated in all subgroups, but more pronounced in the TD group. The highest increase of ferritin was observed in the TD-RS group. All subgroups, except for TI-Non-RS, TSAT was elevated, with the highest values again in the TD-RS group. The lowest LPI and NTBI levels were observed in the TI-Non-RS group. In the TD groups and especially the TD-RS subgroup both toxic iron parameters LPI and NTBI were markedly elevated. Hepcidin levels were higher in TD patients compared to TI patients. Hepcidin levels were strikingly lower in the TD-RS group, possibly reflecting the dyserythropoiesis in this specific group. This is also supported by the highest levels of STfR also noted in this patient category.
Figure 1 demonstrates the Kaplan Meier curve and the corresponding Cox model of the effect of LPI (below or above LLOD; lower limit of detection), by transfusion status as a time-dependent variable, on overall survival, adjusted for age and IPSS-R category. Patients were censored at time of starting iron chelation therapy. High LPI levels were associated with inferior overall survival (HR 3.0, 95% CI 1.5-5.7, p=0.001), again with the most significant result in the TD-RS subgroup (HR 6.0, 95% CI 2.2-16.2, p<0.001). Similarly, elevated LPI levels are associated with PFS (HR 3.4, 95% CI 1.9-6.3, p<0.001) for the whole study population and the TD-RS subgroup (HR 8.2, 95%CI 3.4-21.0, p<0.001).
In total 16 patients received iron chelation during the sample collection period (11 patients deferasirox, 5 patients desferioxamine). LPI levels were normal in 14 out of the 17 samples collected during deferasirox treatment and in 2 out of 5 samples collected during desferoxamine treatment.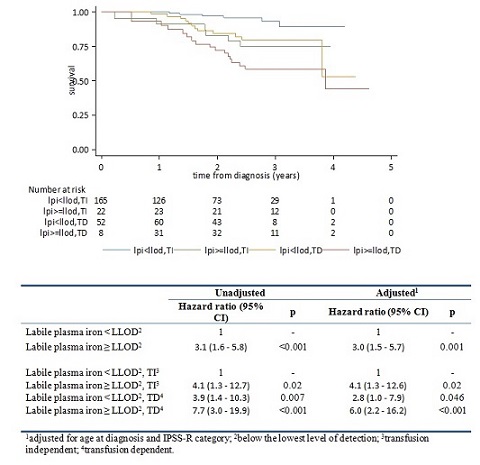 Conclusion
Transfusion dependency is associated with the presence of toxic iron species and inferior overall and progression-free survival in lower-risk MDS patients. In TD-RS patients the effects were most pronounced indicating ineffective erythropoiesis leading to additional iron toxicity.
Session topic: 10. Myelodysplastic syndromes - Clinical