Abstract: S835
Type: Oral Presentation
Presentation during EHA24: On Saturday, June 15, 2019 from 12:15 - 12:30
Location: Forum Hall
Background

Current clinical practice in intensive induction treatment of AML recommends morphological response evaluation on day 14-17 after start of induction therapy. (Lowenberg et al NEJM 1999) However, alterations in genes and proteins related to chemotherapy resistance and cell survival can also be detected in vivo within hours after start of therapy. (Gausdal et al Blood 2008, Øyan et al BMC Cancer 2009). The rapid kinetics in cell response to perturbation is underscored by in vitro studies that have shown an immediate response in intracellular signalling networks which can be detected within minutes after cells are exposed to perturbators. (Irish et al 2004).Cytometry by time-of-flight (CyTOF) combines the platforms of conventional flow cytometry with mass spectrometry. This dramatically increases the numbers of antibodies that can be analyzed per single cell (>40) and permits a simultaneous analysis of both intracellular signaling networks and phenotypic complexity of AML cells.
Aims
Immediate evaluation of intracellular signaling after start of treatment in malignant and non-malignant cellular subsets could reveal the functional properties of resistant AML cancer clones, and how they may be therapeutically targeted.
Methods
We performed a 36- dimensional CyTOF analysis of 21 surface markers (CD66b, CD16, CD45, CD11b, CD25, CD3, CD4, CD8, CD56, CD20, CD38, CD34, CD117, CD33, CD64, CD14, HLA-DR, Axl-1H12, CD90, CD7, CD123) and 15 intracellular markers (cCaspase-3, p-4EB-P1, p-Stat 5, p-Stat 3, p-Stat 1, p-p38, p-ERK ½, p-Akt, p-NFkB, p-CREB, p-S6, p-Axl, p-Rb, Cyclin B1, p-Histone H3) of 32 de novo AML patients. Peripheral blood was sampled at 4 hours and at 24 hours after start of "7+3" induction therapy (Lowenberg et al Blood 2017). Peripheral blood from healthy donors were also analyzed. Samples were barcoded, and a reference sample was included in each barcode for normalization of potential batch effects. FlowSOM, which applies self-organizing maps (SOMs), were used to perform unsupervised identification of leukemic and non-leukemic cell populations across the patient cohort (Van Gassen et al Cytometry A 2015).
Results

FlowSOM identified 10 different metaclusters in the 32 AML patients and 7 healthy donors based on well- characterized surface markers, as shown in the t-SNE and heatmap plots (Fig 1B-C). 
To identify markers that could predict patient outcome, a lasso regression analysis correlating intracellular signaling markers to patient survival was performed. Basal pre-treatment signaling levels were not found to be significantly correlated to survival. However, we found that the ratio of pERK 1/2 at 24 hours relative to pre-treatment in metacluster 9, significantly correlated to overall survival (p=5,93e-4)(Fig 1D). Thus, an increase in pERK1/2 at 24 hours compared to the pre-treatment sample, seems unfavorable.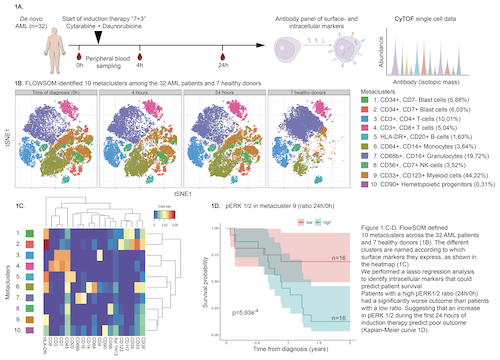 Conclusion
We found that alterations in pERK1/2 during the first 24 hours after start of induction therapy significantly correlated with patient survival. The MAPK/ERK pathway is dysregulated in nearly 50% of all human malignancies and has an important role in cell proliferation, differentiation and survival. Cells with an increase in pERK as response to chemotherapy might represent cancer cell subsets that are resistant to conventional chemotherapy, indicating that ERK could be an interesting therapeutic target in AML. Monitoring of AML patients by CyTOF during therapy seems feasible in a clinical setting, using the therapy as a perturbator for unraveling functional defects in intracellular signaling that could identify suboptimal therapy responders.
Session topic: 3. Acute myeloid leukemia - Biology & Translational Research
Keyword(s): Acute myeloid leukemia, Peripheral blood