Abstract: S830
Type: Oral Presentation
Presentation during EHA24: On Saturday, June 15, 2019 from 12:00 - 12:15
Location: Elicium 2
Background
AdvSM is a life-threatening disease of neoplastic mast cells (MCs), driven by the KIT D816V mutation in the majority of cases, leading to organ damage and decreased overall survival (OS). Among AdvSM pts, those with mast cell leukemia (MCL) or with co-mutations in SRSF2, ASXL1 and/or RUNX1 (S/A/R) exhibit especially poor survival. Avapritinib is a potent and selective investigational tyrosine kinase inhibitor with subnanomolar activity against KIT D816V that has shown robust activity in patients with AdvSM.
Aims
EXPLORER is a Phase 1 study designed to determine the recommended Phase 2 dose, safety profile, and preliminary efficacy of avapritinib in pts with AdvSM.
Methods
Adults with AdvSM and other refractory myeloid malignancies received avapritinib orally, once daily, starting at 30 mg up to 400 mg daily, with expansion cohorts of 200 mg and 300 mg daily. The primary efficacy endpoint was overall response rate (ORR) per modified (m) IWG-MRT-ECNM consensus response criteria which consisted of complete response (CR) + CR with partial hematologic recovery (CRh) + partial response (PR) + clinical improvement (CI). Duration of response (DOR), OS, and safety/tolerability were evaluated.
Results
As of September 30, 2018, 67 pts were treated (23 ASM, 30 SM-AHN, 7 MCL, 7 indolent SM/smoldering SM). KIT D816V mutation was detected by local testing in 84% of pts; 60% had prior treatment, including 23% with midostaurin. Reductions of ≥50% were noted in bone marrow MC burden in 93% of pts, serum tryptase in 100% of pts, and KIT D816V allele burden in 81% of pts. The ORR in 29 mIWG-MRT-ECNM evaluable pts was 83% and by subtype was 90% in ASM, 71% in SM-AHN, and 100% in MCL. CR or CRh was achieved in 24% of pts (2 pending confirmation). The median duration of response (DOR) was not reached, with a 12-month DOR rate of 76%, at a median follow up of 14 months. Six of the 7 (86%) pts previously treated with midostaurin achieved an objective response, including 5 PRs (2 pending confirmation). Fourteen of 17 (82%) pts with a mutated S/A/R genotype at baseline had an objective response, including 5 CR/CRh (2 pending confirmation).
The median OS has not been reached among the 60 pts with AdvSM. The one-year OS rate in AdvSM subtypes was 96% (ASM), 77% (SM-AHN), and 100% (MCL). The one-year OS rate was 100% for known S/A/R negative patients (n=28) and 78% for known S/A/R positive patients (n=29).
In the safety population (n=67), the most common (>25%) treatment-emergent adverse events (AE; all grades; grade ≥3) included periorbital edema (67%; 4%), anemia (52%; 26%), fatigue (37%; 7%), nausea (36%; 4%), diarrhea (34%; 1%), peripheral edema (34%; 0%), thrombocytopenia (31%; 17%), vomiting (28%; 2%), and cognitive effects (28%; 1%). Hematological AEs were the most common reason for dose reduction. The majority of AEs were grades 1/2 and there were no grade 5 treatment-related AEs (TRAEs). 78% of pts remain on study up to 31 months, with discontinuations due to TRAEs (ascites, encephalopathy, and intracranial bleed) in 3/67 (4%) of pts. Four pts discontinued study for progression; 2 pts progressed with AML, 1 pt with MCL, and 1 pt with progressive thrombocytopenia due to AHN.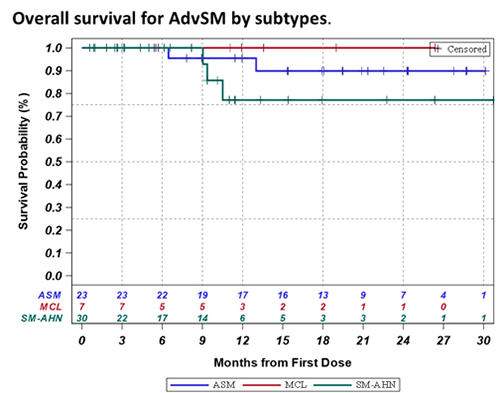 Conclusion
Avapritinib has shown high activity with durable responses in this Phase 1 study, and median OS was not reached in AdvSM, including in those with MCL, prior midostaurin treatment, and S/A/R high molecular risk genotype. These findings support continued evaluation of avapritinib across the spectrum of AdvSM.
Session topic: 16. Myeloproliferative neoplasms - Clinical