Abstract: S823
Type: Oral Presentation
Presentation during EHA24: On Saturday, June 15, 2019 from 11:30 - 11:45
Location: Auditorium
Background
DARA IV is approved as a single agent and in combination with standard-of-care regimens for relapsed or refractory multiple myeloma (RRMM). In a phase 1b trial (PAVO, NCT02519452), a SC co-formulation of DARA with recombinant human hyaluronidase PH20 (rHuPH20; ENHANZE® drug delivery technology, Halozyme, Inc.) was well tolerated.
Aims
Determine the efficacy, pharmacokinetics (PK), and safety of DARA SC vs DARA IV in patients (pts) with RRMM in the phase 3, randomized, open-label, multicenter, non-inferiority study COLUMBA (NCT03277105).
Methods
DARA SC (1,800 mg DARA + rHuPH20 [2,000 U/mL]) and DARA IV (16 mg/kg IV infusion) were given in 28-day cycles: QW Cycles 1-2, Q2W Cycles 3-6, and Q4W thereafter until disease progression or unacceptable toxicity. DARA SC (15 mL) was given by manual push over 3-5 mins at alternating left/right abdominal sites. Eligible pts (≥18 yrs) with RRMM had ≥3 prior lines of therapy (LOT), including a PI and an IMiD, or were double refractory. Co-primary endpoints were overall response rate (ORR; analyzed by Farrington-Manning test, with non-inferiority defined as 60% retention of ORR) and maximum DARA Ctrough (pre-dose concentration on Cycle 3 Day 1; non-inferiority defined as the lower bound of 90% confidence interval [CI] for the ratio of the geometric means [GM] ≥80%). Secondary endpoints included IRR rates, PFS, ≥VGPR rates, and ≥CR rates.
Results
A total of 522 pts were randomized (n=263 SC; n=259 IV). Median age was 67 yrs (20% ≥75 yrs). Median baseline body weight was 73 kg. Pts received a median of 4 LOT and 100% of pts were previously treated with both PI(s) and IMiD(s). Most pts were refractory to a prior systemic therapy, including both PI and IMiD (49.4%), PI only (9.4%), IMiD only (28.4%), and neither PI nor IMiD (12.8%). 19.8% and 13.5% of pts had a high-risk cytogenetic abnormality at baseline in the DARA SC and DARA IV groups, respectively. Median follow-up was 7.5 months. ORR was 41% for DARA SC and 37% for DARA IV. The estimate of relative risk (RR) of DARA SC to DARA IV was 1.11 (95% CI, 0.89-1.37), indicating that DARA SC retained at least 89% of the benefit of DARA IV (97.5% confidence). The ratio of GM of Ctrough for DARA SC over DARA IV was 108% (90% CI, 96-122; Figure). A significantly lower rate of IRRs was observed with DARA SC vs DARA IV (12.7% vs 34.5%; odds ratio, 0.28; 95% CI, 0.18-0.44; P<0.0001). IRRs were generally grade 1-2 and occurred with the first DARA administration. Median duration of injection was 5 mins for DARA SC and median duration of infusion was 421 mins for the first DARA IV infusion (255 and 205 mins for second and subsequent infusions, respectively). Median PFS was similar for DARA SC and DARA IV (5.6 vs 6.1 months; HR, 0.99; 95% CI, 0.78-1.26). Rates of deep responses (≥VGPR, ≥CR) were similar between groups (Figure). Rates of TEAEs were similar between groups; most common TEAEs (≥15%) were anemia, neutropenia, thrombocytopenia, and diarrhea. At the cut-off, 43% of pts in both groups continued to receive study treatment; primary reasons for discontinuation included progressive disease (43% SC vs 44% IV) and AEs (7% vs 8%).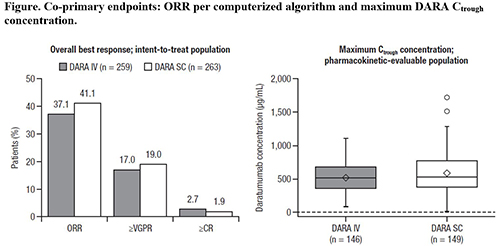 Conclusion
Efficacy and PK co-primary endpoints were met, demonstrating non-inferiority of DARA SC to DARA IV. DARA SC had an improved safety profile with a significantly decreased IRR rate and a very short administration time. DARA SC is under investigation in ongoing phase 2 and 3 studies in MM and AL amyloidosis.
Session topic: 14. Myeloma and other monoclonal gammopathies - Clinical
Keyword(s): Monoclonal antibody, Multiple myeloma, Pharmacokinetic, Subcutaneous