Abstract: S1642
Type: Oral Presentation
Presentation during EHA24: On Sunday, June 16, 2019 from 08:00 - 08:15
Location: Hall E106
Background
Risk factors for venous thromboembolism (VTE) in patients with solid tumors are well studied, however studies in patients with acute leukemia (AL) are lacking.  Identifying risk factors for VTE in leukemia patients would help to develop tailored VTE prophylaxis or surveillance strategies.
Aims
To develop a clinical prediction model for VTE in AL patients.
Methods
We conducted a retrospective cohort study of adult patients diagnosed with acute myeloid leukemia and acute lymphoblastic leukemia diagnosed between June 2006 and June 2017 at a tertiary care center in Canada. Outcome of interest was occurrence of imaging-confirmed VTE including proximal upper and lower extremity deep vein thrombosis, pulmonary embolism or thrombosis of unusual sites, including cerebral and splanchnic. Participants were followed until VTE occurrence, death or last follow up. Groups' characteristics were compared using chi-square, Fisher's exact, or Student's T-tests as appropriate.  Potential predictors were evaluated using single variable logistic regression and confirmed with multiple variable logistic regression. The final risk score was derived based on weighed variables and compared using survival analysis. Internal validation was conducted using non-parametric bootstrapping.
Results

A total of 501 leukemia patients (427 myeloid and 74 lymphoblastic; 260 males) were included. Venous thromboembolism occurred in 77(15.3%) patients (44 upper extremity DVT, 28 lower extremity DVT or PE, 5 cerebral vein thrombosis. Median time from AL diagnosis to VTE was 64 days (interquartile range 22-130). The cumulative incidence of VTE was 9.6% (n=48) (95%CI: 7.30-12.47) at 3 months, 12.8% (n=64) (95%CI: 10.13-15.98) at 6 months, and 14% (n=71) (95%CI: 11.39-17.50) at 12 months from the AL diagnosis.  Of a total of 20 potential predictors, 7 were included in the multi-variable model. The final prediction score that was derived and validated included: previous history of venous thromboembolism (3 points), lymphoblastic leukemia (2 points), and platelet count > 50 x 109/L at the time of diagnosis (1 point). The overall cumulative incidence of venous thromboembolism was 44% in the high risk group (≥ 3 points) versus 10.5% in the low risk group (0-2 points) and it was consistent at 3 (28.8% vs 6.3%), 6 (41.1% vs 7.9%), and 12 (42.5% vs 9.3%) months (Figure; Log-rank p<0.001).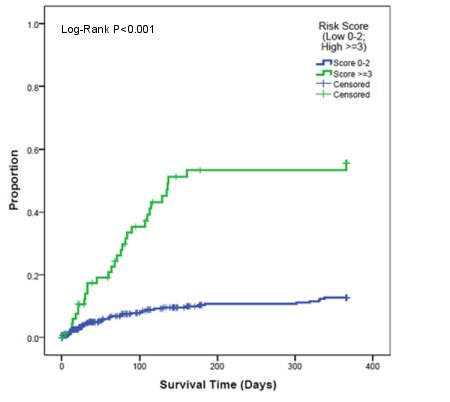 Conclusion
We derived and internally validated a predictive score of venous thromboembolism risk in acute
leukemia patients.
FA-A is a fellow of the Canadian Venous Thromboembolism Clinical Trials and Outcomes Research (CanVECTOR) Network; ALL-L is an investigator of the CanVECTOR Network. This study was funded by the CanVECTOR Network which receives grant funding from the Canadian Institutes of Health Research (Funding Reference: CDT-142654).
Session topic: 34. Thrombosis and vascular biology - Biology & Translational Research
Keyword(s): Acute leukemia, Prognostic, Venous thromboembolism