Abstract: S1634
Type: Oral Presentation
Presentation during EHA24: On Sunday, June 16, 2019 from 08:30 - 08:45
Location: Amtrium
Background
Second generation, CD19-specific chimeric antigen receptor (CAR) T cell therapy containing either the CD28 or 41BB co-stimulatory domain have demonstrated long-term complete remission (CR) rates of 40-50% in relapsed or refractory (R/R) NHL and 20-30% in CLL.  The suboptimal activity of the 2nd generation CAR T cells in NHL and in particular CLL may be due, in part, to poor proliferation and cytolytic activity of T cells in the inhibitory tumor microenvironment.  We have previously demonstrated that binding of 4-1BBL to its cognate receptor enhances T cell proliferation, IL-2 secretion, survival and cytolytic activity of the T cells compared to 19-28z, 19-41BBz and 1928BBz (Zhao Z et al. Cancer Cell 2015;28:415-428). Herein, we report updated results ona study of  adult patients with CLL and NHL treated with escalating doses of autologous 19-28z/4-1BBL+ CAR T cells (NCT03085173).
Aims
The primary objective of this study was to determine the toxicity and MTD of 1928z-41BBL CAR T cells in patients with relapsed or refractory CD19+ hematologic malignancies. Secondary objectives was to assess the anti-tumor efficacy and in vivo persistence of the CAR T cells.  Exploratory objectives were to assess the level of MRD when applicable and to assess the impact of infused CAR T cells on endogenous anti-tumor immune response and changes in cellular and cytokine tumor microenvironment.
Methods
Pts with R/R NHL (DLBCL, follicular lymphoma (FL), transformed FL (tFL), Waldenström's macroglobulinemia (WM)), CLL including Richter's transformation and B-ALL were eligible for the trial.  Pts received conditioning chemotherapy of cyclophosphamide (Cy) alone or combined with fludarabine (Flu) followed by escalating doses of CAR T cells.  CAR T cells were administered at dose level (DL) 1 (1x105 CAR T cells/kg), DL2 (3x105 CAR T cells/kg), DL 3 (1x106 CAR T cells/kg), and DL4 (3x106 CAR T cells/kg).
Results
28 pts were enrolled with R/R CLL (n=9), de novo DLBCL (n=9), tFL (n=3), FL and WM (n=4), Richter's transformation (n=3) and a single pt with B-ALL.  Median age was 70 (range, 53-81), and median number of prior treatments was 5 (range, 2-17).  3 pts received DL1 CAR T cells, 3 pts DL2 CAR T cells, 3 pts DL3 CAR T cells and remaining 19 pts received DL4 CAR T cells.  No dose-limiting toxicity (DLT) was observed.  All 28 pts are at least 2 weeks from T cell infusion and evaluable for toxicity.  Overall, 11 pts experienced CRS (39.3%), which were mostly grade 1 (n=6) and grade 2 (n=4) and  11 pts (39.3%) experienced neurotoxicity (NTX), including 8 pts with grade 1-2 and 3 pts with grade 3 NTX.   16 of 28 pts (57%) achieved a CR, including 7 of 9 pts (78%) with large cell lymphoma, 2 of 3 pts with FL (67%), 3 of 10 pts (30%) with CLL, 2 pts with Richter's transformation (67%) and the one pt with B-ALL. The pt with WM achieved a VGPR.  With a median follow-up of 169 days (24-534 days), 8 pts (29%) remain in CR. Peak CAR T cell expansion occurred at a median of 9 days after CAR T cell infusion (range, 2-82). CAR T cell detection beyond 160 days has been noted.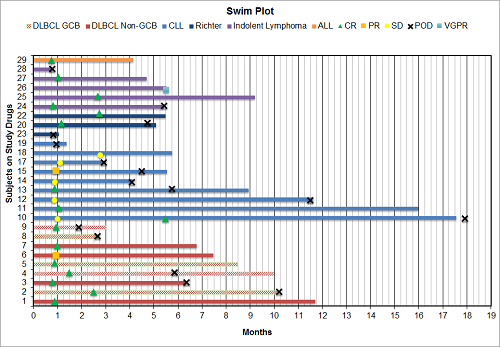 Conclusion
Treatment with 19-28z/41BBL armored CAR T cells is safe.  No severe CRS was observed and severe NTX occurred in 8% of the pts. The overall CR rate of 57% is encouragingCR rates were higher in pts with large cell lymphoma (78%) compared to CLL (20%), though small number of pts limits any firm conclusions.  Pts with CLL may require higher doses of CAR T cells or incorporation of the CAR therapy in earlier lines of treatments. Detailed cytokine and CAR T cell expansion analysis as well as updated data will be presented. 
Session topic: 25. Gene therapy, cellular immunotherapy and vaccination - Clinical
Keyword(s): Cellular therapy, Chronic lymphocytic leukemia, NHL