Abstract: S1620
Type: Oral Presentation
Presentation during EHA24: On Sunday, June 16, 2019 from 08:45 - 09:00
Location: Elicium 1
Background
The overall outcome of relapsed/refractory T-Lymphoblastic leukemia/lymphoma  (T-ALL/T-LBL) in adults is poor with less than 10% of patients surviving at 5 years. There is no agreed standard of care in this setting and there are very limited clinical trials including this patient population. Nelarabine is the only recent drug that is specifically approved (as an orphan drug) in relapsed/refractory T-ALL/T-LBL but the informations to support its indication of use are based on limited available data. 
Aims

The aim of this observational, phase 4, study was to provide recent additional data on the efficacy and safety of Nelarabine in adults with relapsed/refractory T-ALL/T-LBL and to evaluate the feasibility and outcome of allogeneic hematopoietic stem cells transplantation (Allo-SCT) after Nelarabine salvage therapy.
Methods

Inclusion criteria were: age > 18 years, diagnosis of relapsed or refractory T-ALL/T-LBL and treatment with at least one complete cycle of Nelarabine. The primary endpoints were the overall response rate (ORR) and the probability of Survival (OS). Additional endpoints were safety (graded according NCI CTCAE v3.0), Allo-SCT rate and post-transplant OS. Between May 2007 and November 2018, 118 patients with relapsed/refractory T-ALL/T-LBL received salvage therapy with Nelarabine in 27 Italian hematologic sites and were included in this study. The median age was 38 years (range, 18-81); 73 % were male; 77 had diagnosis of T-ALL and 41 diagnosis of T-LBL; 65/118 (55%) had received > 2 of prior chemotherapy regimens and 18/118 (15%) relapsed after Allo-SCT.
Results

The median number of Nelarabine cycles was 2 (range, 1-4). All cases were evaluable for response and 43/118 (36%) of patients achieved complete remission (CR), 16 partial remission (14%), and 59 (50%) were refractory. The ORR was 50%. A total of 47 (40%) patients received an Allo-SCT after salvage therapy. The probability of Overall survival from the first dose of Nelarabine for the entire population was 37% at 1 year (18% at 5 years) with a median survival of 8 months. The OS at 1 year was significantly better for patients who underwent an Allo-SCT after Nelarabine salvage treatment (58% vs 22 %, log-rank P= 0,0001)-Figure 1. In multivariate analysis the favourable independent predictive factors for OS were: age less than 55 yrs and Allo-SCT after Nelarabine therapy. Probability of OS at 2 and 5 years from transplant was 46% and 38%, respectively. Seventy five patients (64%) experienced one or more drug related adverse events (AE).  Neurologic toxicities of grade III-IV were observed in 9/118 (8%) of patients and mild neurologic AE (grade I-II) was reported in 7/118 (6%) of cases. Thrombocytopenia or/and Neutropenia (grade III-IV) was reported in 41% and 43% of cases, respectively. There were 3 cases of AE related deaths (2 septic shock and 1 aspergillosis). Hepatic toxicity (grade II) was observed in 4/118 cases (3%).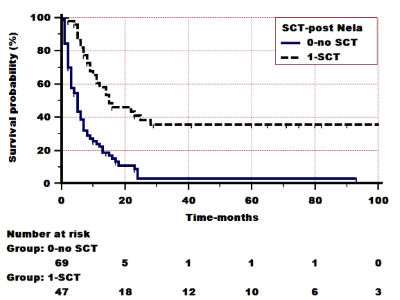 Conclusion

This is one of the largest cohort of adult patients with relapsed or refractory T-ALL/T-LBL treated in real-world with Nelarabine. Taking into account the poor prognosis of this population Nelarabine can be considered as an effective option providing an ORR of 50% and a CR rate of 36%. In addition, 40% of cases who received Nelarabine salvage therapy underwent an Allo-SCT with an expected OS at 2 and 5 years of 46% and 38%, respectively. Overall, the safety profile of Nelarabine was acceptable with only 8 % of cases with grade III-IV neurological AE.
Session topic: 2. Acute lymphoblastic leukemia - Clinical
Keyword(s): Allo BMT, Relapsed acute lymphoblastic leukemia, T cell acute lymphoblastic leukemia